Meghan McCain Shares a Rare Photo With Husband Ben Domenech During a Night Out – See It Here
"The View" co-host and conservative columnist/author Meghan McCain shared a rare picture on her Instagram account with her husband showing her weekend gambling adventure.
Joined by her husband Ben Domenech, the couple spent their weekend at MGM National Harbor Casino located just south of Washington DC. McCain also added a caption to her post, and excitedly told her followers:
"The face of the happiest woman in all the land who finally got to gamble last night in a casino with her husband! Blackjack, craps, roulette - we did it all!!!!"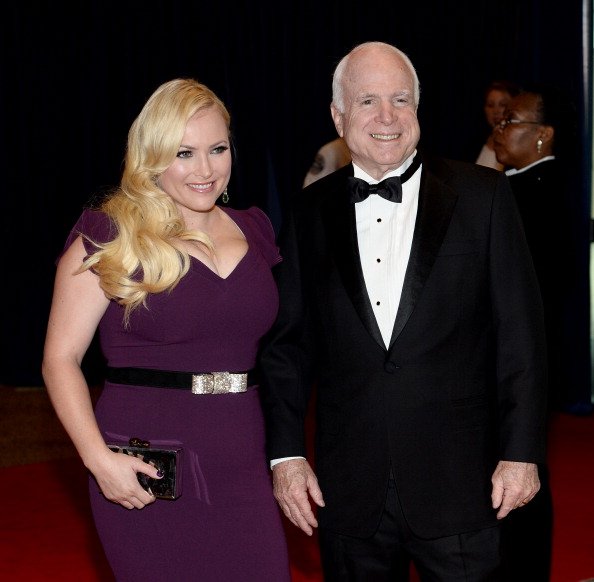 Her post also lets the usually Lagerfeld-style chic McCain display her and the love-of-her-life husband's more casual style. She describes the blogger, editor, and television commentator Domenech as: 
"My great love, my best friend, my true partner, my shelter from the storm."
McCain abandoned her well-known formal look and sported a plain black top with white trousers while Domenech showed off his Southern roots with a jeans and checkered shirt combo.
McCain was secretive about her private life in the past, to the point of making secret marriage plans. But more recently she opened up in interviews and her social media, sharing her feelings. 
On an Instagram post celebrating their first wedding anniversary, she described her husband as: "My ride or die from day one."
Domenech is known to be a conservative TV commentator, who started his career in 2006 with articles for Washington Post-owned "Red America," but he had to resign three days later because of plagiarism accusations.  
McCain is best known for her ongoing stint at "The View," a show created by Barbara Walters and airing every weekday since 1997. She joined the roster in 2017, on the show's 20th anniversary, and even announced her engagement on air.
[Meghan McCain] claimed her birth filled the gap in her heart opened by her father's passing in 2018.
2017 was full of new experiences for McCain, the most important being her wedding. According to her interviews, their nuptials were rushed because of her father John McCain's battle with stage 4 brain cancer.
The family was happy that her father could give away the bride at the wedding, with a little help from her brother. After the loss of her father, her now-husband Domenech supported her through the grieving period.
Aside from her busy schedule with TV, McCain became a mother in September 2020, giving birth to a daughter. She claimed her birth filled the gap in her heart opened by her father's passing in 2018.
McCain has been known to praise motherhood and show her happiness on social media, of which she is an active user. On her first Mother's day, she shared a long tribute to her daughter Liberty on Instagram.
But even though she is a very happy mother, her busy schedule is tiring. Managing a sneaky getaway with her husband to recharge herself through a casino weekend was no doubt the reason behind her smile. 
After all, an 8-month-old baby and a daily TV show are not easy to juggle all at once. And they are exactly what's waiting for her back home after the chips are down.