'My 600-LB Life's Teretha Hollis-Neely Looks Incredible Now — Inside Her Life after the Show
"My 600-Lb Life" star Teretha Hollis-Neely has an impressive appearance a few years after her time on the show. Here is everything you need to know about her.
In 2016, after a careful observation of the possible health conditions associated with being obese, Teretha Hollis-Neely signed up for TLC's "My 600-Lb Life."
At the time— the show's 4th season—she was a 47-year-old with a large family of kids and grandkids, and she weighed about 800 lbs. The program allowed her to embark on a weight loss journey and chronicled her life and struggles on TV.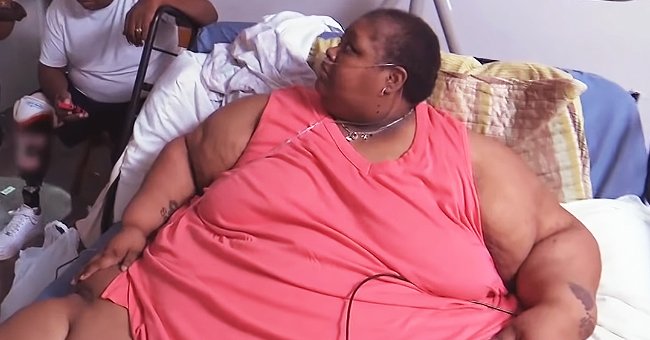 It has been a few years since her TV appearance, and Hollis-Neely keeps giving fans updates of her diva looks on Facebook. She often shares adorable selfies showing her slimmer face with a few shades of makeup.
Fans of the TLC series know that it is filmed in Houston, Texas, and it scripts the entire procedure of the patient with one of the world's famous weight loss surgeons, Dr. Younan Now.
Before coming on the show, it was gathered that the then 47-year-old had restricted her movement to just one place (her bed) for two years.
At age 11, she suffered sexual abuse, and before reaching 16, she conceived and had a turbulent relationship with her parents.
Throughout those years, her son Darius and his girlfriend helped with cleaning her body. Hollis-Neely admitted that it felt uncomfortable for them to be coming in contact with her private area.
Without looking back, she accepted her reality and was determined to lose the excess weight. Within the first four months of the program, Dr. Now's patient dropped more than 200 lbs.
This got her the pass mark for surgery. At the end of the day, she shed about 339 lbs, bringing her final weight to 441 lbs. The "My 600-Lb Life" star became mobile with a bit of assistance from her family.
When the camera zoomed in for a follow-up episode, Hollis-Neely was bedridden again and weighed a few extra pounds. She went under the knife again for a lymphedema procedure which helped her legs, and later checked into a rehab facility.
The counseling period was structured to help her deal with the lingering effects of a past traumatic life. At age 11, she suffered sexual abuse, and before reaching 16, she conceived and had a turbulent relationship with her parents, leading her to turn to food as a coping mechanism.
As an adult, she worked as a program coordinator; after a while, she lost the job, plunging her into a more depressive state of mind with food as the ultimate solution.
In 2014, another case of an obese woman named Bonnie made the rounds after she featured on another TLC series titled "Iyanla: Fix My Life."
Iyanla Vanzant, the life coach who ran the show, traveled to the more than 600 lbs California woman's residence to help her get the necessary medical help. 
Upon Vanzant's visit, Bonnie left her home and had the chance to receive some fresh air for the first time in seven years, as she had been trapped in her house for years.
It is impressive to see these women try to take charge of their lives again after letting their trauma override their choices. However, the best part is having the right support system.