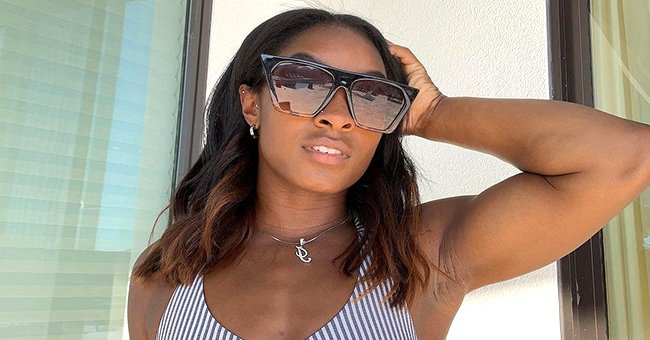 instagram.com/simonebiles
See Gymnast Simone Biles' Navel Piercing and Toned Tummy in a New Mirror Selfie
Simone Biles, the first woman to ever land the Yurchenko Double Pike, recently showed off her navel piercing and toned belly in a new mirror selfie.
Simone Biles recently stunned her fans with a picture that captured her dressed in an outfit that flaunted her toned figure and pierced navel.
The decorated gymnast shared the gorgeous shot via her Instagram stories. The outfit consisted of a sleeveless yellow tank top that ended just above her pierced navel.
Biles coupled it up with tight black slacks that molded to her sculpted legs. She posed in front of a mirror with one hand raised in the universal sign for peace and her hips thrown to one side.
A beautiful smile lit up her face, which was partly obscured by the phone she was holding. Her hair was styled in long straight strands that fell past her shoulders, and she captioned the shot:
"Fort Worth bound for championships."
Biles, who is currently dating NFL player Jonathan Owens, is a big fan of piercings. Aside from her navel piercing, which her fans speculated she got early last year, she also has several ear piercings and a nose piercing.
The Olympic gold medalist is also a big fan of showcasing her piercings and her Instagram page is filled with pictures of her posing with them fully visible.
After the competition ends in August, Biles will begin the 35-city Athleta Presents Gold Over America Tour.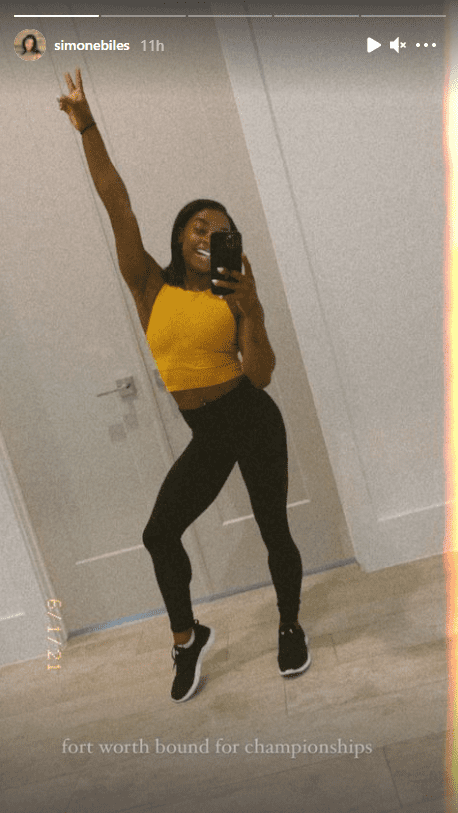 A mirror selfie of Simone Biles showing off her navel piercing in a yellow crop top | Photo: Instagram/simonebiles
At the moment, Biles is focused on preparing for the Tokyo Olympics, which should have happened last year but couldn't because of the coronavirus pandemic.
Biles thought hard about hanging her leotard when schedules shifted, but now she has revealed that she may stick around for another Olympic competition after Tokyo's.
According to the talented woman, her coaches had been pushing for her to consider the 2024 Olympics, which is set to be held in Paris, and she has not ruled out the possibility.
As earlier mentioned, she has decided to focus on the upcoming Tokyo Olympics, and fans can't wait to see what the first female ever to land the Yurchenko Double Pike will pull off at the event.
After the competition ends in August, Biles will begin the 35-city Athleta Presents Gold Over America Tour which is slated to start in September.
According to People, she will perform alongside other gymnasts including Morgan Hurd, Katelyn Ohashi, Danusia Francis, Jordan Chiles, and Laurie Hernandez. Good luck in all your endeavors, Simone!
Please fill in your e-mail so we can share with you our top stories!