Bella Thorne Locked Lips with Her Brother's Ex-girlfriend — Inside Her Dating History
Bella Thorne's dating life has attracted a lot of attention over the years. The young actress has been involved in a couple of polyamorous relationships.
Hollywood is full of surprises, especially when it comes to relationships. Thorne, who rose to fame on the Disney Channel series "Shake It Up," is 23 years old and engaged to an Italian singer.
She had to kiss many frogs before finding her prince, though. Some of those frogs were "Teen Wolf" star Tyler Posey and Pamela Anderson's son Brandon Lee.
Tristan Klier went to prom without Bella Thorne this year! http://t.co/ZeZfKgbroo #Bellarinas pic.twitter.com/rftuOlwJNV

— J-14 Magazine (@J14Magazine) April 29, 2015
TRISTAN KLIER
One of Bella Thorne's first public boyfriends was Tristan Klier, who's never been involved in the entertainment industry. The couple began dating in 2011 and parted ways in 2014. 
Breakups are never easy, but Thorne and Klier proved they were still friends one year after parting ways as they and other friends got together to cheer on Thorne's older brother's UFC fight.
BRANDON LEE
Pamela Anderson's son Brandon Lee and Thorne attracted some attention in March 2015 when they were spotted together at a couple of parties and flirting on social media. 
The actress said she and Lee, a "sweet" guy, met following her breakup with Klier. Their relationship was short-lived as she was allegedly dating the next man on the list by April 2015.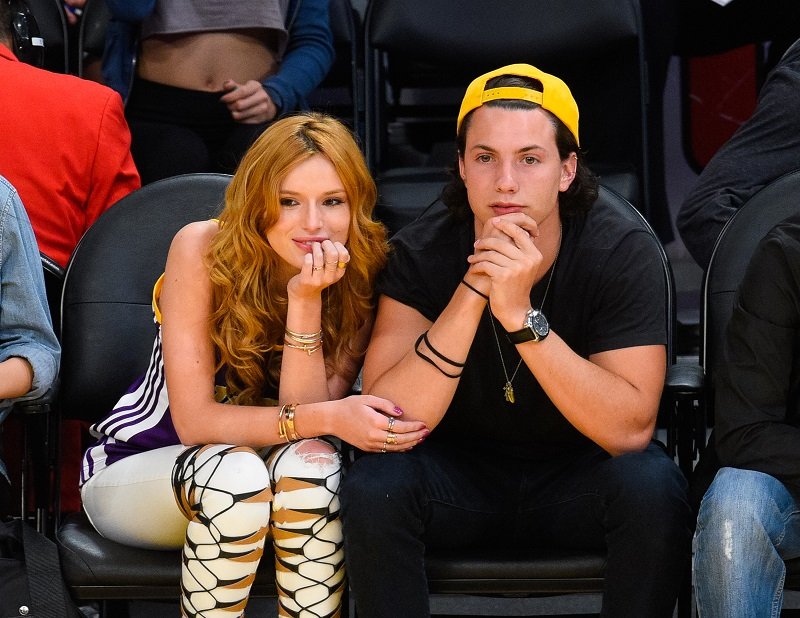 RYAN NASSIF
Bella Thorne's dating life attracted a lot of attention in April 2015 after she was spotted with model Ryan Nassif just weeks after she and Lee's PDA-filled date at Nobu in West Hollywood. 
According to Hollywood Life, Lee "messed up," and Thorne dumped him. Lee supposedly tried to get her back, but the actress seemed too comfortable with Nassif.
Netizens claim Puth played a role in her and Posey's breakup.
GREGG SULKIN
Neither Lee nor Nassif won over Thorne's heart as she began dating Gregg Sulkin in 2015. Things between the former couple moved relatively quickly as they bought a house together in 2016. However, they split that August. 
Following their time together, Thorne was seen in Los Angeles and France with Scott Disick, 14 years her senior. When things with Disick didn't work out, she reportedly laid on Sulkin.
BELLA PENDERGRAST
Bella Thorne's rumored relationship with Bella Pendergrast was shocking, primarily because Pendergrast used to date Thorne's brother, Remy. It is important to point out that Thorne announced she was bisexual in August 2016. 
Since the two Bellas had been friends for years, it is unclear if they were really an item. At the time, Pendergrast had some photos of a man who seemed like his boyfriend on social media.
Bella Thorne sets the record straight about Tyler Posey and Charlie Puth cheating rumors: https://t.co/sJwcbWV9rT pic.twitter.com/rXso0fJo1u

— Us Weekly (@usweekly) July 18, 2017
TYLER POSEY AND CHARLIE PUTH
"Teen Wolf" actor Tyler Posey and Thorne began dating weeks after she came out as bisexual. Their breakup was one of the hardest she'd ever faced, especially because things were "blown out of proportion."
After she and Posey parted ways, singer Charlie Puth reached out, and the two started hanging out. Things escalated after a photo of them appearing to kiss hit the internet, making netizens claim Puth played a role in her and Posey's breakup.
A while later, Puth shared tweets implying that the actress and Posey were still an item, but Thorne said it was a misunderstanding as Puth read an old news article about her and Posey and believed they were still together. 
Were Mod Sun, Tana Mongeau and Bella Thorne in a polyamorous relationship?

Let's find out! 👇 pic.twitter.com/bhe2FxUNAk

— PinkNews (@PinkNews) September 20, 2020
MOD SUN AND TANA MONGEAU
In 2018, Thorne made headlines after apparently dating rapper Mod Sun and YouTuber Tana Mongeau. Initially, she was in an open relationship with the musician, but then met and began dating Mongeau.
A year later, Bella Thorne's ex-boyfriend Mod Sun claimed they got engaged, married, and divorced during their 15-month relationship. Around the same time, Mongeau and Jake Paul got engaged.
BENJAMIN MASCOLO AND ALEX MARTINI
Thorne apparently liked having polyamorous relationships as she began dating Italian singer Benjamin Mascolo and set production assistant Alex Martini in 2019. After a while, she confessed dating two people at once was "a little difficult." 
Nowadays, Bella Thorne and Mascolo are engaged. They announced the big news in March 2021, but it is unclear when they are tying the knot.