Man Goes Missing Trying to Heroically Rescue Drowning Child and Adult Man in Florida
A man dubbed the "Apollo Beach Hero" is still missing after trying to rescue a father and son who drowned in Florida on Friday night. 
Kristoff Murray, 27, heroically jumped in the ocean after he and his girlfriend saw an unidentified adult male and his three-year-old child struggling to swim in the strong currents in the ocean at Apollo Beach in Florida on June 11, 2021.
Hillsborough County Sheriff's Office responded to a call made by Murray's girlfriend, Tjonique Gray, who stated that her boyfriend had jumped into the water in an attempt to save two other people.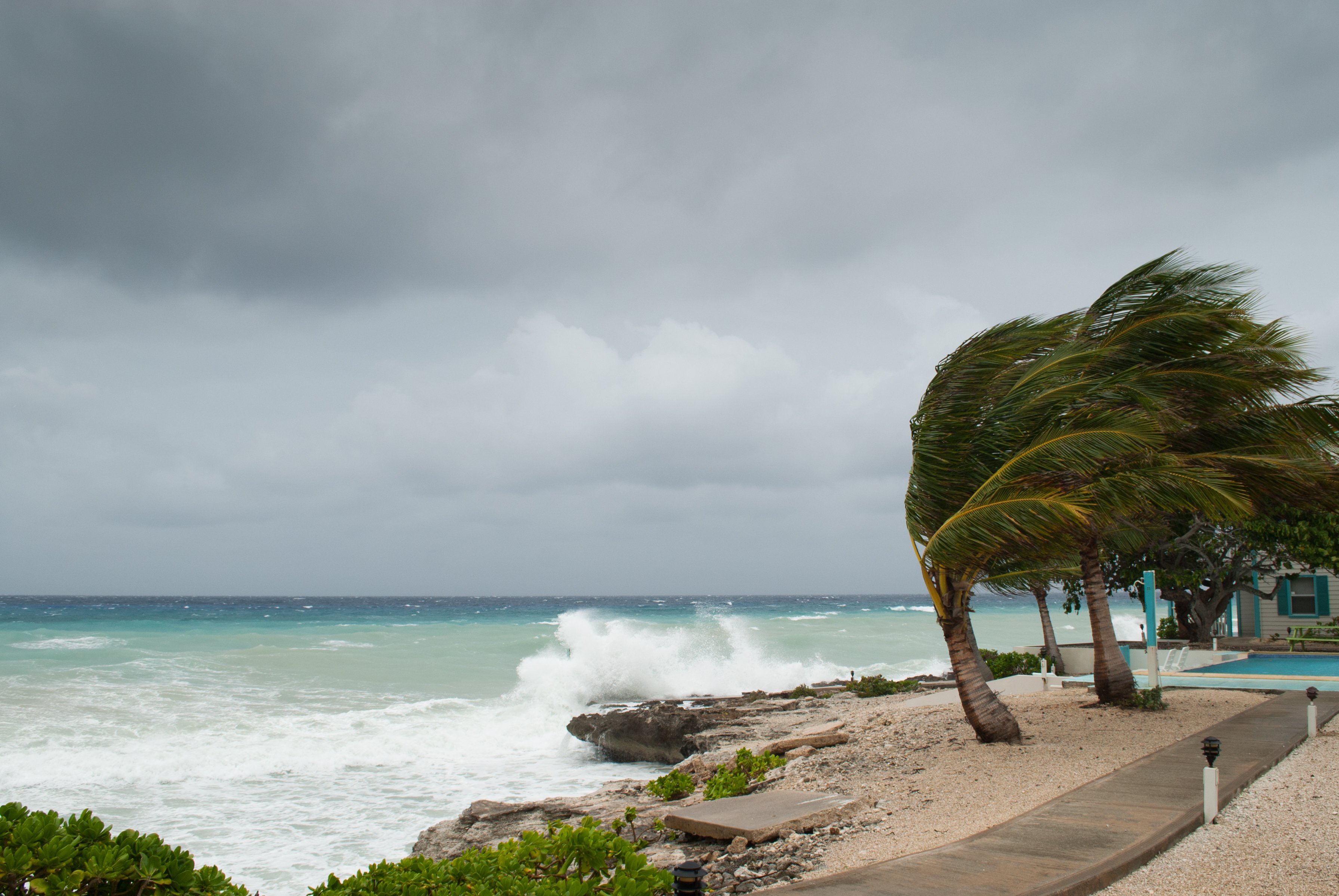 The Sheriff's Office released a press release about the incident and stated that the father was found at around 9:30 p.m on Friday, but unfortunately, he was pronounced dead at the scene. 
The body of his young child was found moments later and transported to a local hospital, where they later died. As of Saturday, June 12, 2021, rescue efforts were still being conducted to find Murray.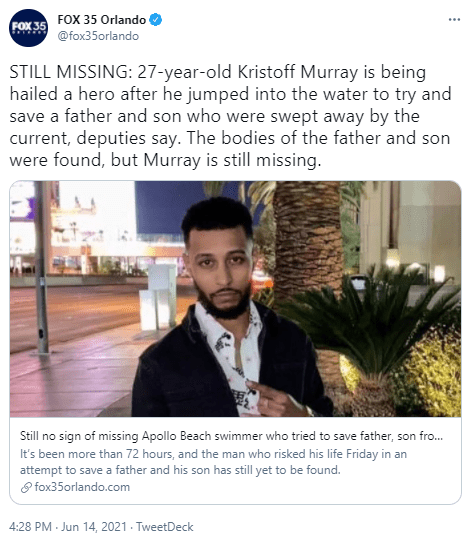 Hillsborough Sheriff Chad Chronister stated during a press conference on Friday night that the department wanted to stay hopeful about Murray as he said, "We're gonna give him every ounce of hope we have by staying out here."
Murry's family and close friends are also staying hopeful as his girlfriend stated that he was a good swimmer and that she and his family hope that he is alive and "somewhere out there."
A pregnant woman saved three children's lives after pulling them out of the rough water.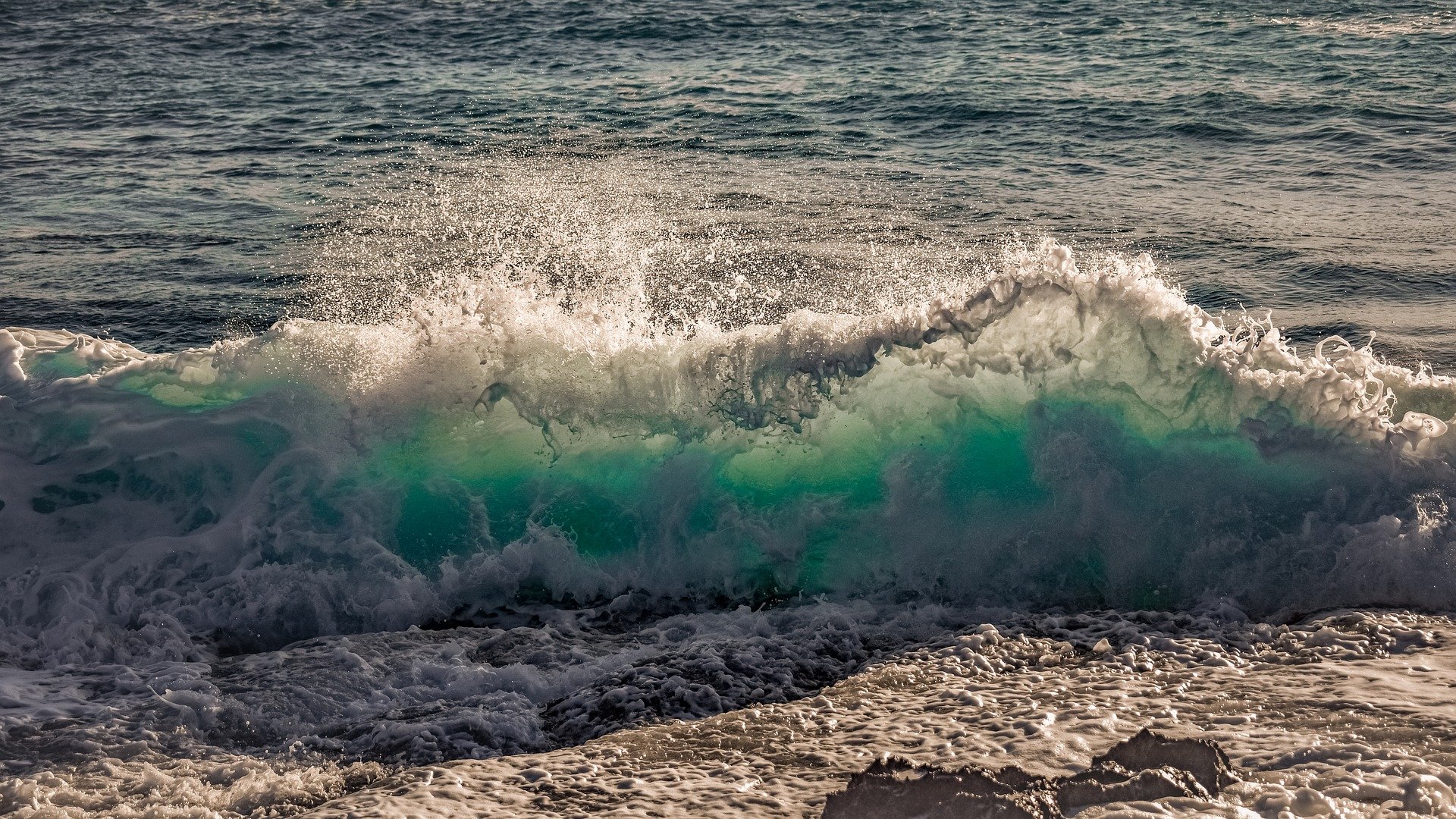 Chronister stressed that the situation was heartbreaking and that the horrible sight of the father and son led to Murry acting selflessly to try and save them. He stated that Murray was not just a good samaritan; he was a hero. 
There is no news as to whether Murray has been found so far. The investigation is still ongoing as rescue teams continue to search for his body. Everyone remains hopeful while they look for him.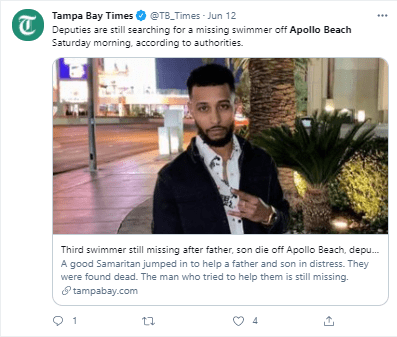 Chronister used the tragedy to caution other keen swimmers as he explained that although it is hot in Florida, beachgoers must be aware that if an area has a sign that says do no swim, they must respect it. 
Another drowning occurred on Lake Michigan at the end of May. Fortunately, the story has a positive ending as a pregnant woman saved three children's lives after pulling them out of the rough water.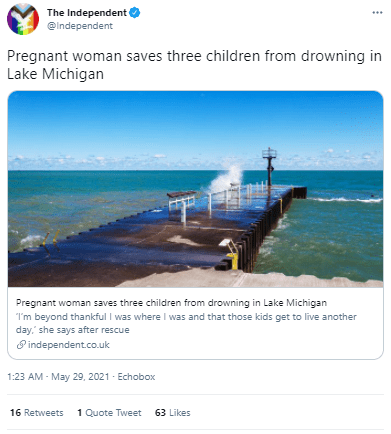 Alyssa DeWitt, who was five months pregnant at the time, was enjoying time at the beach with her children when she noticed three children were struggling to get out of the water and were being slammed into the pier by big waves. 
She tried to call 911, but they could not hear her, so she took matters into her own hands. She lay down over the side of the pier and pulled out each child one by one. The police arrived after everyone was out of the water.