Diver Details Surreal Experience of Surviving a Whale's Jaws
A lobster diver had quite an encounter after a whale almost swallowed him during an encounter. In his detailed recollection of the incident, the man counted himself lucky for coming out alive.
In the late hours of June 11, 2021, reports had it that Provincetown had recorded a whale incident. A lobster diver almost became mauled and swallowed by the giant sea animal.
Michael Packard has been a lobster diver for 40 years, but his most challenging sea moment came when he got stuck in the mouth of a whale. Packard recalled his experience during interviews.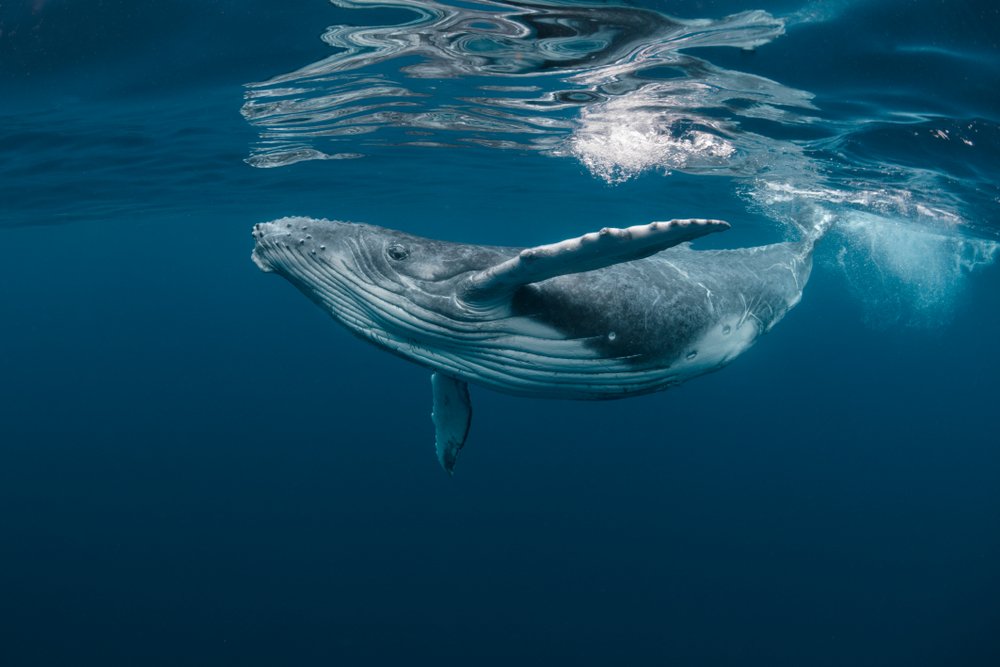 He noted feeling a bump his surroundings became pitch dark. At that moment, he was stuck so tight that he thought he had been bit by a shark.
However, Packard felt around and discovered there were no teeth, and he felt no significant pain. He also realized that there was a hump, and at that moment, he knew he was in the mouth of a whale.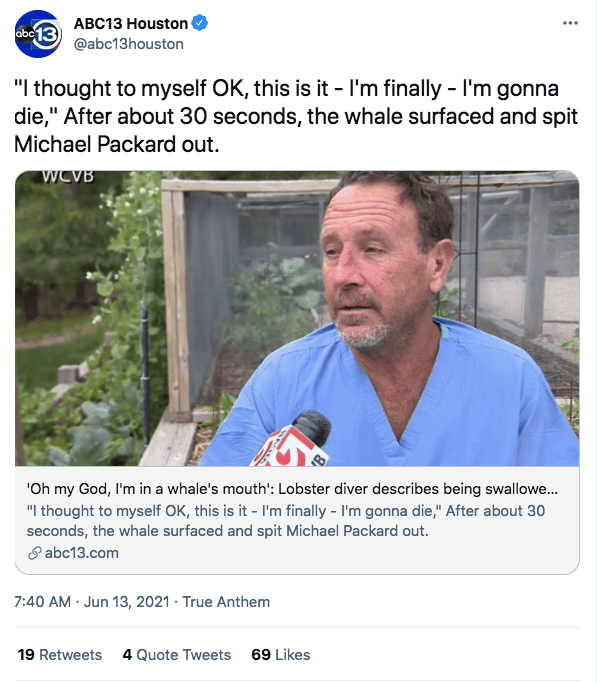 Packers relayed that at this moment, he panicked, and his thoughts went to his wife and kids. He mentally prepared himself to be swallowed by the sea animal, but the unexpected happened.
Back in 2019, there was another case of a whale survivor.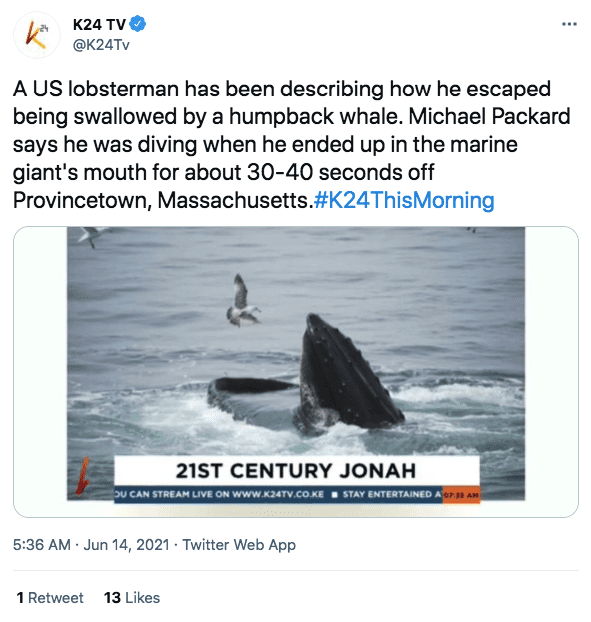 After about 30 seconds of being stuck in the whale's mouth, Packard noticed that the large animal started moving and shaking its head. Before he knew what was happening, the whale spat him out.
Packard pointed out that he was plunged into the water, and this was the moment his colleagues found him, took him out of the water, and altered authorities.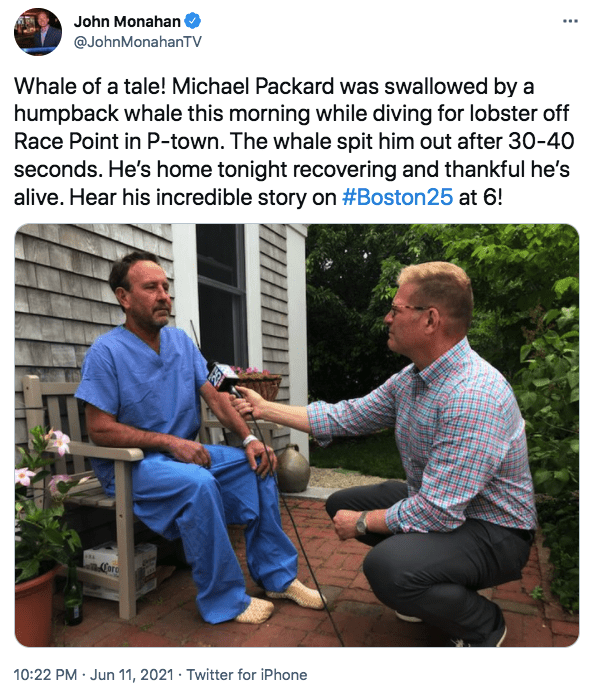 Experts have weighed in on Packard's situation since his ordeal. Peter Cokeron, a senior scientist at the New England Aquarium, relayed that humpback whales were prone to gulp feeding.
And when this situation occurs, they open their mouths wide to take in as much food as possible, and this must have been the moment Packard got stuck in the whale's mouth.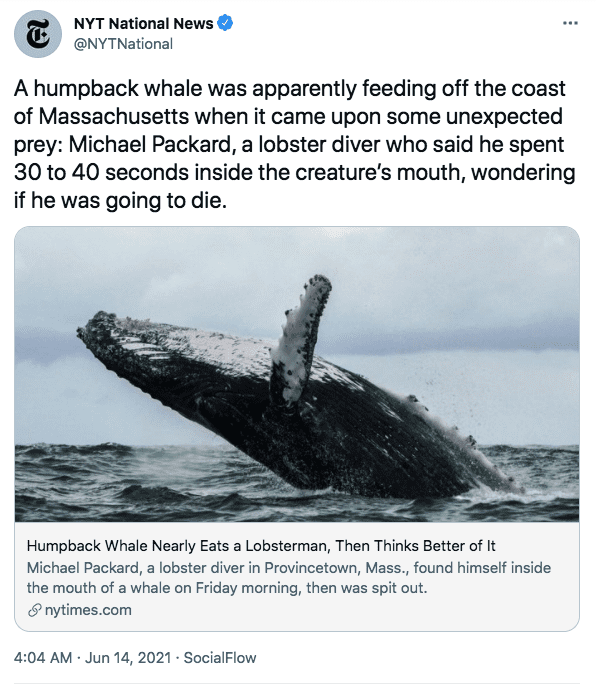 A marine scientist shared that it was in all likelihood that Packard's situation was a coincidence and an accident. Another noted that it was practically unheard of for a whale to swallow a human being. 
There was a different opinion from biologist Jooke Robbins who shared that whales lunge-fed. In this situation, they are usually unaware of what was going in their widely-opened mouth.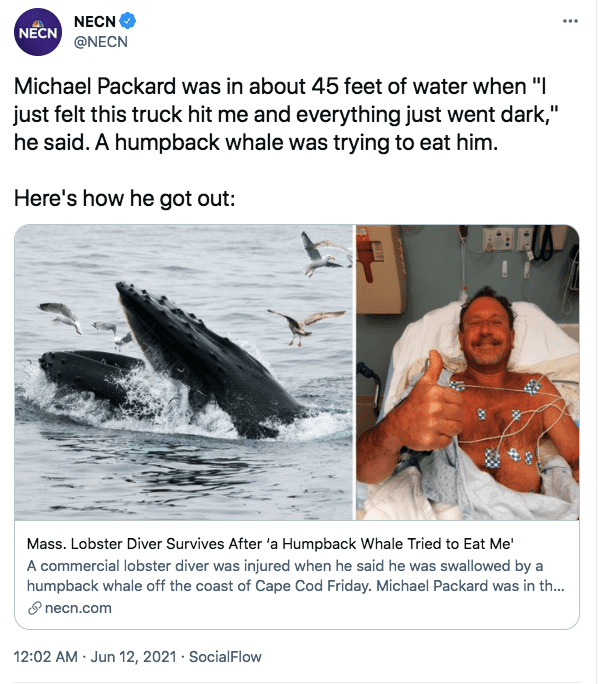 Robbins, the director of Humpback Whales Studies at Provincetown's Center for Coastal Studies, added that the whale could not possibly swallow Packard because the throat was narrow despite having a big mouth. 
Back in 2019, there was another case of a whale survivor when a South African photographer, Rainer Schimpf, was stuck in the mouth of a whale. The attack happened while he shot footage of sardine run off the coast of Port Elizabeth.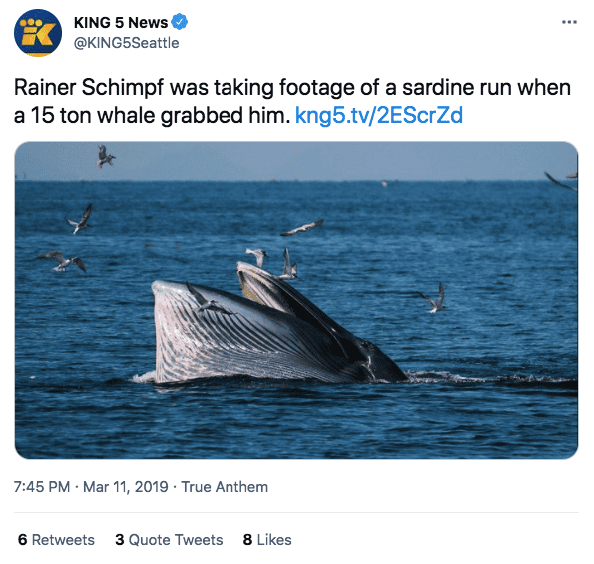 However, he soon got swallowed by the Bryde's whale that came along. The 52-year-old shared that his head and torso area were stuck, and he held his breath. However, within a few seconds, the whale spat him out.