'90 Day Fiancé' Star Natalie Puts Her Amazing Curves on Display in Skintight Lace Jumpsuit
After losing 30 pounds and having cosmetic work done, "90 Day Fiancé" star Natalie Mordovtseva looks amazing in a recent Instagram post.
"90 Day Fiancé" star Natalie Mordovtseva showed off her stunning figure posing in a skintight lace jumpsuit for Instagram after she slimmed down and lost 30 pounds after filming the reality show. 
Mordovtseva posed on a chair in the photo and had her arms draped on the chair's arm. The black lace jumpsuit fit her perfectly and accentuated all her best features, including her gorgeous tanned and toned legs.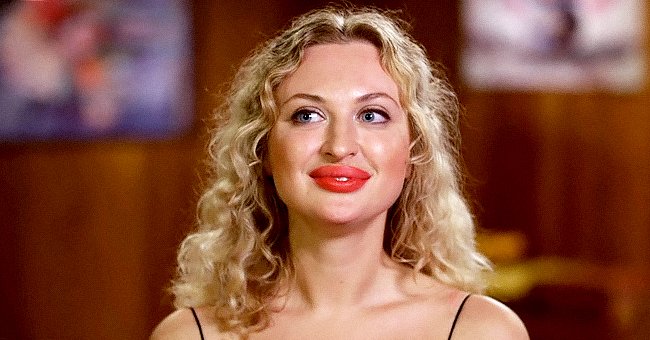 The reality star kept her makeup simple and opted for a nude lip, dark eyeshadow, sculpted brows, and a slightly contoured face with highlights on her cheekbones. She wore her blonde locks in a natural curly style. 
Alongside the beautiful photo, Mordovtseva gave insight into her personality and how she felt growing up as she explained that she never felt connected to women. She reasoned that was why she is straightforward:
"I was straightforward, open and sincere. I did not know how to be demure, and act like a woman "out of poetry". If I  didn't like something, I spoke directly."
According to Screen Rant, Mordovtseva's marriage to Mike Youngquist did not work out after filming the shows. Fans have been quick to blame her for her marriage and her two previous marriages not working out.
Of course, with any reality TV star, rumors have circulated about why the former couple did not work. Some fans blame Mordovtseva because of her two other failed relationships and the various tantrums she had on the show.
Mordvtseva lost 30 pounds, as she had previously gained weight from the stress of the show.
Many others were more sympathetic towards her and blamed Youngquist and his mother, Trish's manipulative behavior, especially after they ganged up on her in " 90 Day Fiancé: Happily Ever After?"
One point of contention for Mordovtseva and her mother-in-law was whether the former would get a job in the United States. Mordvtseva said she wanted to work at a local TV station. 
During the show, she explained that she understood her age meant it would be impossible to live out her Hollywood dreams, but she believes she could find something more local with her acting experience. 
Although some were skeptical of Mordvtseva's acting experience, the former actress featured in a few low-budget movies and TV shows while she was in Ukraine, including crime-styled TV shows. 
To further her chances at becoming a TV actress or TV personality, Mordvtseva lost 30 pounds, as she had previously gained weight from the stress of the show and the end of her relationship. 
Mordvtseva first credited a keto diet, exercise, and intermediate fasting for weight loss but later admitted she underwent liposuction on her waist, belly, chin, and stomach during an Instagram Live session.