Buzz Aldrin's Roller-Coaster Family Life — The Astronaut Sued 2 of His Kids for Slander
Buzz Aldrin, the last surviving crew member of Apollo 11, has had a difficult family life. He even sued his children for making false statements about him.
In the late 60s, only a handful of people were more popular than the astronauts who went on the 1969 Apollo 11 mission. One of those astronauts was Buzz Aldrin.
Buzz followed in his dad's military career and joined the Air Force in 1951. After training as a fighter pilot, he flew F-86 Sabre Jets in 66 combat missions in Korea.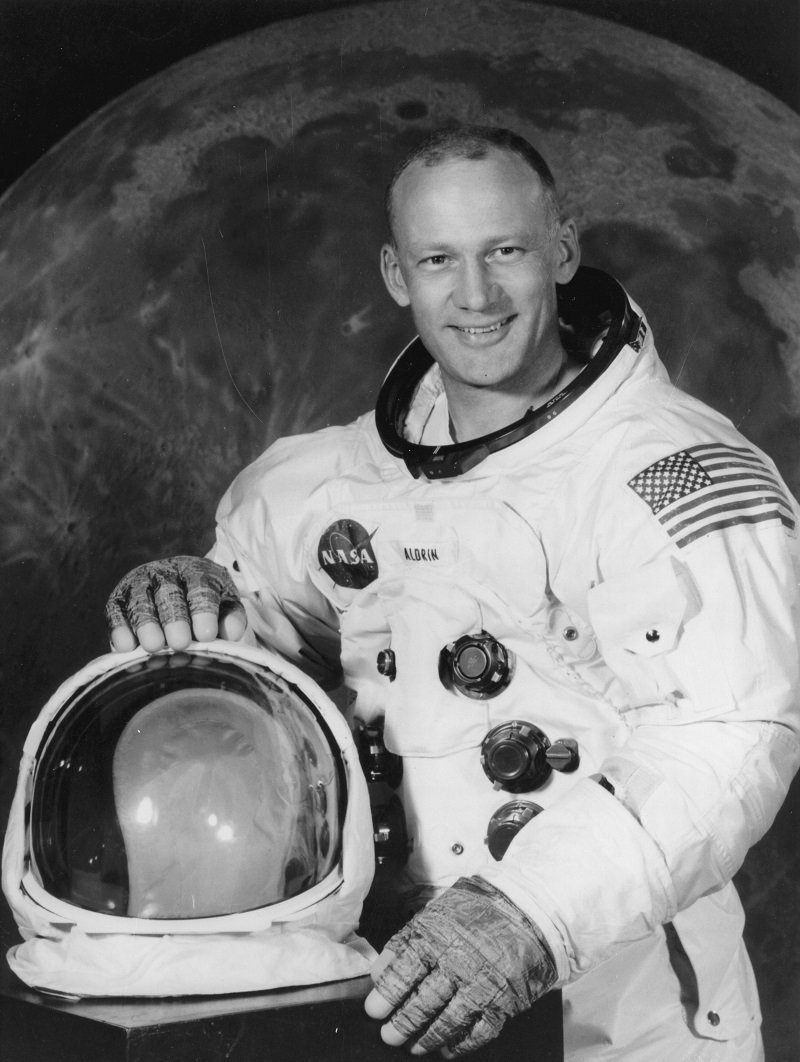 BUZZ ALDRIN'S ROAD TO NASA
When North and South Korea declared a cease-fire in 1953, he returned to the States and studied at MIT. He earned a Ph.D. in aeronautics and astronautics and created a thesis about techniques for orbital rendezvous.
His study was groundbreaking, and it earned him a spot in the space program. In 1966, three years after joining NASA, he was assigned to the Gemini 12 crew and made the longest spacewalk up to that time (five hours). 
Dear Mike,
Wherever you have been or will be, you will always have the Fire to Carry us deftly to new heights and to the future. We will miss you. May you Rest In Peace. #Apollo11 pic.twitter.com/q4sJjFdvf8

— Dr. Buzz Aldrin (@TheRealBuzz) April 28, 2021
The Apollo 11 mission was the most important task he completed, though. Buzz and Neil Armstrong became the first two people to walk on the moon.
Buzz Aldrin retired in 1972 after 21 years of service. Since Armstrong and Michael Collins, the third member of the Apollo 11 crew, passed away already, Buzz is the last surviving person from that mission.
Saluting the American Flag on the Moon will always be one of my proudest moments. Old Glory has stood as a beacon of freedom, hope, and opportunity for over 240 years. Today and every day, let us celebrate our flag and honor our nation's heroes who've fought bravely to defend it. pic.twitter.com/U5DsIaK64A

— Dr. Buzz Aldrin (@TheRealBuzz) June 15, 2021
BUZZ'S DOWNFALL
After returning from the moon, Buzz struggled with depression and alcoholism. Initially, he felt like a publicity pawn for NASA as he had to make speeches for a whole year. 
He then did other activities, but they were either unsuccessful or unfulfilling. In his book "Magnificent Desolation," Buzz wrote that he wanted to resume his duties, but he had "no duties to resume."
His drinking habits worsened with the realization that he had no goal, sense of calling, or "project worth pouring [himself] into." He publicly revealed his mental issues in 1972 and joined the National Association for Mental Health's board of directors.
Buzz's addiction was too difficult to control, so he entered rehab in 1975. His alcohol issues persisted, and he checked into Alcoholics Anonymous to try to overcome them. 
56 years ago, Gemini 3 lifted off Pad 19. The first manned Gemini mission, spacecraft "Molly Brown" carrie Gus Grissom & John Young on 3 orbits of Earth. It was considered a success despite a few thruster issues & the unexpected appearance of a contraband corned beef sandwich pic.twitter.com/JuFiMlJcTD

— Dr. Buzz Aldrin (@TheRealBuzz) March 26, 2021
It wasn't enough, sadly, and he got arrested after smashing in the apartment door of his then-girlfriend while drunk. That was the straw that broke the camel's back as he got sober for good.
He claimed [his children] took control of his credit cards and slandered him.
51 years ago this week, #Apollo13 prime crew members Jim Lovell, Ken Mattingly, and Fred Haise continued training at @NASA_Johnson for a mission that would become one of @NASA's finest hours. pic.twitter.com/JKnJs4iguO

— Dr. Buzz Aldrin (@TheRealBuzz) March 13, 2021
BUZZ ALDRIN'S FAMILY LIFE
The former astronaut has had an exciting love life, too. Buzz Aldrin's first spouse was Joan Archer Aldrin, who died on July 22, 2015, of natural causes. She was 84. 
When Buzz began dealing with depression, he cheated on Joan. She eventually found out and forgave him, but things got complicated when he wrote about his marital infidelities in his 1973 book "Return to Earth," and the press kept bringing up the topic.
In late 1974, shortly after Buzz's dad died, he and Joan divorced. They were married for 20 years and had three kids, James, Janice, and Andrew. More on Buzz Aldrin's children later.
Buzz's second wife was Beverly Van Zile, who encouraged him to seek help during his years as an alcoholic. They tied the knot on New Year's Eve 1975, but it was "tumultuous" from the start, so they and parted ways three years later.
The former astronaut's third marriage was also the longest. Buzz married Lois Driggs Cannon in February 1988, but he filed for divorce in 2011. He claimed Lois and her daughter were stealing his brand. 
Happy Birthday to my lady, Anca Faur. 🚀 pic.twitter.com/f69q3QVkyU

— Dr. Buzz Aldrin (@TheRealBuzz) May 14, 2021
Both women had been developing Buzz's brand through their company Starbuzz, but he pointed out that he was tricked into giving up his name and image's rights.
Buzz Aldrin's third divorce cost him a lot of money as Lois reportedly got half of his money (over $200,000), almost $10,000 a month in spousal support, and other percentages of his profits and annual income. 
Spending quality time with my daughter Jan. Nothing better than family especially during the holidays. pic.twitter.com/6UCm3blFED

— Dr. Buzz Aldrin (@TheRealBuzz) December 9, 2015
If that wasn't bad enough, Buzz sued Andy and Janice, two of his kids, in 2018. He claimed they took control of his credit cards and slandered him by claiming he has dementia and Alzheimer's disease. Andy, who was seeking guardianship of Buzz's affairs, said people were taking advantage of his dad. 
A year later, Buzz Aldrin's son and his legal team withdrew their guardianship petition, and the former astronaut dropped his lawsuit. Today, Buzz is 91 years old and lives a low-key life.