Rosie O'Donnell Shares a Sweet Photo of Her Daughter as She Graduates High School
Star entertainer Rosie O'Donnell did not hold back on her proud-mom moments on social media after she shared a sweet tribute to her young daughter Vivienne who recently graduated high school.
Star comedian Rosie O'Donnell's daughter Vivienne O'Donnell is done with her high school education, and her mom could not help but be overwhelmed with happiness. She took to her Instagram page to celebrate the youngster.
Rosie shared a snapshot of the high school graduate posing with her best friend, Jackie. The pair stood in a doorway, sharing a warm hug. Vivienne rocked a short lace dress that bore three layers of skirt.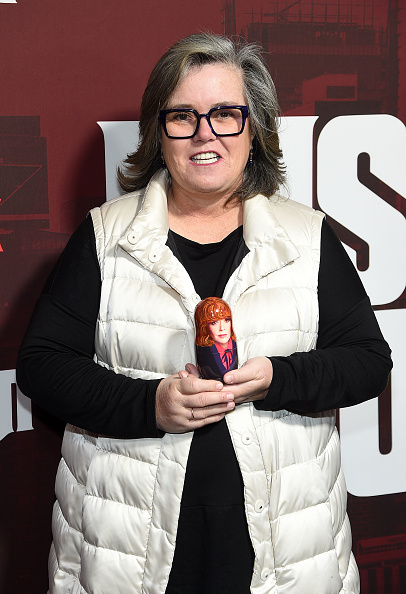 She matched her look with a pair of white strappy platforms while she sported silver bracelets. Vivienne covered her blonde tresses with a red graduation cap.
Her mom cheered in the caption: "Vivi and Jackie- as Vivi graduates from hs. Hard to believe- I'm so proud of you, honey- u r a wonderful young woman. #vivi #graduation…"
Many fans joined the TV personality in celebrating her loved one in the comments. Some celebrities also congratulated the youngster while expressing their surprise at how much she has grown. 
Once sitting with Seth Meyers on "Late Night," Rosie talked about the stay-at-home rules and how her family coped. She noted that all her children except her oldest kids, Chelsea and Parker were away. 
Rosie would later become a fifth-time mom welcoming Dakota, with her now-late partner, Michelle Rounds.
The doting mom-of-five noted that everyone in her family took the social distancing rule seriously and were all holed up in their rooms, except it was time to get food for when she endured family time. 
The "The Rosie O'Donnell Show" star started her motherhood journey when she and her former partner, Kelli Carpenter, adopted Parker in 1995. These days the 26-year-old serves in the Marine Corps. 
Rosie's first daughter, Chelsea, was born in 1997. Chelsea and her mom have had rocky moments through the years, but recent times show they have worked on their differences. Chelsea made Rosie a grandma in 2018 when she welcomed her daughter, Skylar Rose.
Blake O'Donnell is Rosie's third child with Carpenter. They also welcomed Vivienne via artificial insemination before their divorce. Rosie would later become a fifth-time mom welcoming Dakota, with her now-late partner, Michelle Rounds. 
Rosie does have a lot of love to go around, and it also extends to fellow star Tom Cruise. The star has been quite vocal about her affection for the A-list actor. She has also gushed about his thoughtfulness that was on for decades.