Princess Diana Would Really Want Beloved Sons William & Harry to End Their Bitter Feud Says Expert
Experts analyzed Princes Harry and William's behavior during the unveiling of Princess Diana's statue. Everyone agrees that she would want her sons to end their feud.
On July 1, 2021, what would have been Princess Diana's 60th birthday, Prince Harry and his older brother, Prince William, put aside their differences to uncover a statue of their mother. 
Designed by Ian Rank-Broadley, the bronze sculpture was placed in the Sunken Garden at Kensington Palace. It depicts the late Princess surrounded by three children, representing the "universality and generational impact" of her work.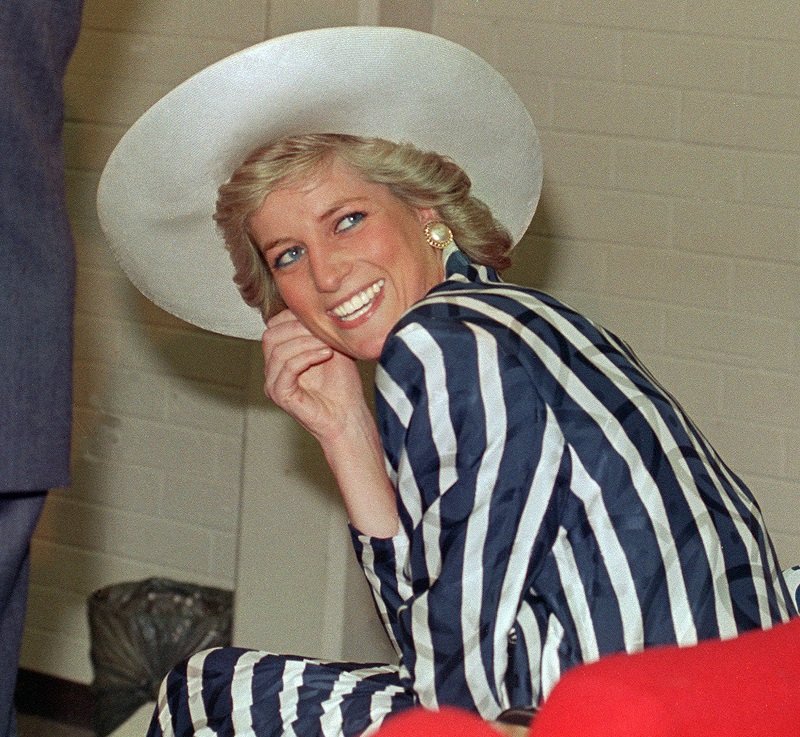 WILLIAM AND HARRY'S BEHAVIOR
Some people considered it ironic that the statue showed Diana embracing three children when her own two sons have been feuding for a few years.
To the untrained eye, it looked like there was no tension between the Duke of Sussex and the Duke of Cambridge, who sponsored the short but emotional event. They even wore matching blue suits and white shirts! 
This afternoon The Duke of Cambridge and The Duke of Sussex visited #KensingtonPalace's Sunken Garden to unveil a new statue of their mother, Diana, Princess of Wales, on what would have been her 60th birthday. (1/5) pic.twitter.com/wu4LeCzMXs

— Historic Royal Palaces (@HRP_palaces) July 1, 2021
However, body language expert and author Patti Wood noticed a couple of hints that suggest William and Harry have not moved on yet. 
Initially, Wood was surprised to see them coming down the stairs using similar body language they've displayed over the years: tilted heads, slightly curved bodies, and one arm shielding their stomach.
Lovely that Diana's statue has been positioned facing towards home... pic.twitter.com/kvxApFBiXE

— Victoria Arbiter (@victoriaarbiter) July 1, 2021
After a while, though, Wood started noticing some differences. William and Harry used to greet the guests together, but they didn't do it like that during this event. Wood explained: 
"Even when they're with their spouses or family, they have often stayed very close to each other and took turns to greet other people."
In this case, it looked like William just came down the stairs with an unknown man and simply went off to fulfill his duties. When they unveiled the statue, the experts identified other interesting signs.
The first photos of the commemorative statue of Princess Diana have been released. Princes William and shared their reactions to the touching tribute with sculptor Ian @RankBroadley and their late mother's siblings, Lady Jane Fellowes, Lady Sarah McCorquodale and Charles Spender. pic.twitter.com/n3T5GfI5uC

— Omid Scobie (@scobie) July 1, 2021
"LET'S JUST YANK IT!"
Lip reader expert Jeremy Freeman pointed out that Princess Diana's sons took different approaches to the event – William was cautious, and Harry was more relaxed. 
Harry wishes to connect and is more comfortable with their current situation.
Freeman explained that Harry told his brother they would be "okay" after a man offered some advice on unveiling the statue. However, William said he didn't want anything to go wrong, emphasizing that they needed to uncover the sculpture "right."
Before finally unveiling the statue, William showed his brother how he believed they should pull the cover, but Harry responded, "Let's just yank it!"
POSSIBILITY OF A RECONCILIATION
According to Wood, the most exciting minutes of the event happened after uncovering the art piece as Harry's body was facing William's and was trying to get his full attention and talk to him. 
However, the Duke of Cambridge seemed uncomfortable, and his body was facing the statue. Wood added that their behavior might suggest that Harry wishes to connect and is more comfortable with their current situation than his older brother.
BREAKING: The Diana statue, unveiled by her feuding sons. pic.twitter.com/BmZ23kLWlj

— Piers Morgan (@piersmorgan) July 1, 2021
Body language expert Karen Donaldson pointed out that William and Harry have a lot of work to do to fix their relationship, mainly because they were too distant from each other and walked out of step. 
However, the fact that they looked comfortable with each other most of the time and Harry showed a "Duchenne smile," the one that displays genuine enjoyment, are good signs.
LIVE: Princess Diana statue installed at Kensington Palace https://t.co/9lYIGtBi1I

— Reuters (@Reuters) July 1, 2021
One thing is clear: Princess Diana would prefer that her sons could make amends and end their feud. According to controversial British journalist Piers Morgan, the Princes' dispute would have broken Diana's heart. 
Morgan went as far as to say that Diana would have personally stopped her sons' dispute. Sadly, it's been over two decades since she died, so it's up to her sons to work things out.