Michael Jordan's Daughter Flaunts Fit Thighs in Tight Leggings, Fresh Face & Gorgeous Hair in New Pics
Michael Jordan's daughter, Jasmine Jordan, seems to be in high spirits as she confidently shows off her stunning makeup-free face, gorgeous hair, and toned thighs in body-gripping leggings.
Jasmine is the youngest child and only daughter of NBA legend Michael Jordan and his first wife, Juanita Vanoy. Like her business tycoon dad, she is a career woman who has enjoyed impressive success career-wise over the years.
The Jordans are famous for their low-profile lifestyle, especially on social media. Even though Jasmine operates an Instagram account, she manages the information and contents that drop on the platform.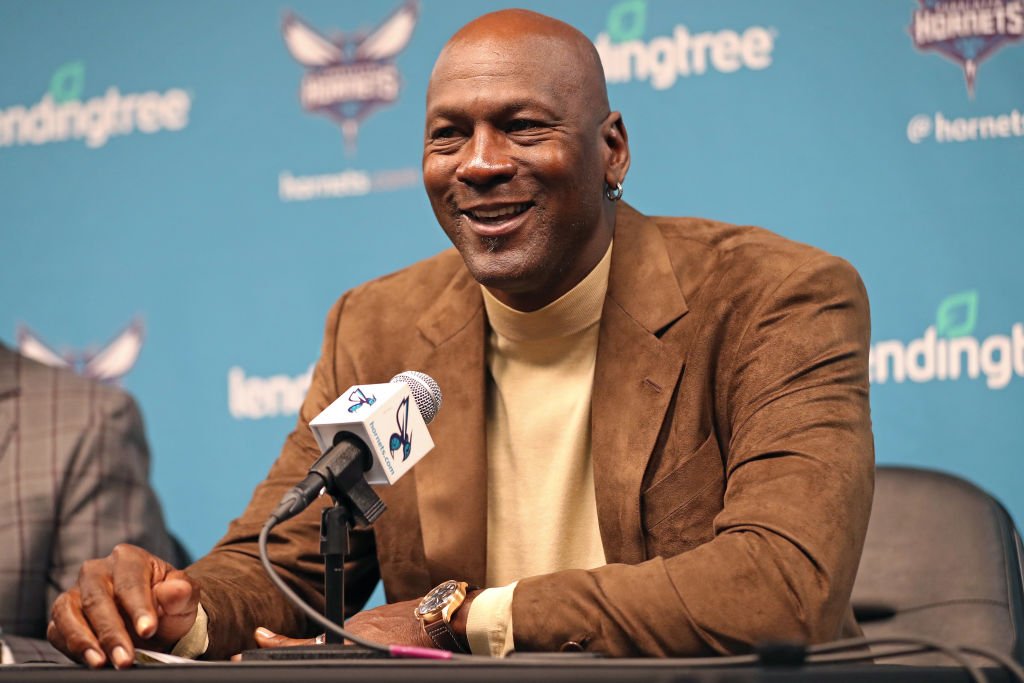 Recently, Jasmine blessed her audience with a double slide shot, proclaiming her natural and unique beauty. In the first photo, she showed off her face and a partial view of her upper body.
The snap revealed a no-makeup look of her as she basked in the warmness of the sun and glowing skin that was adorned with gorgeous curly black hair.
Her slim, fresh face was not the only thing that gained attention from fans. Jasmine also widened her lips in a slight smile, adding more beauty to her face.
The second slide showed a more playful Jasmine in tight leggings paired with a rainbow-colored short sleeve top, posing with her iPhone in front of a mirror. The flawless beauty captioned the post:
"hi fresh face + sunlight."
MOTHERHOOD AND A THRIVING CAREER
Jasmine is confident not only for her looks but also for her amazing personality. She is a graduate of Syracuse University with a degree in sports management.
Although she never picked interest in her father's former career as an athlete or did not inherit the genes, after her studies, she became involved in Michael's legendary footwear brand as an executive to the Nike and Jordan brand.
The Syracuse alum used to work with the Jordan brand athletes playing for the Charlotte Hornets, a team owned by her dad. While Michael did not pass down his basketball skills to the kids, he taught them the core values of life, like listening to their guts. According to Jasmine:
"So, when it came to business, he always made sure to remind me to always trust my instincts, trust my guts and trust my feelings..."
In 2019, Jasmine assumed a fresh new title— mother! She welcomed her first and only child, Rakeem, with her fiancé Rakeem Christmas. One would have thought that the first-time mom would find it hard adjusting to the role. However, she did great settling into it.
That was not all; the mother of one was able to juggle work and motherhood. She confessed that it was a struggle at first, but her consistency and passion for making it work were the driving wheel.
JASMINE'S FAIRYTALE LOVE LIFE
Jasmine's love affair was made public a few years ago. She met her prince charming, Rakeem Christmas, in Syracuse. There, he played for the school's team and later performed for two seasons after being drafted into the NBA.
While speaking to an outlet, Jasmine, who got engaged in 2018, revealed that her lover and dad were nervous during their first meeting; it was not until she broke the ice that the pair started talking and ended up being buddies.
A year after their engagement, the couple made Michael, a grandfather for the first time. The entire family was excited over the news of their son. For the NBA superstar, another bonding exercise resumed.
He began performing his granddaddy duties effortlessly and admirably, despite being new to the process. The new parents also went online to gush on their newborn, with a series of posts and captions detailing their joy.
Jasmine and her lover are set to tie the knot soon, after two years of engagement. The mother of one recently hosted a spectacular bridal shower! Nobody knows the specific date for the ceremony yet, still, fans are thrilled.
MICHAEL'S PARENTING
Despite Michael's talent on the court and competitiveness, he was able to fit in as a perfect parent. He instilled the art of being competitive in his kids and ensured they worked hard to excel.
Michael was not bothered about his kids' career choices. Instead, the doting father was more interested in seeing them happy and successful.
For his older kids, Jasmine and her two brothers, he is the best parent who did not give them preferential treatment during their childhood years and because of this, they could distinguish between his personality while playing and at home.