NHL Star Matiss Kivlenieks Tragically Passes at 24
The 4th of July was meant to be a time of celebration, but it ended in tragedy when athlete Matiss Kivlenieks passed away in an accident. His teammates have openly mourned his death.
On Sunday night, July 4, 2021, Matiss Kivlenieks, the Columbus Blue Jackets goalkeeper, died while at an Independence Day celebration. The party was held at former Red Wings goalkeeper Manny Legace's home.
A fireworks mishap at a Novi, Michigan holiday party took Kivlenieks' life at the young age of 24. An initial autopsy report determined that the National Hockey League (NHL) player died from a "percussive injury."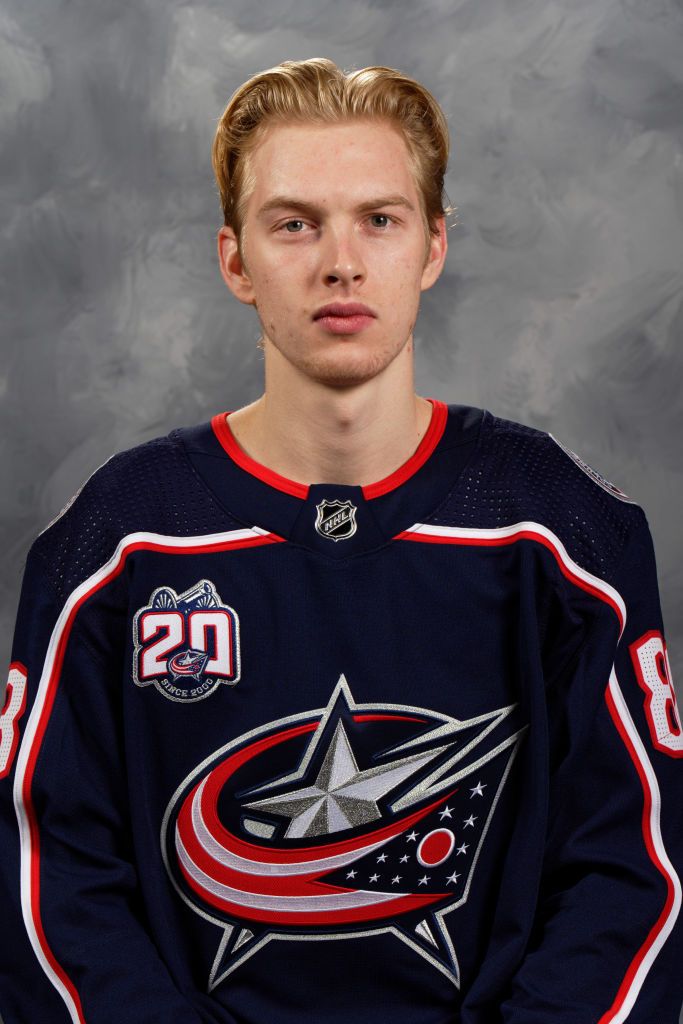 On Monday afternoon, the Novi police department confirmed that the star passed on from the extreme force of the blast of exploding fireworks. An autopsy report from the county medical examiner explained his injuries.
Kivlenieks suffered major damage to his heart and lungs and chest trauma from the incident. The president of the neighborhood homeowner association and resident Kendall Joy confirmed where the incident happened.
Our deepest condolences go out to Matiss Kivlenieks' family, friends, teammates, and the entire @BlueJacketsNHL organization. Rest peacefully, Matiss.

— Calgary Flames (@NHLFlames) July 5, 2021
Besides being a former goalkeeper himself, Legace was the current Blue Jackets goalkeeper coach. Lt. Jason Meier from the Novi police said they weren't sure if Kivlenieks was his directly by the fireworks, adding:
"There was some minor injury to his exterior, which would lead us to believe that some portion of the firework made contact with him…"
Columbus Blue Jackets and Latvian national team goaltender Matīss Kivlenieks has passed away at the age of 24

(per @lhf_lv + @Aportzline) pic.twitter.com/awdE3s4gst

— Hockey Night in Canada (@hockeynight) July 5, 2021
The late athlete's death was ruled accidental. Witnesses will be interviewed to piece together what happened on that fateful day then the police will speak to prosecutors to determine if any charges should be laid.
Reports stated that Kivlenieks had suffered from a head injury after slipping when getting out of the hot tub to run away from the fireworks before hitting his head on the concrete.
Novi, Mich., say an autopsy will be performed later today on Kivlenieks, but they're treating his death as accidental.

Lt. Jason Meier would not comment when asked if other #CBJ players were present with Kivlenieks.

2/2

— Aaron Portzline (@Aportzline) July 5, 2021
According to ESPN, the mortar-style fireworks allegedly tilted slightly before starting to fire toward the people nearby. The late star and other people tried to run away to get out of the line of firing.
Police were called to the scene just after 10 p.m., with paramedics arriving at the home within five minutes. The goalkeeper was transported to Ascension Providence Hospital in Novi, where he was pronounced dead.
Matiss Kivlenieks, Columbus Blue Jackets goalie, has died after an apparent head injury suffered from a fall.

He was 24. pic.twitter.com/DBTWx0e4PT

— Bleacher Report (@BleacherReport) July 5, 2021
His team took to Twitter to mourn his death by announcing it with heavy hearts. They asked for the late teammate's family to be kept in fan's prayers and thoughts while wishing for Kivlenieks to rest in peace.
On Monday morning, John Davidson, Blue Jackets president, released a statement revealing how saddened and shocked they were about the goalkeeper's death. He sent his and his team's condolences to Kivlenieks' family.
Life is so precious and can be so fragile. Hug your loved ones today. RIP Matiss, you will be dearly missed.

— Jarmo Kekalainen (@jkekalainen) July 5, 2021
Davidson remembered the young man as someone who greeted everyone daily with a smile. He also vowed that Kivlenieks' four-year impact on the team would not be forgotten.
He [Matiss Kivlenieks] rode around in a Honda Ridgeline to help promote both [Alexander] Rossi and Sunday's IndyCar race.
The Detroit Red Wings retweeted Blue Jackets' message and also offered their condolences. NHL commissioner Gary Bettman also mimicked the Red Wings' by sharing a heartfelt statement from the organization.
Statement from Commissioner Gary Bettman on the passing of @BlueJacketsNHL goaltender Matiss Kivlenieks. https://t.co/wcNocrykH8 pic.twitter.com/xE3xSahQAR

— NHL Public Relations (@PR_NHL) July 5, 2021
The NHL Players Association executive director Don Fehr followed suit with a similar statement. Former Blue Jackets captain Nick Foligno texted ESPN noting how Kivlenieks had never taken a day for granted, stating:
"Which makes this tragedy even more hard to bear. Praying for his family and all of us who knew him. Hard day for a lot of people in that organization."
It's with a very heavy heart that we share the news that goaltender Matiss Kivlenieks passed away last night at the age of 24.

We are heartbroken. Please keep his family in your thoughts and prayers.

Rest in peace, Kivi.https://t.co/o2EDRgxQ5A pic.twitter.com/FCBr0ZaH25

— Columbus Blue Jackets (@BlueJacketsNHL) July 5, 2021
The team's general manager, Jarmo Kekalainen, also took to Twitter to share his condolences. Kivlenieks' death came on the eve of Game 4 of the Stanley Cup Final in Montreal at Bell Centre.
A moment of silence for the late star was held before the national anthems were played. The goalkeeper's last interview was held the past Tuesday at Mid-Ohio Sports Car Course in Lexington.
Welcome to Mid-Ohio raceway, where Elvis Merzlikins and Matiss Kivlenieks are getting ready to go off-roading with IndyCar driver Alex Rossi ahead of this weekend's race. We promise the #CBJ goalies will return in one piece. pic.twitter.com/lEEPwy128z

— Jeff Svoboda (@JacketsInsider) June 29, 2021
At the time, the late athlete was the guest of IndyCar driver Alexander Rossi. On that day, Rossi announced that he would race in Mexico in November 2021, while Kivlenieks took a ride around Mid-Ohio.
He rode in a Honda Ridgeline to help promote both Rossi and Sunday's IndyCar race. The Riga, Latvia native initially signed with the Blue Jackets as a free agent in May 2017 before playing 8 overall games.