Special Needs Teen Finds Out He Is Going to College, His Reaction Is Priceless
It is always special when something we really worked for comes true and Kurt Kinley, a young man with dreams and aspirations, recently got what he wished for.
In a video shared on Twitter by his brother, KSNTSports journalist Glenn Kinley, Kurt can be seen holding a letter, which he silently read before throwing his arms up in the air from happiness.
Upon reading the letter, Kurt found out that he had been accepted into Heartland Community College, which has a program for students with special needs.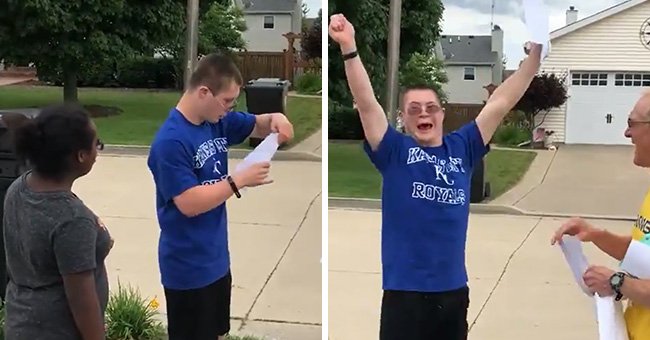 NO SIBLING RIVALRY
It was such a big accomplishment for Kurt, who couldn't help but shed a few tears after realizing that he would be able to pursue a better academic future.
According to Glenn, his little brother was still fighting back the tears while calling to tell him that he had been accepted into the community college.
The two brothers have a deep connection and always celebrate each other's successes. In fact, Kurt was amongst the first people to congratulate him on his on-air KSNT News debut earlier this year.
Got a call from my little brother recently. I could tell he was fighting back tears when I answered. "Glenn, I'm going to college." He just found out he got accepted into a Community College program for students with special needs. Here's the moment he found out. pic.twitter.com/X7Xn3evbWU

— Glenn Kinley (@glenn_kinley) July 3, 2021
Through Twitter, Glenn shared the email Kurt sent him hours before his debut, very happy for the fact that his big brother would be on television and wishing him luck.
Aside from a very proud brother and student, Kurt is also a big fan of sports and an athlete as well, having had the chance to play basketball with other Special Olympics athletes.
My little brother sent me this email before I went on air Monday. He was very happy to hear I would be on TV, but I'm sure he was also disappointed when I did not mention the fact that the Blackhawks beat the Stars in OT the day before. Sorry Kurt! pic.twitter.com/SIdE8417Ad

— Glenn Kinley (@glenn_kinley) February 11, 2021
A RAY OF POSITIVITY
Nick Patkunas, a State Farm Holiday Classic scholarship winner who had the opportunity to interact with Kurt, had nothing but great things to say about him. He stated:
"I had already built a wonderful friendship with Kurt through another activity. His high spirits and energy had me smiling the entire time we were together! He's such a great kid."
Kurt is a great athlete and, back in 2019, he was even announced as one of the finalists for the Special Olympics Male Athlete awards at the State Farm Student-Athlete Recognition Banquet.
MICKEY'S JOURNEY
Five years ago, Mickey Deputy, a 19-year-old from Indiana with Down Syndrome, also experienced the same wave of happiness as Kurt as she read her letter of acceptance from her college of choice.
Her mother, Jenny Deputy, recorded her reaction, which quickly went viral. In the video, Mickey can be seen dancing in her seat after realizing that she had just got accepted into Franklin College's INSPIRE program.
Jenny explained that her daughter loved school and learning and that it was very special for Mickey to get in because there are usually more students sending applications than there are available spots.
It has been reported that, aside from higher education, Mickey wanted to become the first Miss America with Down Syndrome. Sadly, she wasn't able to snatch a win at a local division but managed to win a Spirit Award.