This Athlete Went Out of His Way to Help an Injured Competitor Cross the Finish Line
Talented athlete Simon Cheprot proved that choosing kindness over success is still possible in what can sometimes be an overly competitive society.
Kenyan sportsman Simon Cheprot took part in the 2019 Okpekpe International Road Race in Edo, Nigeria. Nearing the finish line, the athlete chose to help another Kenyan runner Kenneth Kipkemoi.
Kipkemoi was just about to complete the marathon when he collapsed. Many other athletes chose to run right past him, but Cheprot took a different route, picking up and gently pulling Kipkemoi past the finish line.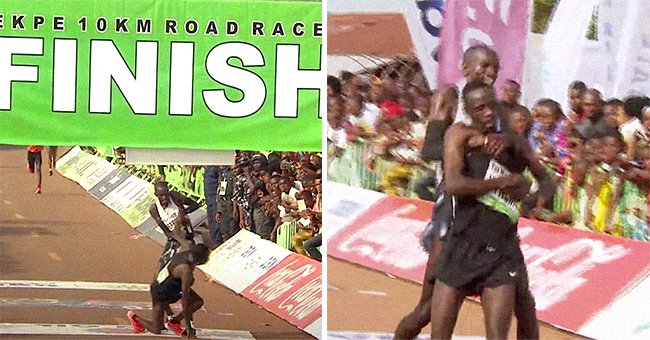 As a result, he forfeited a possible winning spot in the 10-kilometer race, but local politicians rewarded him with 1 million shillings for his altruism. A clip was posted on the Okpekpe race's official YouTube page, where they wrote: 
"He [Cheprot] was a strong contender to be the first person to win twice in the seven years the annual race began."
The comment section was filled with adulation for Cheprot, with one individual remarking that the video brought tears to their eyes. The post brought in around 43,000 views in total.
Reddit commentators also had a lot to say when the video was shared on the platform. Most of the Redditors discussed why Kipkemoi could not go on, with one claiming that it is called "hitting the wall."
Other individuals stated that it is also sometimes referred to as "bonking." The post accumulated just over 64,000 upvotes and around 820 comments so far, along with almost 50 wholesome awards.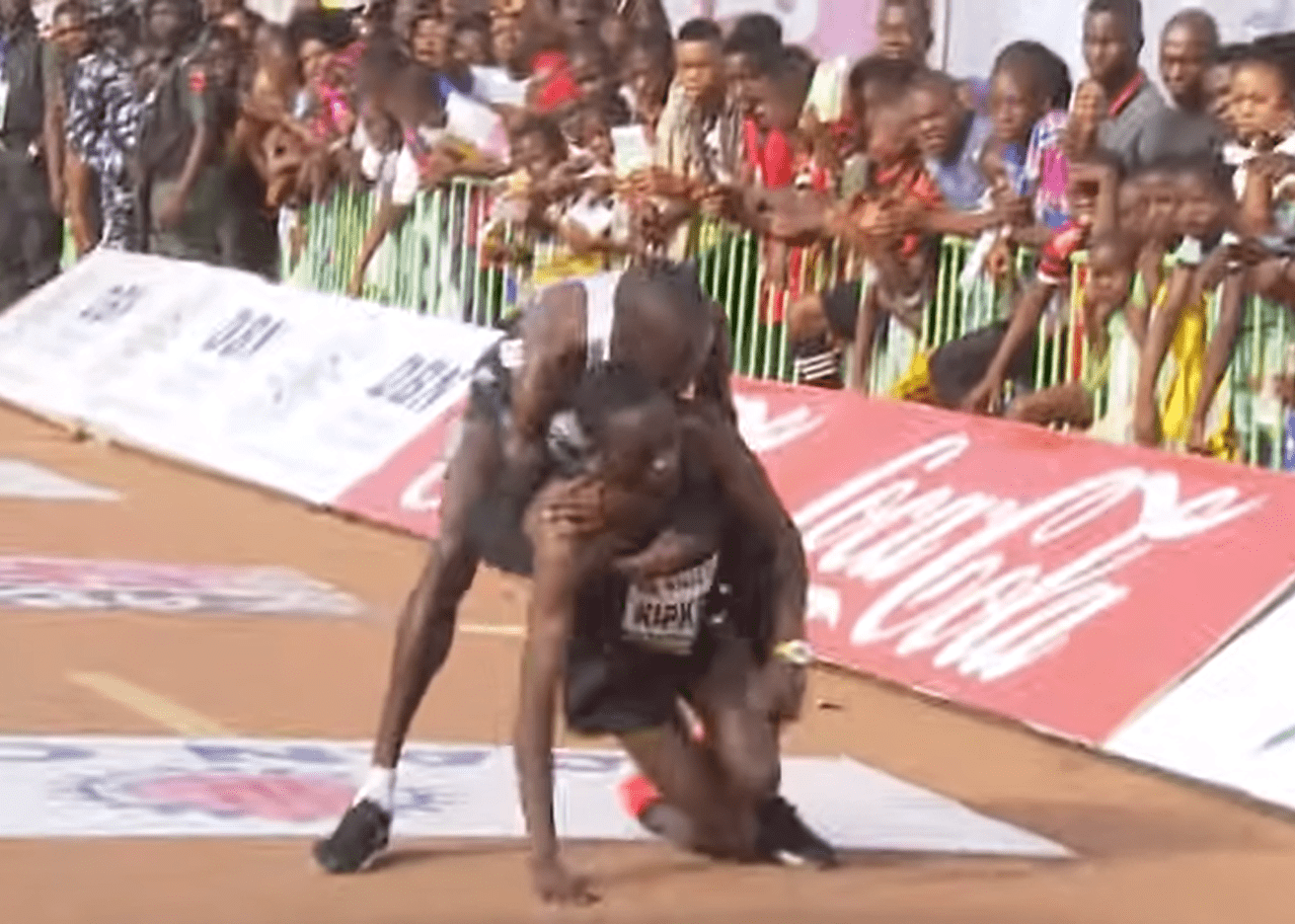 Out of those comments, one individual deviated from the general conversation around why the athlete collapsed. They criticized Cheprot for assisting the other runner, expressing:
"Poor guy just wanted to finish the race on his own no matter what, then somebody comes along mid-roll 10' from the finish and steals his glory."
It did appear that Kipkemoi was determined to make it to the finish line despite his circumstances. He even attempted to crawl and roll towards it.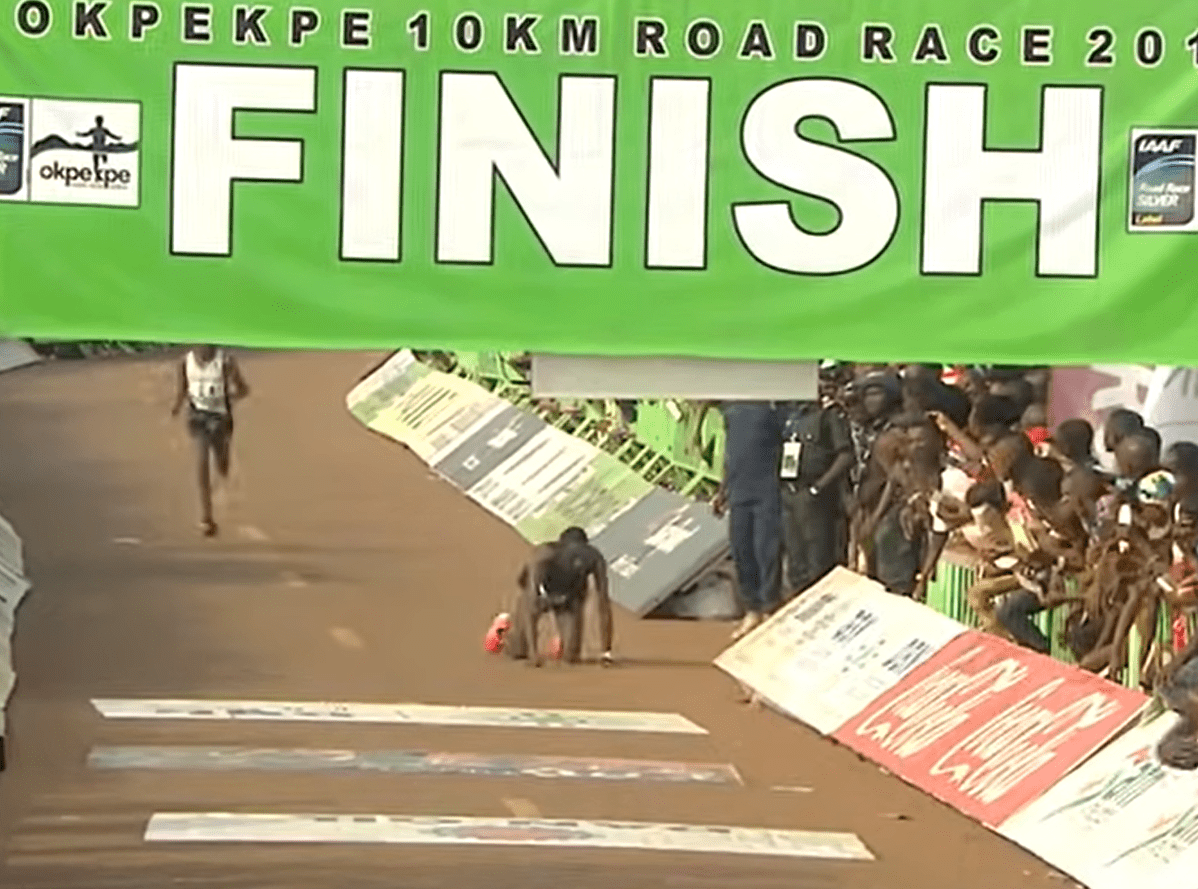 NEVER GIVE UP
This evident and astounding willpower that emanated from Kipkemoi was echoed by Runner John Stephen Akhwari many years ago. He represented Tanzania in the men's marathon at the 1968 Olympic Games in Mexico City.
The athlete was unable to take home a prize but pushed through after falling and suffering injuries such as a dislocation. He came last but was more than content with his achievement. 
YBLN Presents: Read the courageous personal story of John Stephen Akhwari at the 1968 Summer Olympics. pic.twitter.com/rvwvGlKEC8

— YBLNigeria (@yblnigeria) October 24, 2016
YOUNG AND DETERMINED
Another athlete who chose to push on despite the odds was Yeva Klingbeil, a senior at Shenendehowa High School. This young lady was diagnosed with a rare cancer called Rhabdomyosarcoma, which affects muscle tissue.
Despite her condition, she chose to take part in a relay race. Three of her teammates helped Klingbeil by walking arm in arm with her as they all approached and passed the finish line together.