Today: Jimmy Carter, 96, and Wife Rosalynn, 93, Reveal Details about 75-Year Marriage
Former president and first lady of the United States Jimmy Carter and Rosalynn Carter recently reminisced on their over 7 decades of marriage. The couple also revealed exciting details ahead of their 75th anniversary.
Jimmy Carter and Rosalynn Carter recently disclosed exciting details of their fantastic marriage during an interview with ABC News' Steve Osunsami in Plains, Georgia. This came ahead of their 75th wedding anniversary.
Like many families, the pandemic has helped create a stronger bond between the old couple. The United States's 39th president noted that he and Rosalynn do not spend enough time together because they had so many activities to focus on.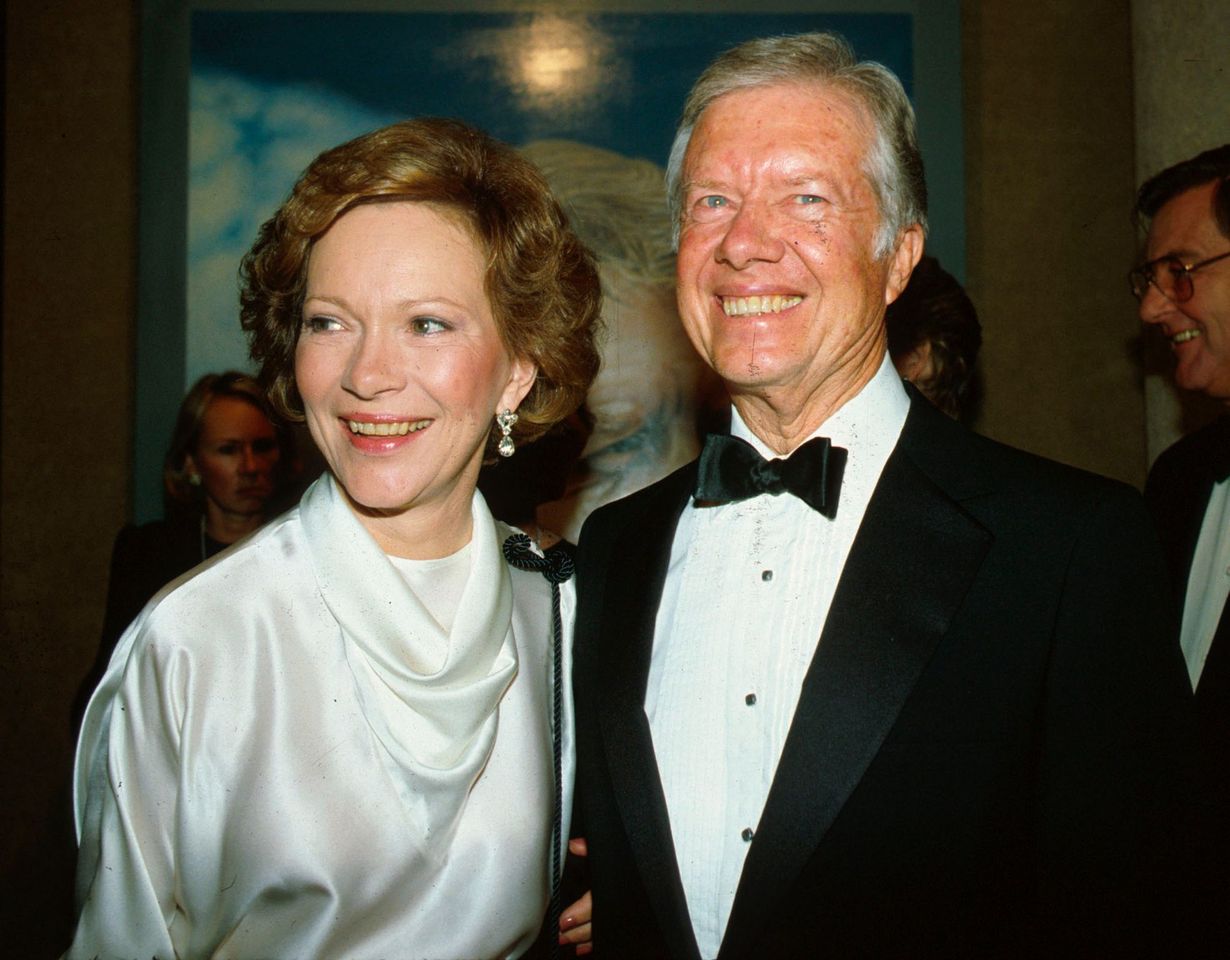 THE 75TH ANNIVERSARY
Jimmy, 96, is the oldest American president, while he and Rosalynn are the longest-living presidential couple in the county's history. The couple met at a very young age, and Rosalynn was Jimmy's kid sister's best friend.
The former first lady noted that she first saw president Jimmy's photos at her best friend's house, and she fell in love before she even met him. Rosalynn, 93, talked about how sweet he was with his sister, sending letters while he was in school.
"I love her more now than I did to begin with — which is saying a lot, because I loved her a lot," Jimmy Carter said of his wife, Rosalynn, as the former first couple approaches their 75th wedding anniversary. https://t.co/ED61J1NtsK

— The New York Times (@nytimes) July 4, 2021
The couple noted that they planned to have a big party in a school in their hometown and anticipated a big crowd to celebrate the amazing milestone.
In 1976, the couple was captured as they had a good time during a valentine's day fundraiser.
"First of all—choose the right person."

Former Pres. Jimmy Carter and first lady Rosalynn Carter tell @SteveOsunsami the secrets to their 75-year marriage.

"Love & Service: The Carter Story" premieres today on @ABCNewsLive and @hulu. https://t.co/nxXubzOG27 pic.twitter.com/BFWejLPb5y

— ABC News (@ABC) July 5, 2021
Jimmy did not stop there as he also got his wife a diamond necklace that had the number 75 inscribed on the back. Rosalynn said she had not taken the gift off her neck since she got it.
During the interview, former president Jimmy pointed out the need for good communication. He noted that he and his wife find the need to reconcile whenever they had a misunderstanding. In his words:
"We don't go to sleep with some remaining differences between us."
Wishing President Jimmy Carter and First Lady Rosalynn Carter a very happy 75th anniversary!

📷: @CarterLibrary pic.twitter.com/8Ct81AWd3l

— The Democrats (@TheDemocrats) July 7, 2021
Rosalynn also talked about the importance of finding a common interest. She stated that even as an old couple, she and Jimmy still look for things to do together. She, however, emphasized the need to have personal space in a relationship.
THEIR INCREDIBLE LOVE STORY
In a book titled "What Makes a Marriage Last," Rosalynn recalled how she and Jimmy's little sister, Ruth, had planned to get her involved with Jimmy when he returned for a long break from the Annapolis Naval Academy.
Today marks former President Jimmy Carter and former first lady Rosalynn Carter's 75th anniversary. @mitchellreports takes a look at their love story. pic.twitter.com/jxuY4r3Bi6

— TODAY (@TODAYshow) July 7, 2021
As luck would have it, on an evening outing, during one of Jimmy's breaks, he had no date because his then-girlfriend went for a family reunion, and Jimmy wasn't invited. 
The 96-year-old former president also remembered that he was "cruising" around with his sister Ruth and her boyfriend, trying to see if he could find a date when he found Rosalynn in front of a Methodist church.
"It's a full partnership." Former President Jimmy Carter reflects on 75 years of marriage with his wife Rosalynn. They celebrate their anniversary on July 7, extending a presidential record. More from @BillBarrowAPhttps://t.co/Bx8UFguPYT

— The Associated Press (@AP) July 4, 2021
He stated that he felt a connection between them, and they shared a kiss on their first date. After their date, Jimmy noted that he told his mother that he had found his wife.
On July 7, 1946, the pair got married at a Methodist church in their hometown after Jimmy graduated from the United States Naval Academy. They share four children, sons Jack, Chip, and Jeff, and daughter Amy.
The longest-married presidential couple in American history is ready for a milestone wedding anniversary Wednesday. https://t.co/7ENJzR4MFt

— Tampa Bay Times (@TB_Times) July 4, 2021
PUBLIC DISPLAY OF AFFECTION
Former president Jimmy and his wife ushered in 2021 with a lovely kiss in their car on new years eve. The beautiful moment was captured and shared on social by the couple's friend Jill Stuckey with a caption that read:  
"I caught these folks kissing in my driveway tonight! If that doesn't make your New Year start out right nothing will!! HAPPY NEW YEAR." 
President Jimmy Carter and First Lady Rosalynn Carter made the kiss cam (Photo: @Braves): http://t.co/3M5361BAR0 pic.twitter.com/f07tPGF4yP

— SI MLB (@si_mlb) September 18, 2015
The couple's love for PDA goes all the way back to their first date, as revealed by Rosalynn. In 2015, the amazing couple also showed young folks how it is done when they shared a moment on the kiss cam at an Atlanta Braves game.
BEAUTIFUL MOMENTS SHARED
The Carters have shared a lot of heart-warming moments in each other's company. In 1976, the couple was captured as they had a good time during a valentine's day fundraiser.
So sweet! Former President Jimmy Carter and First Lady Rosalynn Carter rang in the 2021 New Year a few hours early, sharing a New Year's kiss while watching the Peanut Drop in their hometown of Plains ❤ https://t.co/TYzLHI7gU2

— Atlanta Journal-Constitution (@ajc) January 4, 2021
On January 20, 1977, Rosalynn stood by her husband while he was sworn in as the 39th president of the United States. The couple was also seen with their youngest child Amy and grandson Jason during an annual traditional celebration.
The couple who each has individual goals have made it a thing to support each other. And over the years, the old couple has been able to overcome all marriage flaws.