Daily Joke: A Man Is Afraid His House Will Be Burglarized
Having intruders in your house can be a scary experience, and such events can haunt people for a very long time. There may be scenarios where people fear that someone might break into their house, and this joke tells a similar story. 
Henry had been having recurring nightmares about his house being burglarized which made him fear it would actually happen. Though his scary dreams ended with the burglar unable to break into his house, he was still afraid and saw his dreams as a signal of something bad coming.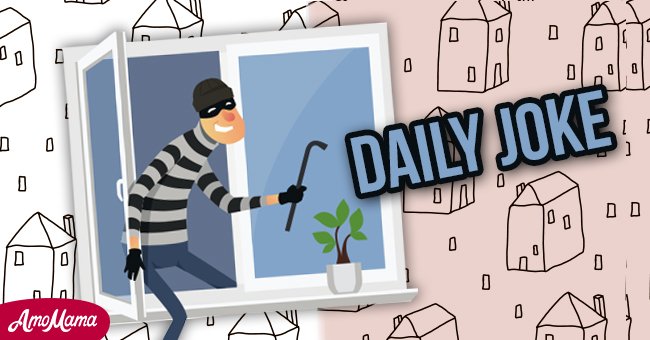 So every day, he would inspect his home and look for signs of a possible break-in. When he found nothing of the sort, he would install a new and full-proof lock to his door to keep the intruders away. 
However, Henry was headed for work one day when he noticed a broken lock on his door. At first, he panicked and began to freak out, afraid that someone would break into his house because of the faulty lock. Amidst his chaotic state, he heard a man offering him help. 
He saw that the man was carrying a toolbox and standing just across the street. Henry narrated his story to the handyman, showed him the faulty door lock, and asked him if he could fix it while he was gone to work. The handyman agreed to repair the lock. 
When Henry returned home from work in the evening and opened the door, he could not believe his eyes. His house had been swept clean, and there was a small note lying around. Henry leaned forward and saw that the note was written by the handyman. It read:
"Thanks for leaving the door open for me. Those pesky locks have been giving me issues all week! P.S. I fixed your door."
Here's another joke about a kid who came back from school and was astounded to see that her house had been raided and robbed. She was taken over by a wave of panic but gathered herself and contacted the police, telling them about the burglary. 
The police were quick to send help, and they summoned a K-9 unit patrolling in the vicinity to reach the crime scene. Eventually, the K-9 officer reached the house along with a dog on a leash.
When the girl saw the dog, she rushed out in a state of confusion and apprehension and whined:
"I come home to find all my possessions stolen. I call the police for help, and what do they do? They send me a BLIND policeman!"
If you enjoyed reading this joke, check out this other one about a kid who planned to please his grandparents with a delicious breakfast.