Kerry Washington Looks Divine as She Flaunts Fit Tummy & Long Legs in Yellow Swimsuit in New Pics
Kerry Washington wowed fans with a new photo of herself looking stunning in a yellow two-piece swimsuit, surrounded by breath-taking scenery.
Actress and co-producer Kerry Washington is never shy of showing off her ageless beauty through posts shared with fans on her Instagram page.
The award-winning actress looks half her age as she embraced the summer glory in a new social media pic. The shots showed the 44-year-old, rocking a strappy, two-piece swimsuit that complimented her skin tone.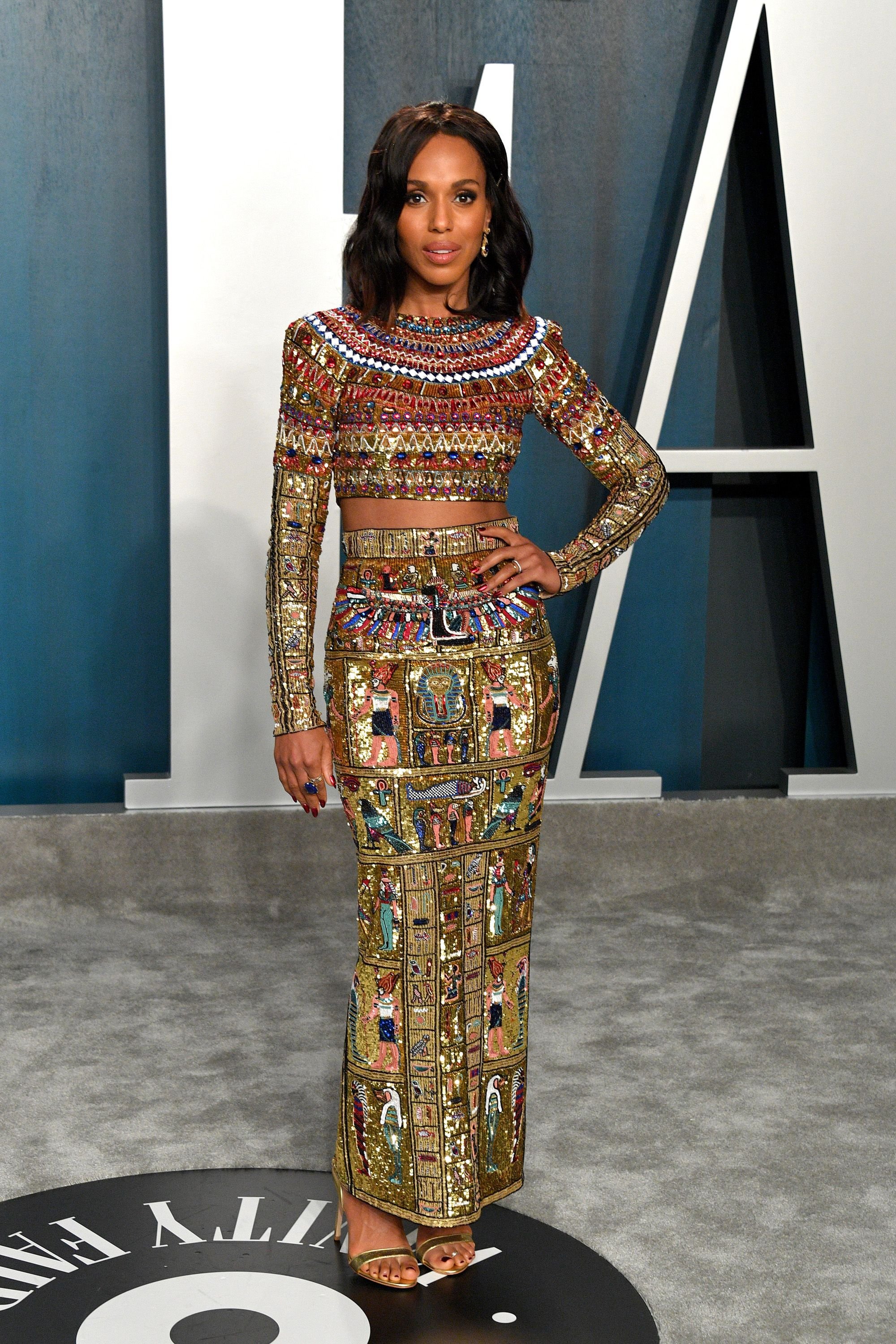 THE SIMMERING SWIMSUIT SHOT
The yellow outfit showed off her long legs and flat abs, as she posed atop a white padded bench positioned in the desert-like location.
Her hair, styled into short tiny curls made the actress appear chic and classy. She completed the look with a massive sunshade, giving her a youthful aura as she gazed into the distance.
Washington's surroundings looked breathtaking, with the expansive land covered in desert sand, and a mass of stratified rock in the distance. The green and grey shrubs dotting the land expanse made the scenery more captivating. She captioned:
"Here comes the ☀️."
In a second photo, the "Little Fires Everywhere" star looked ecstatic, posing with her two hands suspended in the air dramatically while perching on one foot in a celebratory display.
FANS GUSH ABOUT THE STUNNING ACTRESS
Fans had a field day admiring Washington's beauty, flooding her comment section with fire and heart emojis. One fan praised the icon's pretty curls before commending how stunning she looked in yellow.
A second fan gushed about her appearance, describing her as stunning and gorgeous. Another commenter compared the icon's beauty to the sun, admitting she radiated a "whole lotta heat."
Achieving a trim figure post-pregnancy was just an added advantage in her journey to become the best version of herself.

ROCKING THE POST-BABY BODY IN STYLE
Given her appearance in the shot, one could hardly guess the 44-year-old was a mother of two children. Interestingly, the star earned her killer post-baby body without even trying.
During an interview with Self, Washington explained how much she opposed society's obsession with new moms "getting back" their figure.

According to her, achieving a trim figure post-pregnancy was just an added advantage in her journey to become the best version of herself, which should be the main focus for new moms. She explained:
"I've been really focused on not being 'back' to anything but being the best version of myself right now. My body is the site of a miracle now. I don't want to be a pre-miracle."
For Washington, becoming her best version meant staying healthy and maintaining a preferred bodyweight that made her feel good about herself. Part of her routine to stay in shape involved workout sessions.

DOWNPLAYING ALL THE ODDS
Given how far Washington has come in her career, it's almost impossible to picture a time when she was merely an upcoming actress struggling to land her big break.
In fact, long before the star made it to Hollywood, she surmounted one of her biggest career struggles from her family, who feared she was headed for rock bottom, by choosing to become an actress.
Washington once revealed that her mom's nightmare was watching her become a starving actress. And those fears were not exactly unfounded given the discrimination faced by Black women in showbiz. 
Gladly, she defied all the odds and attained excellence in film and television, while focusing on keeping her body trim and healthy.
KERRY WASHINGTON'S APPROACH TO FAMILY LIFE
Something else the "Scandal" star focused on was being the best mom to her kids, and a great wife to her husband Nnamdi Asomugha, a former NFL player.
To do that, the actress, who shot to fame after snagging the role of Olivia Pope in the political drama, "Scandal", strived to keep her personal life private, by keeping her kids out of the spotlight.
Explaining her decision, Washington admitted she wanted to protect her family from media exploitation. Washington and Asomugha welcomed their first child Isabelle Amarachi Asomugha in 2014. Her son, Caleb Kelech Asomugha arrived in 2016. 
While the lovebirds are famous in their own rights thanks to their respective careers in sports and the movie industry, little is known about their children, aged four and six. 
So far, her approach seems to be working, as the "Scandal" actress has encountered no big scandal in real life that may threaten her relationship or family.