Catherine Zeta-Jones Posts Unseen TBT Pic of Michael Douglas Praising Him for Emmy Nominee
Catherine Zeta-Jones took a trip down memory lane as she posted an unseen throwback photo of Michael Douglas, commending him for his Emmy nomination.
Catherine Zeta-Jones recently uploaded a throwback black and white picture of her husband Michael Douglas on Instagram to praise him for his Emmy Awards nomination. In the caption, the actress wrote:
"Emmy Nominated!!!!!! I love this photo of Michael and so I am posting it to say… [sic]."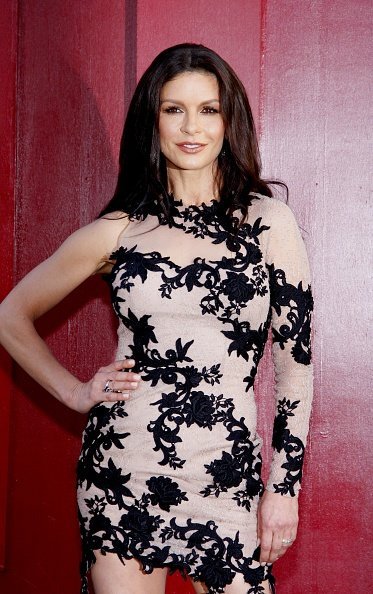 HE LOOKED DAPPER
Zeta-Jones, who has also received multiple honors and accolades, added, "Congratulations, Hubby, on your Emmy Nomination for your performance in The Kominsky Method!! Love you [sic]."
Douglas is seen sitting on what appears to be a staircase in the shot, and he's not looking at the camera. He looked dapper as ever in his attire. There's no wonder Zeta-Jones is so fond of the photo.
Immediately following its publication, the photo garnered more than 100,250 likes. Many fans also commented on the post to express their admiration for the actor, with one saying he's "full of charisma."
Douglas has received many honors throughout his career. And for this year, he was nominated for Outstanding Lead Actor In A Comedy Series for his portrayal of Sandy Kominsky on Netflix's "The Kominsky Method."
Meanwhile, "The Kominsky Method" was nominated for Outstanding Casting For A Comedy Series, Outstanding Comedy Series, and Outstanding Sound Mixing For A Comedy Or Drama Series (Half-Hour) And Animation.
They started dating shortly afterward, and the age gap never caused them any problems.
HE DOESN'T NEEDS AN EMMY
Douglas also earned nominations for the 72nd Primetime Emmy Awards last year, and Zeta-Jones congratulated him on her Instagram page, where she has more than 3.7 million followers.
While Douglas would like to add another award to his collection, an Emmy is unnecessary to prove his star status. As a matter of fact, Douglas and Zeta-Jones are fond of attending awards shows for the sake of fun.
PAYING TRIBUTE
In June, Zeta-Jones expressed her support for Douglas during a bittersweet day for him. Following Kirk Douglas' death in February 2020, Douglas was faced with missing his father again this year for Father's Day.
Douglas had paid a beautiful tribute to his legendary father, who passed away at the age of 103, by posting an adorable photo of him and Kirk relaxing on the poolside on Instagram.
As Douglas stated in the caption, Kirk will always be an inspiration to him, and his love for him is unconditional. Zeta-Jones was among the first to comment on the post, replying with a series of red love heart emojis.
THE COUPLE'S LOVE STORY
Zeta-Jones met Douglas, who is 25 years her senior, in France in 1996. As the actress recalled, Douglas asked to meet her, and she was a little nervous since she didn't quite know what he wanted to discuss.
They started dating shortly afterward, and the age gap never caused them any problems. In November 2000, the couple was married and now have two children, a son Dylan Michael and a daughter Carys Zeta.