People: Sarah Ferguson Reveals What Princess Diana Would Have Thought of Meghan Markle & Kate Middleton
The Duchess of York, Sarah Ferguson, revealed some interesting information about her view on Diana's thoughts. She talked about what the Princess of Wales would have thought about Meghan Markle and Kate Middleton.
Like Meghan Markle and Kate Middleton, the Duchess of York, Sarah Ferguson, and The People's Princess, Diana saw their fair share of media scrutinization. The sisters-in-law were usually painted as rivals.
In a recent interview with People, Ferguson revealed what the Princess of Wales would have thought about her sons and their families. Ferguson noted that her friend would have been proud of her sons and their wives.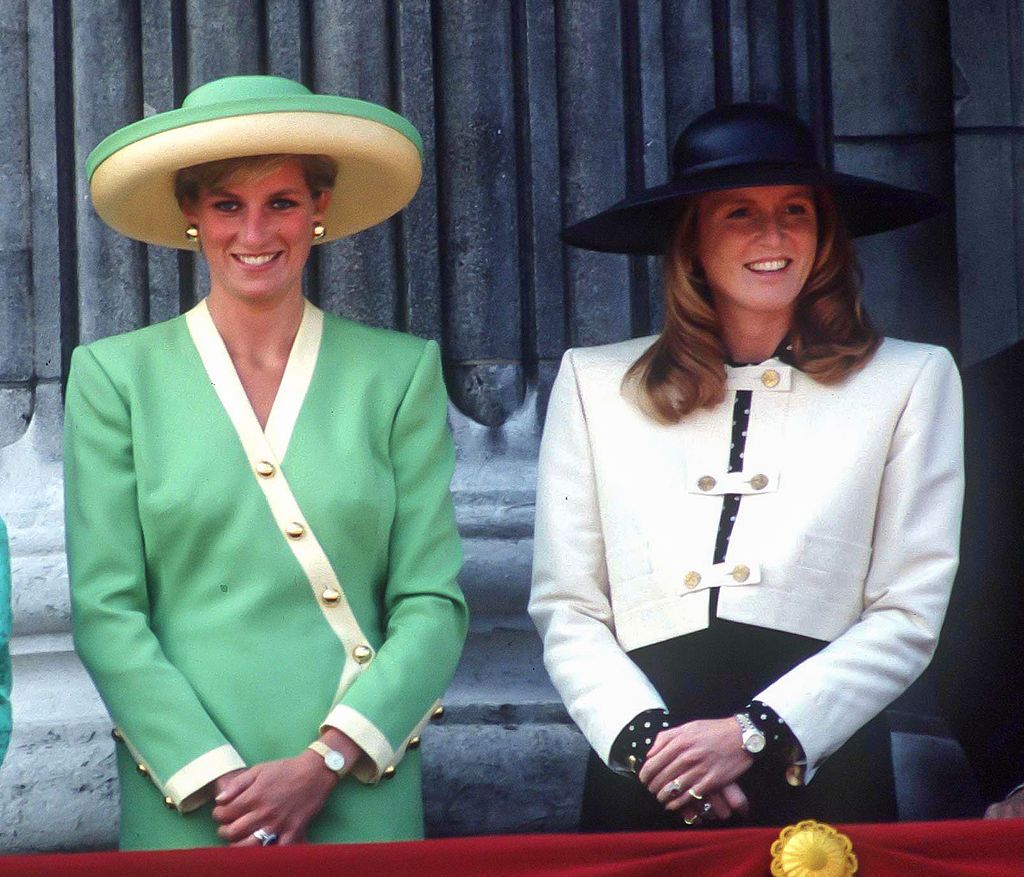 SARAH FERGUSON'S OPINION
Ferguson, Princess Diana's childhood friend, stated that the Princess of Wales would have been filled with joy and showered her grandchildren with love because she is a lover of kids.
The Duchess of York, 61, explained that Princess Diana adored her kids, Princess Eugenie and Princess Beatrice. She praised the late Princess for her bravery, and she publicly appreciated their friendship.
Sarah Ferguson on How 'Proud' Princess Diana Would Be of Her Sons and Their 'Wonderful Wives' https://t.co/rOErB5wFyL

— People (@people) July 14, 2021
She also addressed the rumors about her and Princess Diana's fallout before Diana's death in 1997. The Duchess of York stated that they had no issues, but the public didn't see that because everyone wanted to see something strong break.
Markle's attitude has attracted comparison to former royal member, Ferguson.
What Princess Diana would've thought about Meghan Markle and Kate Middleton - according to Sarah Ferguson https://t.co/jGa81Mfa9F

— Birmingham Live (@birmingham_live) July 15, 2021
KATIE NICHOLL'S VIEW
However, in a different interview, royal expert Katie Nicholl also opined about how Princess Diana would have seen Middleton and Markle. Nicholl noted that the late Princess would have been pleased with Middleton and would have approved of her.
However, Nicholl's view on Markle and Harry was quite different. She mentioned that the Princess of Wales would have loved Harry's choice but with Markle's press issues, Nicholl felt they would have had "clashes." In her words:
"But I think she would find Meghan difficult because she is such a strong character, and so was Diana."
I'll be back on @GMB later this morning to discuss #william #harry and #diana pic.twitter.com/1t1cGsjYwK

— Katie Nicholl (@katienicholl) May 21, 2021
FERGUSON AND DIANA'S RELATIONSHIP
Diana and Ferguson's relationship started way before they got married into the royal family. According to reports, the duo were distant cousins as they shared an ancestor, Georgiana, Duchess of Devonshire.  
They had a strong bond and were never secretive about their relationship. However, it was a shock that Ferguson was not invited to Diana's wedding to Prince Charles. According to royal expert Tom Quinn, Ferguson was not pleased with the news.
Duchess of York Sarah Ferguson calls for end to toxic social media bullying pitting Kate Middleton against Meghan Markle—comparing the online baiting to what the media did with her and Princess Diana. https://t.co/CrtsyT6oLj pic.twitter.com/xIwL7VyNoB

— ABC News (@ABC) February 12, 2019
It was later revealed that Diana had nothing to do with the invitation, and she wanted her friend as one of her Ladies-in-Waiting. Royal commentator Lizzie Cundy opined that the British royal family did not find Ferguson fit for the role. 
Princess Diana reportedly linked her brother-in-law Prince Andrew and her friend. She invited Ferguson to an evening event where she met Andrew. After several other hangouts arranged by Diana, the two started a relationship and later got married.
"I really miss Diana. I loved her so much...Diana was one of the quickest wits I knew; nobody made me laugh like her." - Sarah Ferguson on Princess Diana https://t.co/f4SrxYWS4H pic.twitter.com/i5KOxwfgz8

— E! News (@enews) February 11, 2019
When the two friends began to have marital issues, they confided in each other in that period. Ferguson also confirmed in her autobiography that they planned their exit from the royal family together.
However, records showed that the two had a fallout after their respective divorces, and there was no reconciliation until Princess Diana's death. Ferguson revealed during a 2018 interview that not making up with Diana was her greatest regret.
Sarah Ferguson opens up about 'rivalry' with Princess Diana https://t.co/Eb4wc32qnV pic.twitter.com/Z2z8Rxtbsq

— The Mirror (@DailyMirror) February 11, 2019
FERGUSON AND MARKLE
Markle has made headlines many times for breaking different royal rules with her fashion choices and sometimes her postures. However, Markle's attitude has attracted comparison to former royal member Ferguson.
It is believed that Markle might be following in the footsteps of the Duchess of York. In 1986, Ferguson was the first royal bride to have a bachelorette party. Markle and Harry's wedding was also different from other royal weddings. 
Sarah Ferguson compares herself to 'fabulous' Meghan Markle - and explains why she won't give her advice https://t.co/FMuPtgtnGU pic.twitter.com/haSYpVtzyh

— Mirror Royal (@MirrorRoyal) December 12, 2019
Markle invited an American pastor and a gospel choir to represent her roots. It is also believed that the Duchess of Sussex is planning to publish a children's book. Ferguson has also written a series of successful children's books.