Man Pays Special Tribute to His Farmworker Parents after Graduating from Medical School
Erick Juárez, who recently graduated from Medical School, decided to honor his parents for everything they did and sacrificed for him with a very sweet gesture.
The 29-year-old graduated from the Medical College of George at Augusta University back in May. As a tribute to his father Loreto and mother Maricela Juárez, he went back to the farm where they worked.
According to the resident physician, his parents immigrated to the United States in the 1980s with nothing but the clothes they had on and the hope for a better life.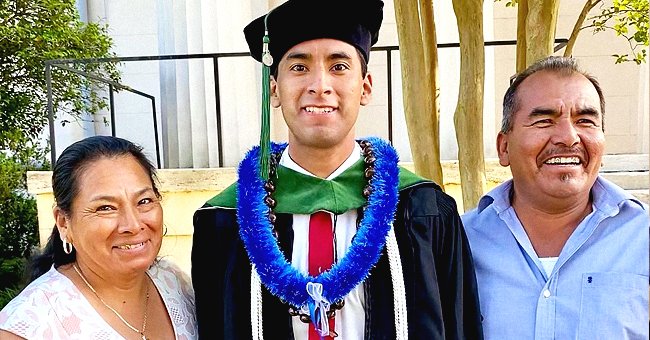 PAVING THE ROAD TO SUCCESS
They worked very hard to pay for Erick's education, from plucking oranges in South Florida to working on tomato fields near Bainbridge, as well as the education of their other four children.
After becoming the first Hispanic valedictorian at Bainbridge High School, Erick attended the United States Military Academy at West Point and graduated with a Bachelor of Arts in neurobiology.
The 29-year-old is currently a neurology resident at UCLA Health and couldn't be more grateful for what Loreto and Maricela have done for him. He added:
"I stand ready to become the first person in family history to earn a white-collar job and to begin serving the various communities I represent, especially the unsung heroes of the pandemic — farmworkers."
Erick proudly shared photos of himself with his parents at his graduation as he wanted to show his friends and the whole world how far they had come since leaving Mexico.
According to the physician, his academic success is a victory lap not only for himself but also his parents, who, despite not fully understanding all that he has done in life, are still proud of him.
THE VALUE OF WORK ETHICS
However, Erick wasn't the only graduate whose parents are farmworkers. In June, a California student named Jennifer Rocha also honored her parents by posing with them in a farm field.
The UC San Diego student has been working alongside her parents since high school, planting strawberries, and even spent her winter and summer breaks at the farm, sometimes working overnight.
About her parents, she says, "they were like if you don't go to college you're going to be here..." without them "I wouldn't have this degree." She plans to go into law enforcement "to show the people that there's good people in there and not just bad people"
📸:Branden Rodriguez pic.twitter.com/VXsGnw8ASY

— David Begnaud (@DavidBegnaud) June 13, 2021
Rocha graduated in Sociology and shared that she plans to go into law enforcement so she can "care for the community how it deserves to be cared for." She also left a few words for her fellow students:
"No matter if your parents work in domestic labor jobs where the pay is minimum wage, with hard work, sacrifice, discipline, and dedication it can be done."
A BONDING EXPERIENCE
But while most parents can only watch their children graduate, some get the opportunity to go through that experience with them, like Vicki Lawlor, who graduated with her daughter Hannah.
Vicki and Hannah, from Tullibody, Scotland, graduated from the University of Stirling on the exact same day after studying together during the COVID-19 lockdown.