Kate Hudson Stuns in Striped Two-Piece Sunbathing on Yacht with Boyfriend Danny Fujikawa & Son Ryder
"Almost Famous" star Kate Hudson and her family are enjoying their vacation in Greece, and the 42-year-old recently shared a stunning snap where she looked adorable in swimwear.
Kate Hudson is one of those stars that fans adore and love to catch a glimpse of every time they get a chance. Since her debut, Hudson has enjoyed being at the center of admiration and love.
Although she has a thriving career as an actress, Hudson's real success is her family. The "Almost Famous" star loves to flaunt her three children and her boyfriend, Danny Fujikawa.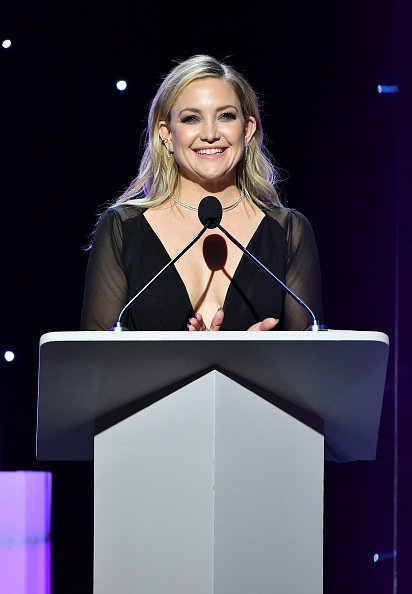 STUNNING VACATION SNAPS
It's the summer season, and everyone is out having the time of their lives. Hudson is one of those enjoying their summer vacation, but unlike most, she is doing it on a yacht. The movie star recently thrilled her fans with a stunning snap from her ongoing vacation in Greece.
Hudson shared the lovely picture on Instagram, and it showed her and son, 17-year-old son Ryder, alongside her boyfriend, Danny Fujikawa, soaking up the sun from their luxury yacht.
The mom of three looked stunning, rocking a blue and white striped swimwear as she showed off her glowing skin. In her caption to the post, the 42-year-old expressed her love for Greece.
Hudson has been in Greece for over a month and has been sharing eye-catching pictures of her moments on the trip. Hudson's pictures show her in various sunbathing outfits, and she looks stunning!
MAKING IT IN HOLLYWOOD
Most of Hudson's life has been spent in the public eye as the daughter of actress Goldie Hawn and musician Bill Hudson. However, the mother of three has often credited her childhood for her stability in life.
Hudson's parents divorced while she was still a toddler, and she was raised by her famous mother, Hawn, and her longtime partner, actor Kurt Russell. Being surrounded by actors, it was clear Hudson was destined to become a movie star.
Hudson fell in love with dancing, singing, and the stage at an early age; her parents also ensured that she received dance lessons and trained at the Santa Monica Playhouse.
Although she grew up without her father in her life, the movie star believes she is doing a good job raising her kids.
Hudson was accepted into New York University, but she was more interested in following her dreams of succeeding in show business than earning a degree. She accepted roles in some minor movies until she got her big break.
The 42-year-old finally got her big break in Hollywood when she was cast to play Penny Lane in the comedy-drama film "Almost Famous." Although the movie was a box office failure, it launched Hudson as a household name.
Her role in the film also earned her an Academy Award nomination. The early 2000s established Hudson as one of the most demanded prospects in Hollywood. Several roles came knocking, and her fame continued to spread all over.
In 2003, Hudson played 'Andie Anderson' in the hit romantic comedy film "How to Lose a Guy in 10 Days" The film was a commercial success and earned Hudson a series of awards and nominations.
BEING A MOM OF THREE
While her career continued to soar, Hudson fell in love and married Chris Robinson, the frontman of "The Black Crowes." The ex-couple were married from December 2000 until their divorce in 2007. 
During their time together, they had a child together, Ryder Russell Robinson, who was born in January 2004. Afterward, Hudson got engaged to Mattew Bellamy, a Muse band member. In 2011 they welcomed their son Bingham Hawn Bellamy, but sadly, the former lovebirds parted ways in 2014.
Later on, Hudson fell in love with an old-time friend, Danny Fujikawa, who she has known for over a decade. The couple shares their daughter Rani Rose Hudson Fujikawa, who they welcomed on October 2, 2018.
Despite having three kids with different dads, Hudson believes it's all working out for the best. And although she grew up without her father in her life, the movie star believes she is doing a good job raising her kids.
Even though she loves nothing more than being a mom, the 42-year-old admitted in an interview that parenting sometimes leaves her overwhelmed.
Hudson acknowledged that parenting a teenager and a toddler presents her with entirely different challenges. However, Hudson revealed that she looks up to her mother when raising her children.