'Brooklyn Nine-Nine' Fans Prepare Tissues to Cry after Final Season Poster Revealed
Sadly, it is the end of the road for "Brooklyn Nine-Nine," and fans of the series are not ready to bid farewell to their beloved show. They have expressed their devastation regarding the news.
"Brooklyn Nine-Nine" fans prepared tissues to wipe their tears after the final season poster was revealed. Fans of the show cannot stop crying about the series coming to an end.
"Are you ready for this blaze of glory? #Brooklyn99," the show wrote on Instagram. A poster shared on the official account featured the cast titled, "One last ride."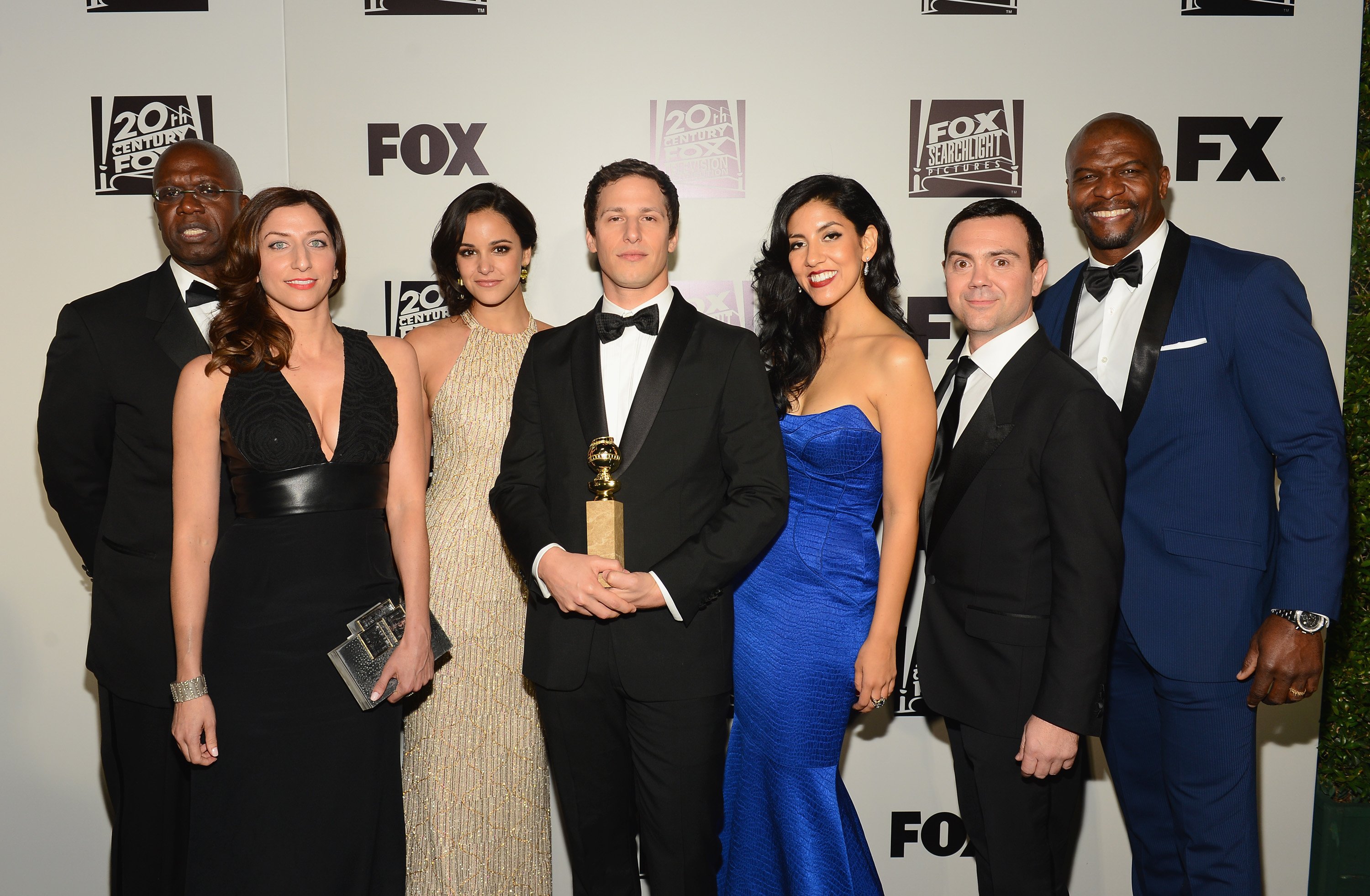 FANS REACT
Although the post garnered over 300,000 likes, fans could not hold back on how they felt about the announcement and took to the comments section expressing their sadness.
"Last ride? How could anyone be ready for that?" one fan wrote. Another showed that she is still in disbelief and said, "But also…does it really have to be over??" while adding crying and heart emojis.
A third tried to lighten the mood and wrote, "Can't wait to laugh and cry," and added a weary emoji. A fourth asked, "Can we make it 99 seasons?"
A fifth shared, "Gonna go and cry in the bathroom, brb," while adding a crying emoji. One person was more interested in one character on the poster and said:
"I think Cheddar is the best part of this poster."

Another fan noted that she is excited about the new season and revealed she would wait to watch the finale. "So excited, but also I will wait ten years before watching the finale and will only watch reruns until then," she wrote.
One last fan of the series tried to be strong and commented on the post, saying, "Yep. Totally not crying. Ninjas are cutting onions again."

WHAT TO EXPECT
The season finale of "Brooklyn Nine-Nine" will tackle the Black Lives Matter movement. Andre Braugher, who plays Captain Raymond Holt, told Entertainment Weekly's "The Awardist" podcast more about the plot.
"It's a very complicated subject, but I think they (the police) have to be portrayed much more realistically, in terms of this: convention…that police breaking the law is okay because somehow it's the service of some greater good, is a myth that needs to be destroyed," he shared adding:
"We're going into an eighth season with a new challenge, which is that everyone's knowledge and feelings about police…have been profoundly affected."

Not only will the BLM movement be incorporated into the show, but the worldwide pandemic will also be featured with New York first responders at the frontline of the crisis.
According to Deadline, the last season of the show grew to 6.4 million viewers overall. The new date release is not yet known as filming was pushed back until January 18 due to the ongoing pandemic.
NBC also announced the series will have a shorter season for its final exit with merely ten episodes and will start airing in autumn 2021.

THE CAST'S REACTIONS
Stars of the show took to social media to express their emotions after learning the series would end. Melissa Fumero, who plays Amy Santiago, tweeted, "It has been one of the greatest joys and honor of my life to play Amy."
She continued and said she is grateful to be able to "take a victory lap with our beloved cast and crew. To our amazing fans, we love you. No tears, for now, we still have a whole season to shoot!"

Dirk Blocker (Hitchcock) shared a video of Hitchock and Scully's best moments, adding: "What a joy this run has been. Best partner, best ensemble, best writers, best crew members, best fans!"
Terry Crews (Terry Jeffords) wrote: "I'm sad it will end, but happy to have had the chance to be a part of something so special."

In July 2020, Andy Samberg, who plays the leading role of Detective Jake Peralta, shared the crew was reevaluating how to produce the show in the wake of George Floyd's death.
"We're all in touch and discussing how you make a comedy show about police right now, and if we can find a way of doing that that we all feel morally okay about," he said. 
FACTS ABOUT THE SHOW
At the beginning of "Brooklyn Nine-Nine," Jake and Amy are rivals in the middle of the contest to see who will make the most felony arrests. However, at the end of the first season, it was evident that Jake was developing feelings for Amy.
He opened up about his feelings for her in the season 1 finale despite Amy being in a relationship with Teddy (Kyle Bornheimer). They eventually start dating in season 3, and on the fifth season, Jake used the hijinks of the annual Halloween Heist to propose to Amy in the evidence room, and she said yes.
The pair exchanged vows in the season 5 finale. The ceremony took place in the precinct parking lot, with Captain Holt officiating. Captain Holt was the new commanding officer who replaced C.O Captain McGinty (Mike Hagerty).
His no-nonsense, rule-stickler style was a bit of a shock to the squad, which was already accustomed to the hands-off approach of Captain McGinty. Holt's first command was to demand Peralta to start wearing a tie.