Fans Are Wowed By Ciara's Husband Russell Wilson & Their Son Win's Likeness in New Video
Ciara's husband Russell Wilson shares a sweet father and son moment with fans via a clip, and fans were quick to spot the duo's likeness. 
Singer and dancer Ciara shares her two youngest kids, daughter Sienna Princess and son Win Harrison, with her NFL player husband, Russell Wilson. She is also mom to Future Zahir, a child from her past relationship.
Both Ciara and Wilson are great parents, and despite a busy schedule, they take out time to dote on their kids and flaunt their charm, which often gets a reaction from their army of fans.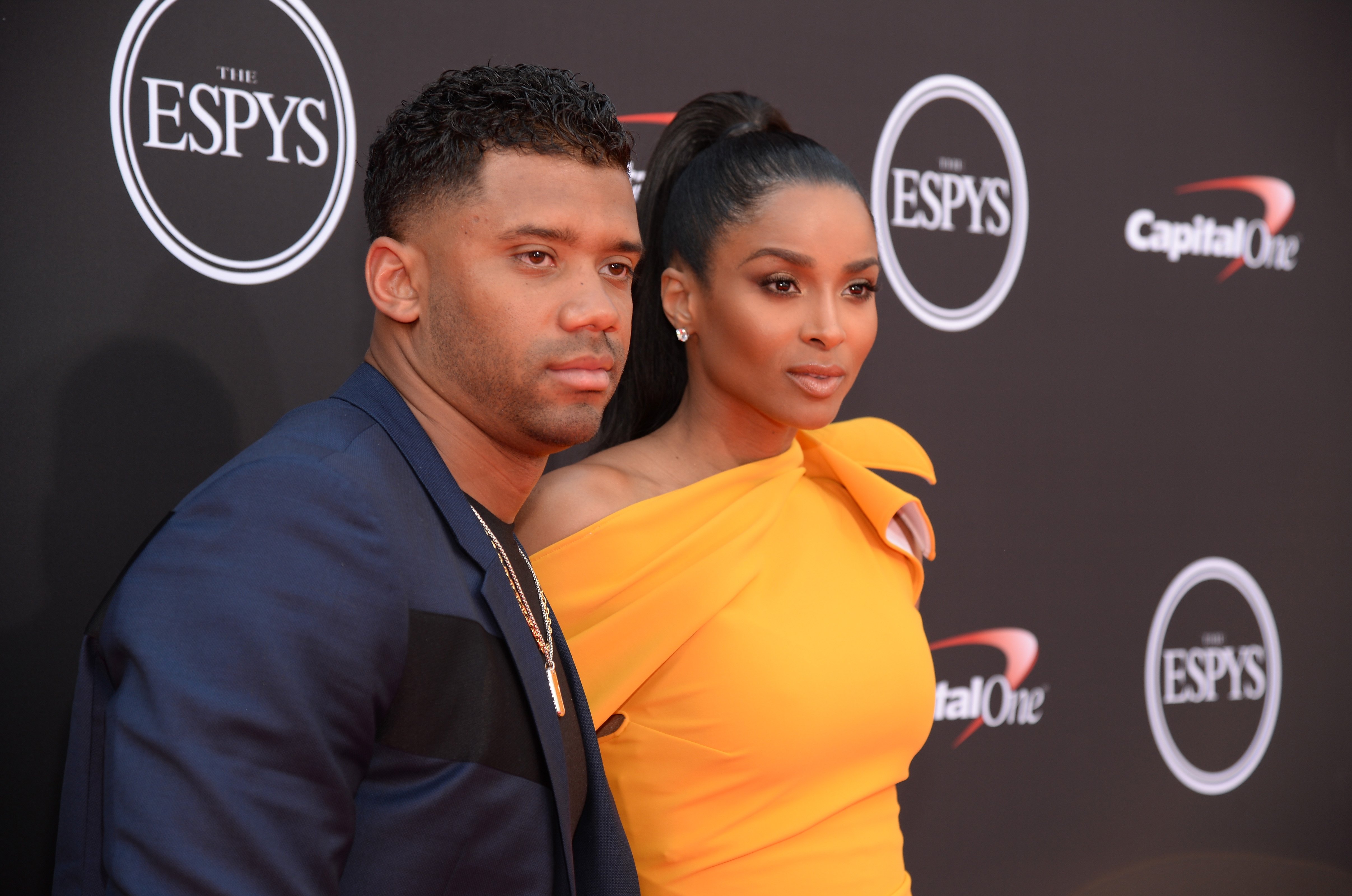 WHAT RECENTLY STIRRED FANS REACTIONS
Russell Wilson teased fans with an admirable post where he bonded with his youngest child and only son.  The father of two recorded himself shirtless, holding the young man, Win, who rocked a cute black Jordan-designed shirt.
Win was all shades of cute as he flashed his tiny teeth, which revealed dimples on his cheeks; this was a response to daddy's request to say "hi." Fans could also see the tiny ponytail knotted behind his head after Ciara's husband flaunted the unique baby hairdo.

Wilson's mini-me tried to place his baby hands on the camera but failed. However, he successfully melted the hearts of fans who could not help but notice his handsomeness and likeness to daddy! One person quipped:
"Omg he looks EXACTLY like daddy!! so cute!!"

CIARA AGREES!
A first glance at baby Win and his dad will make anybody agree with fans. The duo shares the same unique facial features and tagged as twins since last year when Ciara welcomed their second-born.
But apart from their striking looks, the dancer confesses that her husband's genes are super strong as their son exhibits his traits.

During an interview, the mother of three talked about her then 8-month old child being very energetic and always ready to play. But, she added that as parents, they have their hands tied. She said:
"He's ready to play right now. He's ready to rock n roll. He's a lot of fun. But our hands are tied."
Ciara went further to credit her athlete husband for being an excellent parent, always ready to change diapers and spend time with the toddler. 

MORE ON BABY WIN
Win Harrison, born in July 2020, is not only good at looking cute or being the charming little prince, but he is also a smart young man who may be listening more to mommy than daddy!
In December, at 4-month-old, Win churned his first words, which were: "Ma Ma." His mom, who often documents her family moments online, proudly shared the clip.

Fans saw that she urged her son to say "Ma Ma," and surprisingly, the infant said them. The singer teased her husband, who responded via the comment that his son needs to say "Da Da" more.
The couple does not limit showcasing their son online but loves to flaunt him and have him around while creating special moments.
In April, they appeared in rare photos taken by paparazzi during an outing in New York. The snaps showed father, mother, and son decked in casual styles as they enjoyed the outdoor experience.
CIARA AND WILSON'S RELATIONSHIP
Wilson and Ciara are an admirable duo who have more than enough love to go around as a family and lovers. Despite having kids, they have maintained a close relationship showing support to each other in terms of career, charitable deeds, and parenting.
They also co-host a vaccination awareness program titled "Roll Up Your Sleeves," where they feature public figures and enlighten people on the need to take vaccines in these times.