Daily Joke: Two Elderly Men Shared Their Bitter Experience of Losing Their Factories
Two old men came across each other in a small town in Florida and engaged each other in conversation. They discovered that they were both from Oregon and had both managed small factories before retiring and moving to Florida. 
The first man proclaimed that his factory manufactured high-end furniture and had been successful for many years, making him lots of money.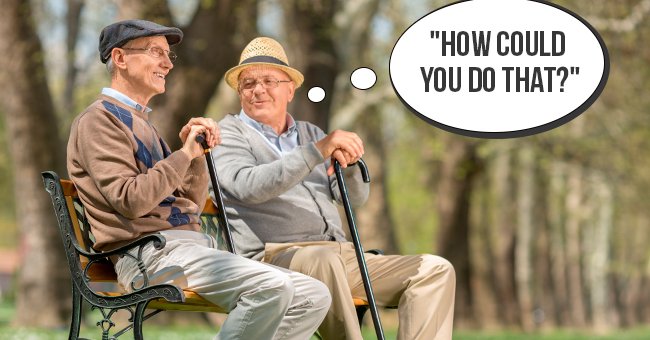 All that changed when cheap imported furniture started to take over the market, changing the tide and leaving his company running at a loss for several years. The man did not know how to get out of the dilemma, but a fire broke out and burned down the whole establishment one night. 
The man's insurance could have been put to good use building a new factory, but the man decided he was old enough to retire, and it only felt right to use the insurance money to that end. 
The second man was stunned. The first man's story was similar to his. His factory had built speedboats and had enjoyed success for years but could not keep up with the speed boat technology, which kept changing rapidly. 
His factory started losing money, and one day an earthquake occurred, wiping out his building. Like the first man, the insurance could have covered the cost of rebuilding but he had chosen to "take the money and run." 
It was the first man's turn to be shocked. He gazed wide-eyed for several seconds before asking the second man in a low voice:
"How do you arrange an earthquake?"
ANOTHER INSURANCE JOKE TO ENJOY
As part of its direct marketing program, JC Penney sells life insurance over the phone. So one of the strange events the telemarketers had was when a person called, wanting to purchase life insurance. 
The person who picked up the call was a woman and she started to write out the sale as she normally would. But the she had to decline the sale when she reached the point where she would put down the new client's residence. 
It turned out the client was an inmate on death row and was due to be executed the following day.
Enjoyed those jokes? Here is another one about a 102-year-old man who went into an insurance company and asked to take out life insurance.
Have a joke or a funny story to share? Please send it to info@amomama.com with the subject: Subscriber Joke.
Source: Upjoke, Thinkadvisor