Daily Joke: Bus Driver Is Puzzled Why Old Lady Gives Him Nuts
One day a bus driver was about his daily business, picking up customers and taking them to their destinations. Around mid-afternoon, a cute-looking elderly lady boarded his bus.
The senior citizen had a pack of munchies in one hand while she carried her handbag in the other. She was also the only passenger, so she sat on the chair closest to him.
The man soon started driving while they both maintained the comfortable silence. The journey went on for a while until the old lady gently tapped the driver on the shoulder.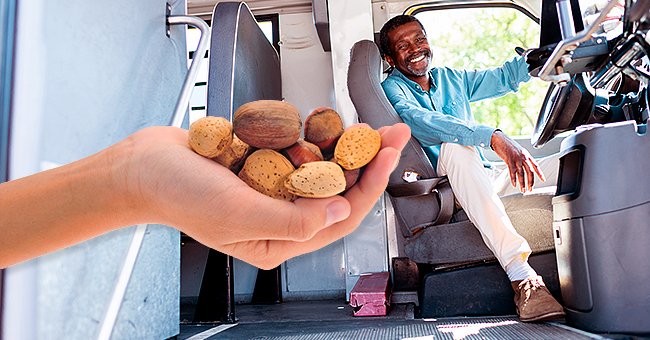 He slightly turned, trying to check out what was going on, and he saw that one of her hands was stretched out toward him. The woman had a few nuts in her hand, and she offered them to the driver.
The driver, who had not eaten all afternoon, saw the nuts and his tummy grumbled. Without wasting time, he accepted the nuts and immediately chewed them while thanking his elderly passenger.
The pair continued the trip in silence until the older adult tapped him again and offered some more nuts. The driver was impressed at how kind she was, and he did not waste much time collecting the nuts.
Once again, he threw them all into his mouth, enjoying the crunchy feel. The driver thanked the woman and continued driving. Just before she got to her destination, the woman once again offered the driver some more nuts.
By now, he was really puzzled, and he decided to ask why she was not eating them. The woman replied that she really loved the nuts and used to eat them a lot.
The driver was surprised and asked her what made her stop. The old woman replied that she lost all her teeth and could not chew her favorite nut snack anymore.
The driver felt for her, but he was still confused. He proceeded to ask the woman why she kept buying the nuts despite losing her teeth. 
There was a brief silence, and the driver waited for her reply. The woman got to her destination, and gently alighted from the bus, but before the driver went on his way, she replied:
"I just enjoy the chocolate coating around them."
If you enjoyed this joke, you might find this one even more hilarious. It is about a blind woman on board a flight that got delayed. The pilot offered to help her walk her service dog and the story took another turn.
Source: Reddit.com