Daily Joke: Attorney Calls New York Art Collector and Gives Some Good and Bad News
One sunny day after a trial and stressful court proceedings, a wealthy art collector, Saul, got a call from his New York attorney, Jack. With all the bad news he had constantly been receiving, he grudgingly answered the call. 
Saul placed one arm on a metal bar close to him and said "hello" in a hoarse voice. As Jack heard him speak, he knew his client wasn't in a good mood so, he immediately went straight to the point.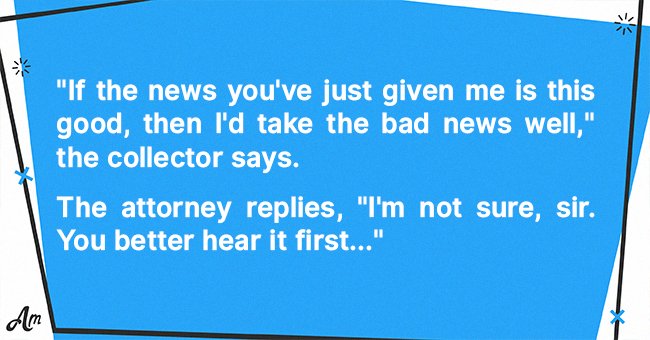 He began by announcing to his client that he had two crucial pieces of information to deliver. But, while one was good news, the other piece of information wasn't delightful.
The art collector had already had a bad day and was tired so he just asked his attorney to relay the good news first. Jack first gave him a brief run through the details of some research he had been making before he told Saul that he met with his wife.
Jack explained that Saul's wife had invested $5000 in two very nice pictures, and she is pretty sure they could get about $15 to $20 million if they used it well.
He further explained that he has also done his research, and Saul's wife's analysis was correct. Saul's spirit lifted immediately after he heard the news. He was happy that for a moment, he forgot he was still behind bars.
He praised his wife for a job well done. The money they could get from the pictures was a lot, and with his present situation, Saul needed all the money and help he could get.
After the excellent information Saul got, he started talking in a clearer voice, and he spoke highly of his wife to Jack. Saul then told Jack that with the piece of good news he just got, he could handle anything that comes his way. 
He believed that nothing could spoil his day again, and this piece of information could change everything for him. However, Jack cleared his throat and told him that the picture in his wife's possession were images of Saul and his secretary.
If you enjoyed this joke, you might find this one even more hilarious. It is about a good-looking man who wanted to divorce his wife, so he engaged in a conversation with her to use her words and actions as the reason.
Source: Upjoke.com