DoorDash Driver Calls For Boycott To Protest Low Base Pay On Deliveries
Food delivery has grown to be one of the biggest businesses in the world, even more so after the COVID-19 pandemic. However, a driver recently called for a boycott due to the low base wage.
Denise Small, one of the thousands of Dashers going around delivering food, took to TikTok to share the harsh reality that a lot of the drivers are facing.
In the clip, Small asked people who often use the food-delivery service to turn to competitors such UberEats or GrubHub this Saturday, July 31, and that most Dashers will not work that day as a form of protest.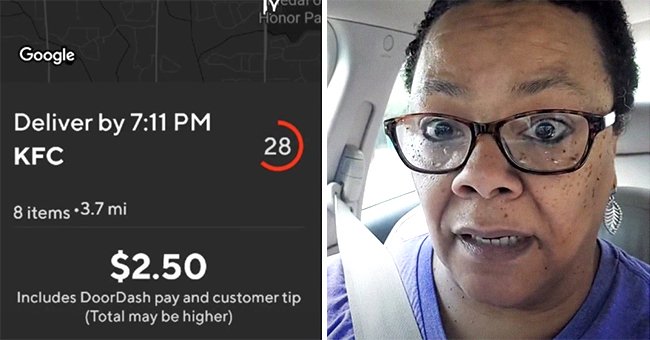 NO TIP, NO SERVICE
According to Small, DoorDash doesn't care about its drivers and went as far as lowering the previous base wage from $3 per hour to "2$, $2.25, $2.50, $2.75."
The angry Dasher also took a jab at people who refused to tip the drivers, adding that if they don't tip, their food is going to the "death pile" because it won't even get picked up.
It has been reported that customers are free to choose whether to tip the delivery driver or not and that the amount of money a Dasher can make per delivery varies between $2 and $10.
That value is determined by the distance the driver will have to travel, the estimated time it will take to pick up the food and deliver it to the customer, as well as the "desirability of the order."
Not only that, but food orders that require a driver to travel a longer distance are usually less desired, but base pay tends to be higher and won't be affected by the customer's tip.
During the video, which has gone viral ever since it went online, Small shared that, on that day, she made less than $20. However, it is unknown how long she spent on deliveries.
NOT WORTH THE TROUBLE
The Dasher also claimed that she refused to pick up several orders because she would only make $2 per delivery, arguing that no one is going out for that amount of money.
Small attacked the company by saying that they don't even take responsibility when it comes to the maintenance of the drivers' vehicles.
She ended the video by asking people, once again, to choose other food-delivery services and not give DoorDash any money, adding that she didn't care if her rant got her deactivated from the service.
WORKED TO EXHAUSTION
But DoorDash isn't the only company facing the wrath of employees. Frito-Lay, a subsidiary of Pepsico that sells chips and snacks such as Doritos and Tostitos, has been accused of harmful management.
Several Topeka, Kansas workers have been protesting against the way they have been treated by their factory, claiming that they have worked for five months without a day off.
The enraged employees also said that they are forced to work 12-hour shifts under dangerous and abusive conditions with a low base wage and that it is taking a toll on their mental and physical health.