Daily Joke: Man Throws Potatoes Out of the Car
Four young men were riding in the same car along a deserted county road. The first man, tall and skinny, was from Idaho. The second young man, shorter than the first, was from Iowa. 
The third was from Florida and looked smarter with his glasses. The fourth person looked younger than the other car occupants, and he was from New York.
They sat in the car for hours and rode in silence. They continued on the same lane for half an hour until the Idaho man brought out a bag of potatoes from under his seat.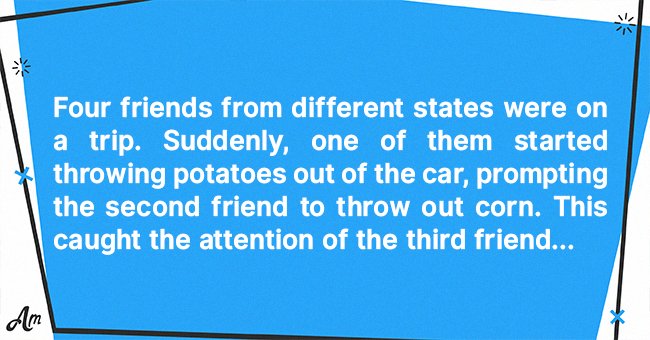 He pulled out potatoes from the bag and threw them out the window continuously as they rode down. The man from Iowa who sat next to him wondered why the man was doing something so strange.
He asked the Idaho man why he kept throwing the potatoes out the window of the car, and he explained that in Idaho, they have an abundant supply of potatoes in his place so, they were worthless.
He threw out all the potatoes, and they all rode in silence again. After another hour, the Iowa man brought out a bag packed with corn. He brought out two corns and threw them out the window.
The Iowa man bought out another set and threw them out. He continued doing this, and the Floridan asked why he was wasting something that was so valuable. 
The Floridan explained that corn was the raw material for many drinks, cornmeal, hominy, grits, and even animal feed. He was surprised the man was being so wasteful. 
However, the Iowa man laughed and explained that they had a lot of corn in Iowa, and it had no value amongst the people. He said he was tired of looking at them. 
He kept throwing all the corn out until nothing was left in the bag. The Floridan then sat in silence and thought about how to execute the idea that popped into his head.
Inspired by the men's attitude, he turned to the New Yorker sitting close to the door and gave an evil smile. He opened the door and pushed the New Yorker out of the car.
If you enjoyed this joke, you might find this one even more hilarious. It's about two friends who were golfing together when they saw a funeral procession and one of the guys took off his hat. The reason for paying his respects will crack you up.
Source: Upjoke.com