Little Girl Can't Hold Back Tears While Welcoming Military Dad in Heartbreaking Viral Video
An adorable little girl went viral after she was filmed holding a "Welcome Home Daddy" banner while being emotional at her military father's homecoming.
Being apart from a loved one is challenging and painful, especially when there is little contact. This was the situation Jerri Dawn, and her little daughter experienced.
Dawn, who goes by the TikTok username texas_diamond, recently posted a now-viral video of her little daughter and the special moment she reunited with her father.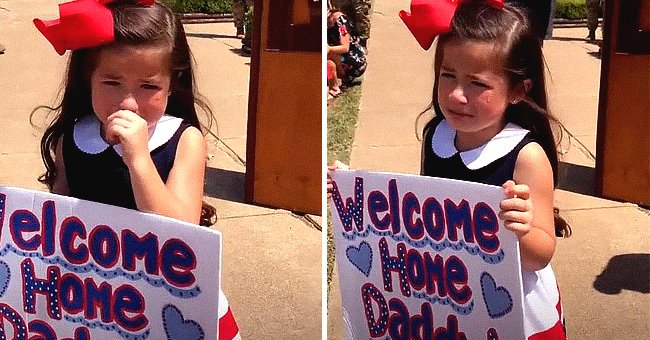 Dawn's husband, a US military soldier, had a homecoming that made their little girl extremely emotional. The clip first captured Dawn's daughter in a dainty red, blue, and white dress with an oversized bow on her head.
The adorable little girl stood in a sea of people while holding a creative sign that read, "Welcome Home Daddy." As she patiently waited for her dad, tears began to stream down her face.
Soon, a group of soldiers marched towards the field as music played, and as captured in the video, Dawn's daughter started crying even more.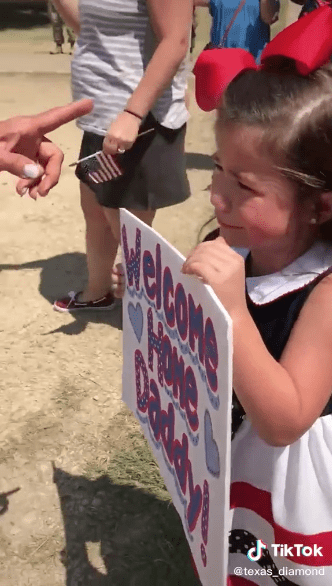 As the soldiers stopped marching and broke their formation, the crowd cheered, and each soldier started going towards their family members.
The technique has been tested several times but is effective to many, especially those in desperate need of rest. 
The little girl sobbed as she searched for her dad, and when he emerged from the crowd, she ran into his arms and gave him a tight embrace.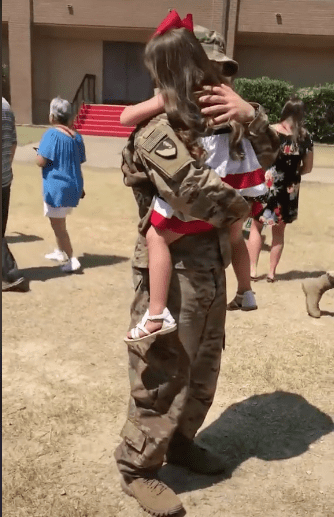 The heartbreaking TikTok video has since accumulated over two million views and thousands of comments from people who teared up at the sight of Dawn's daughter.
Among the comments were many who claimed they unexpectedly cried, while others thanked Dawn's husband for his service. One user wrote:
"I didn't think I was going to cry myself to sleep tonight, but I guess I am."
Being part of the US military is both an honorable and difficult job. Although people in the military are only allowed a few hours to sleep each night, they must be well-rested to defend the country.
As such, military people have a trick to get great slumber despite the environment they are placed in. First, a person must be in a comfortable position. Second, they need to focus on their breathing while their eyes are closed and facial muscles are relaxed.
Do you struggle to sleep? This military sleep method will have you dozing off in just two minutes https://t.co/fdU3trpZxx pic.twitter.com/y1Ic8LPjR7

— YOU Magazine (@YOUMagSocial) October 31, 2018
A person's shoulders and limbs should be relaxed as well. Lastly, any thoughts in one's mind should be cleared. The technique has been tested several times but is effective to many, especially those in desperate need of rest.