Daily Joke: Game Warden Asks Man to Go Fishing with Him, Then Regrets It
A game warden at work was experiencing one of the most boring days of his life. He was so bored that he wished he was at a party or a place with a more bubbly atmosphere.
While he sat at his work post looking absent-mindedly at the sea ahead, an old man rowed past him. The game warden immediately jolted himself and called out to the older man.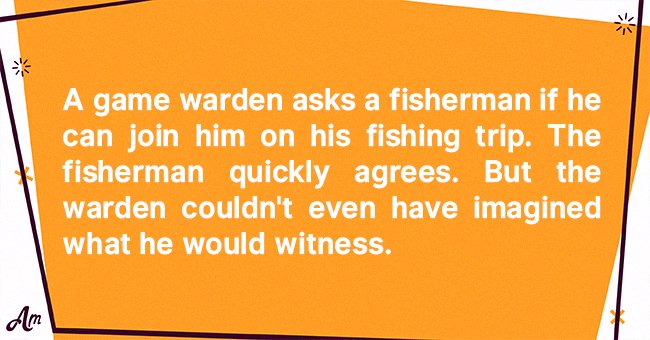 After the duo exchanged pleasantries, the warden asked the older adult where he was headed. The man replied that he was a fisherman and he was on his way for the day's business.
Hearing this, the warden became excited and informed the fisherman that he would love to go on a fishing expedition. The fisherman thought about it for a few seconds before agreeing that it was an excellent idea.
He invited the warden to join him on his boat, and in no time, the pair were off to the middle of the sea. After getting to the preferred fishing spot, the old man opened his tackle box and pulled out a stick of dynamite.
The warden was shocked and confused about what the man was about to do, and before he could ask him, he got the answer. The game warden watched the fisherman light the dynamite and drop it in the sea. After about ten minutes, many fishes surfaced, all dead. The old man quietly bent, putting them all into his basket.
The game warden was horrified by this and exclaimed that it was an illegal act. He also informed the fisherman that he had incurred a thousand-dollar fine for releasing the dynamite into the sea. The old man did not flinch as he looked around the sea, searching for another location where fishes were gathered.
The warden kept berating him for the method he used to catch fish. However, the old man was getting tired of the scolding. He took out another dynamite, lit it up, and said to the warden, "You want to just talk all day or are you going to start fishing?" 
If you enjoyed this joke, you might find this one even more hilarious. It's about a man who went fishing on an iced lake but was unable to catch any fish. A boy came after him and got a lot of fish, so the man decided to find out the secret.
Source: Reddit.com