Cookware Explained: An Easy Guide to Everything That You Need to Have in Your Kitchen
No kitchen is complete without cookware. But it's not as simple as going to the supermarket and buying the first pan you see. Since you're most likely going to be using them every day, you first need to know which one is right for your kitchen.
So, whether you're going to step into the kitchen for the first time or you have been experimenting with cooking different dishes, this guide will help you choose the right kitchenware for yourself. Let's look at the different types of pots and pans along with their uses. 
1. Skillet
One of the most commonly-used cookware is the skillet, also known as a frying pan. These come in various sizes, the smallest one being an 8-inch pan, and the largest one measures 12 inches in diameter. You might even find a pan that's smaller than eight inches, but that's probably used for frying an egg.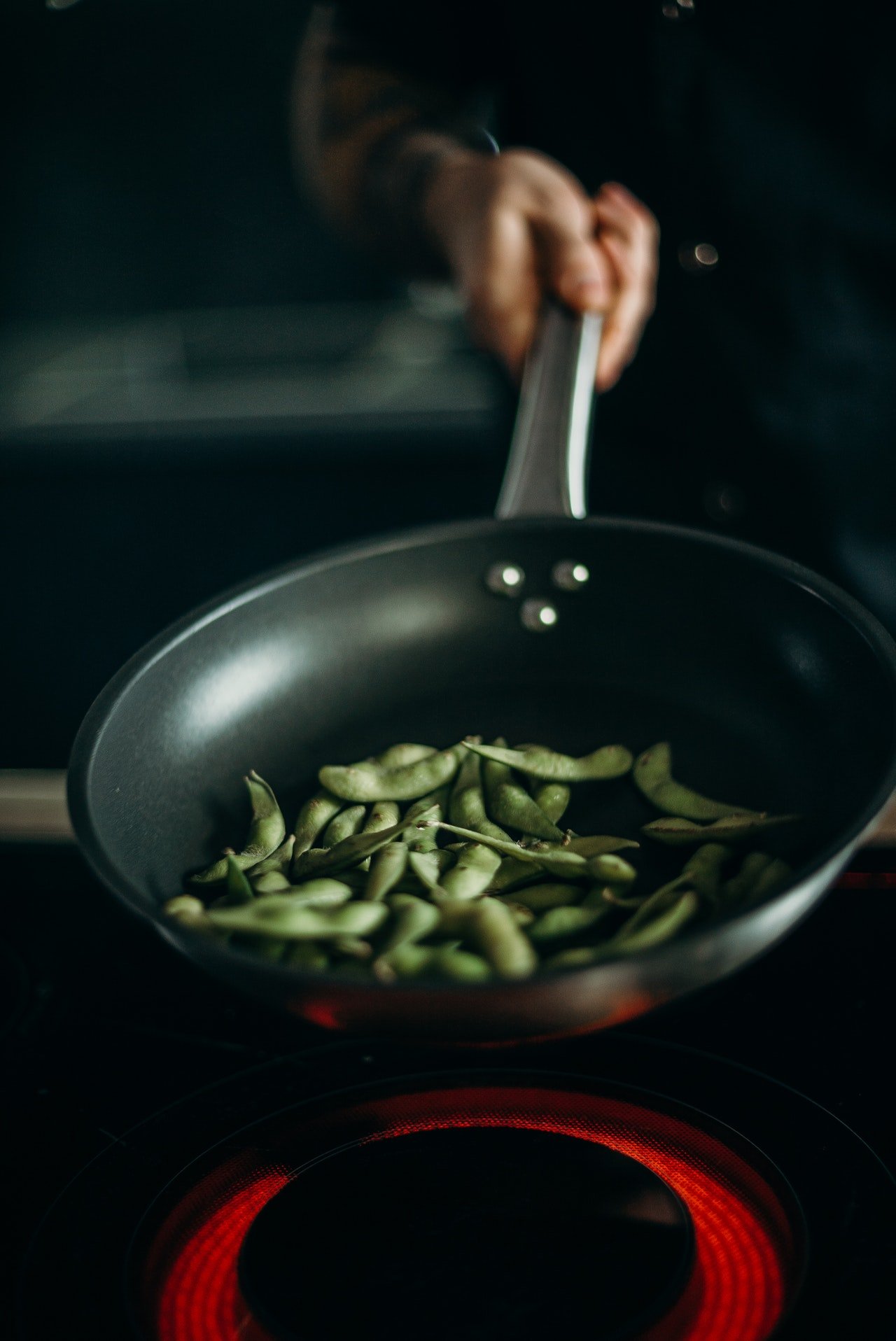 Skillets have many different uses in the kitchen, from frying chicken strips to stir-frying vegetables; these versatile pieces of cookware can do it all. They have a flat bottom with rounded or slanted sides and are made of different materials, including ceramic, stainless steel, non-stick coated, and aluminum.
The material determines how hot the pan can get. Usually, stainless steel pans are used on high heat, while non-stick coated frying pans are suitable for low to medium heat so that their coating does not come off. Another thing you need to keep in mind while buying a frying pan is that they don't usually come with a lid because of their limited applications. You surely won't need a cover while stir-frying some fresh veggies. 
2. Stockpot 
If you want to cook something that requires a long simmering time, then using a stockpot is the best option for you. This deep pot has a flat bottom with long walls to hold liquids and let them boil uniformly. As the name suggests, stock pots are used to make stocks, soups, and even stews. The lid helps to keep the contents inside the pot while the mixture boils. 
Like other kitchenware, stock pots also come in different sizes, and you can choose one depending on the number of people you want to cook for. It's an excellent option for boiling pasta as well as potatoes. Moreover, you will find these pots in many different colors. So, if you're a sucker for colored cookware, then shopping for a stockpot will turn out to be an adventure you would love. 
3. Wok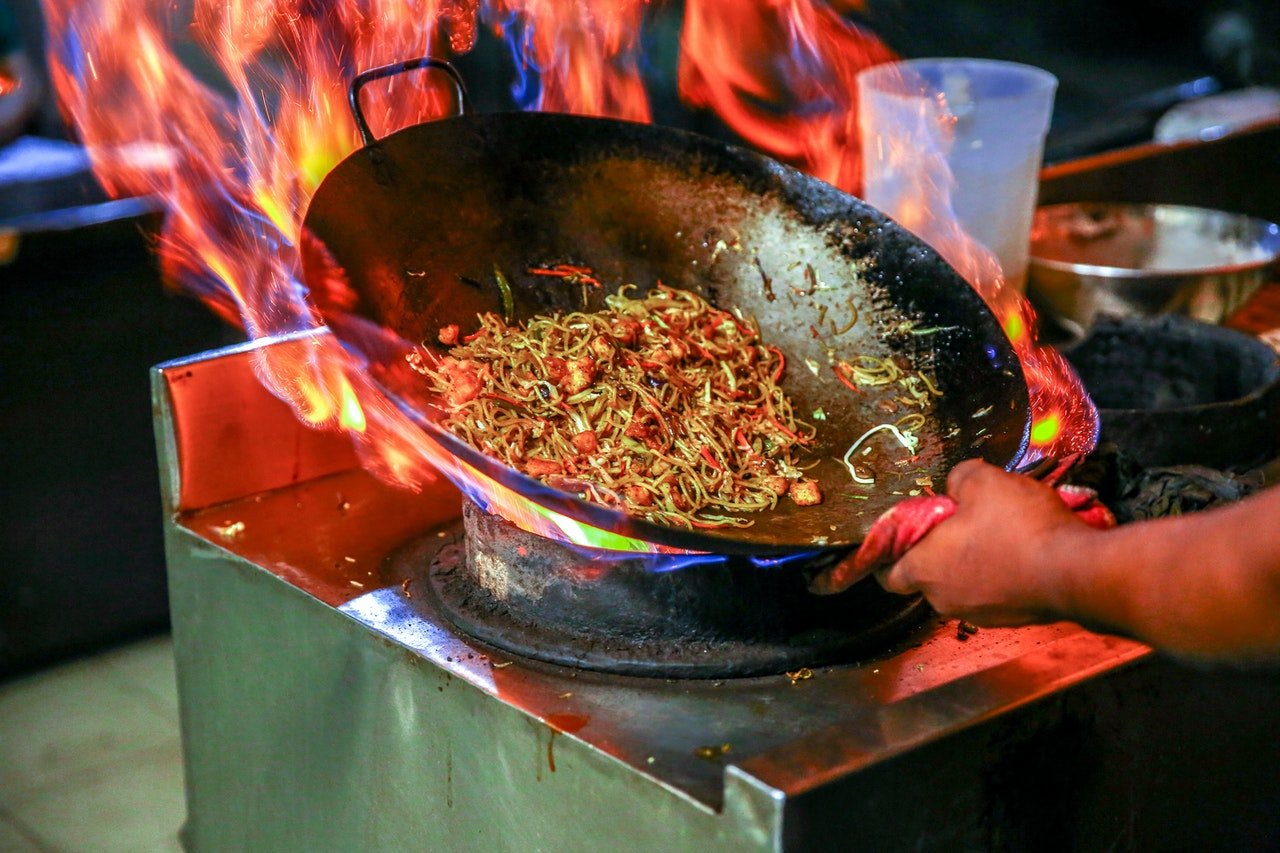 A wok is an Asian utensil having tall, sloping sides with either a flat or a round bottom. The bottom part of a wok is at a higher temperature as compared to the sides. A wok is usually used to stir fry, deep fry, steam, or boil food, and the most common use for a wok is to make stir-fried noodles and other Chinese dishes. 
You can easily toss the contents of a wok and mix them with sauces because of the large surface area offered by them. The regular size of a wok is 14 inches, but you might find other sizes as well. So, if you want cookware that allows you to toss the food and mix it thoroughly, then you should go for a wok.
4. Sauté Pan
As the name suggests, a saute pan is used for sauteing food, and that means quickly frying food while tossing it in the pan. The shape of a saute pan is similar to that of a frying pan, but the difference lies in the shape of the sides. Frying pans have short rounded sides, while the sides of a saute pan are straight and long. 
Apart from sauteing, you can also use these pans for deep frying or making sauces. They come with a lid that helps keep the contents of the pan and doesn't let the heat escape. You will find saute pans in many sizes, so you can choose the one that best fits your needs. 
5. Cast Iron Pan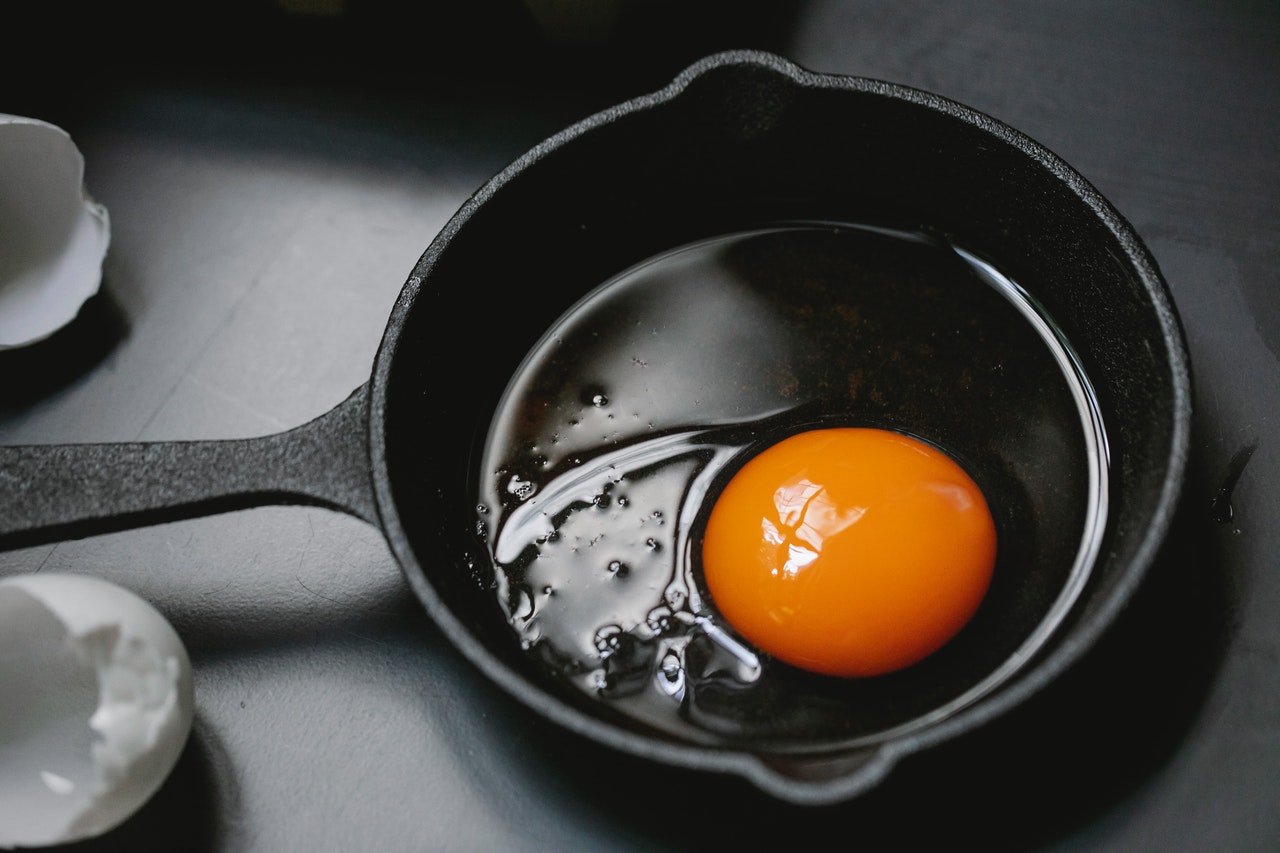 If you have done a little research about pans and pots, you would know that cast iron has exciting properties. Cast iron pans are much heavier than an ordinary non-stick or stainless steel pan. They are usually available in black color and have a pre-seasoned inner surface that keeps food from sticking to them. 
The best part about these pans is that they are inexpensive and will also last for a long time if you take care of them properly. The thickness of these pans ensures that heat is evenly distributed to all surfaces, and this property comes in handy when working with meats that need to be cooked at high heat.
So, whether you're cooking a beef tenderloin steak or a chocolate chip skillet cookie, a cast iron pan is what you need to make your meals taste perfect. 
6. Saucepan
A saucepan is another versatile cookware that you will find in almost every person's kitchen. As the name suggests, these flat-bottomed pans with tall, rounded sides and a long wooden handle are an excellent choice for making sauces and even cooking pasta. 
You can also use these for making soups and instant ramen. They come with a lid, but it depends on you if you want to use it or not. You will need the cover if you don't want to evaporate water from your dish. Otherwise, it's okay if you keep the lid aside. Like other cookware, saucepans also come in different sizes, so you can easily select the one that best suits your needs. 
7. Roasting Pan
Roasting pans usually come with a removable steel rack and a lid to cover them. The stand ensures that the food stays at a higher level than the base, which allows the heat to spread evenly. These oven-safe dishes are best for cooking meat and vegetables at high temperatures. 
They are usually made of cast iron, stainless steel, or carbon steel coated with a non-stick layer. You might have seen people taking out their roasting pans in the Thanksgiving season, but you can also use them on other occasions, such as when you want to bake lasagna for everyone or when you want to call your friends over for a deep-dish pizza party. You can use the roasting pan whichever way you like. 
8. Pressure Cooker
A pressure cooker is best when you have very little time to cook your food. It comes with a lid that fits tightly on the pot and doesn't allow air to escape from the sides, which builds pressure inside it. When you cook your food in a high-pressure environment, it cooks at a high temperature and takes less time. 
Most people are scared of using a pressure cooker because they think it might explode with the food sticking on the ceiling. Those days are long gone because those risky pressure cookers have been replaced with safe ones that do the same job with very little noise. 
You can use a pressure cooker to roast meat, cook stew, make soups, and even bake a cheesecake. A pressure cooker won't disappoint you when your friends call you five minutes before reaching your house. You can make something delicious for them without worrying about time.
9. Steamer Pot
A steamer pot comes with a perforated layer of steel that allows steam to seep through the holes and enter the food that's sitting on top. Steam is used for cooking food in a steamer, and it comes from the water that's heating in the pot. As the water boils, the steam vapors rise and touch the food through the holes present on the steel basket. 
Whether you're in the mood to eat healthy steamed broccoli or some nutritious steamed salmon, the steamer pot will allow you to make everything that's healthy. These pots are usually made of stainless steel or aluminum and can be easily washed in the dishwasher along with other dishes. 
10. Griddle
As the name suggests, a griddle, also known as a grill pan, is used for grilling food. You can use it to grill beef strips and even make a cheesy grilled sandwich. Griddles come with one of the two surfaces; a smooth and a textured one. You can use the smooth surface to make pancakes or fry an egg.
The raised surface of a textured grill pan allows moisture to lock into the meat, making it juicy. So, whether you're planning to enjoy a beefsteak or some chicken strips, a grill pan is the best option for you. Moreover, the ridges will leave perfect grill marks on your food so that you can click an Instagrammable picture.