Daily Joke: Two Men Were Dying of Thirst in the Hot Desert
One morning, two Americans were walking in the Arabian desert and stumbled across a mosque. The pair had not eaten or drank water for days and thought that the people in the mosque might be of help.
So, the pair began a conversation, trying to map out a perfect plan, and finally came up with a good idea. One of the Americans, Roger, told his friend, Joe, that they would pretend to be Muslims to see if they would get food or water.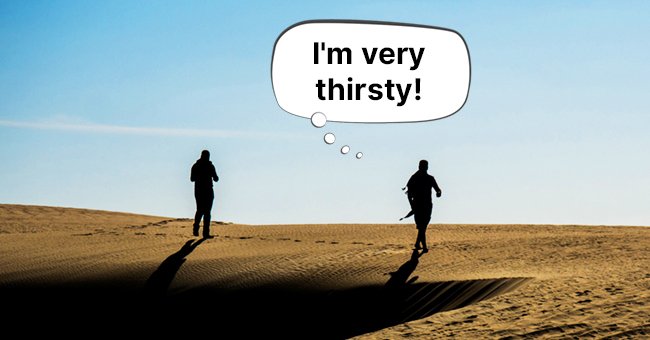 Roger also said to Joe, "You'll be Hassan, and I'll be Muhammed." Joe was not interested in the change of identities and revealed that he would not carry on with it, even if they were not given any food or water. So, Roger decided to continue on his mission as Muhammed.
The pair walked up to the mosque and knocked on the door, which was eventually answered by a Muslim man with a smiling face. The man asked the Americans how he could be of help to them.
In his response to the man, Roger said, "Hello, I'm Muhammed, and this is Joe. We were wondering if we could have something to eat and drink." Then the Muslim man replied and said:
"Why, of course! Joe, we will bring you some food, and for you Muhammed, it is Ramadan, and we won't be breaking our fast until sundown."
THREE MEN IN A DESERT 
Three men were in a desert. The first was holding a jug, the second a paper bag, and the third man held a car door. Soon a man came by and asked the first man why he was holding a jug. 
Replying to the inquiry, the first man explained that the jug contained his water, and anytime he got thirsty, he would drink from it.
Then the man asked the second guy why he was holding a paper bag. The second guy explained that the paper bag contained his lunch and that whenever he got hungry, he would eat it.
Finally, the man asked the last guy why he was holding a car door, and the man replied:
"Whenever it gets hot, I would roll the car window down."
If you enjoyed this joke, you might also like this one about a man who had lived in the desert his whole life then had his first experience with civilization.
Source: Reddit, Worstjokesever