Al Roker & Wife Deborah Are All Smiles in Romantic Date Night Photo Right after His Return from Tokyo
Deborah Roberts and Al Roker are still head over heels for each other after 25 years of marriage. Continually missing each other, the couple went on a date after Roker returned from Tokyo. Check out their sweet snap below. 
"Today" co-host Al Roker is long revered for his fun and engaging antics on TV. Aside from his extensive career in the media industry, he is also admired for his dedication to his family.
Roker has been married to his wife, Deborah Roberts, for 25 years, and they share three blended children. His 60-year-old wife is a renowned broadcast journalist on ABC Network.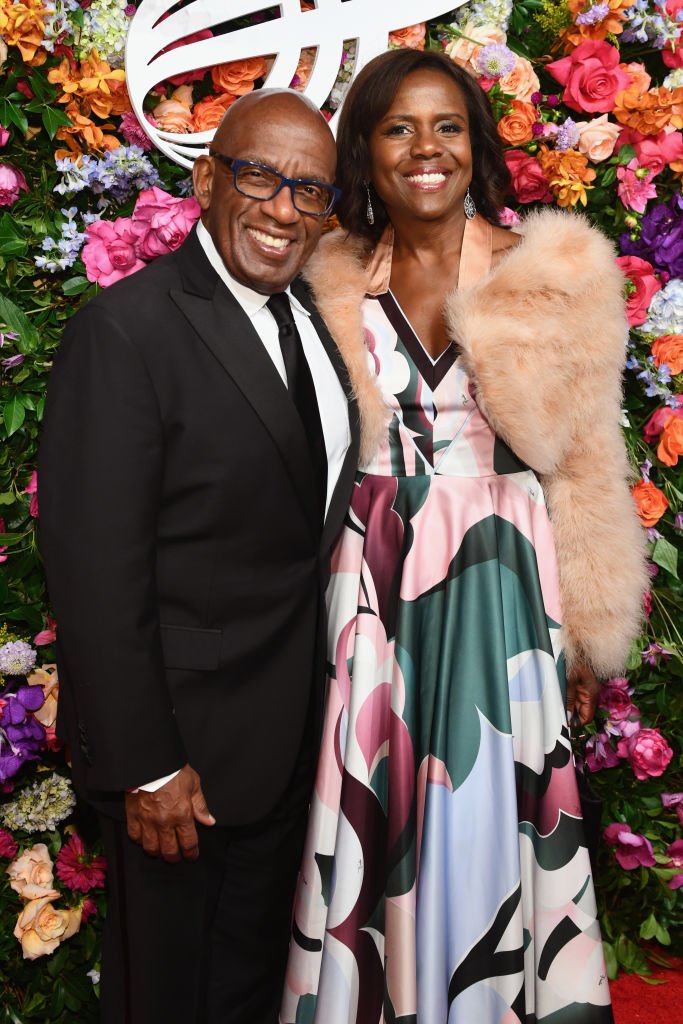 Because of the nature of their jobs, the couple is used to being apart from each other. Whenever an opportunity to bond comes, they seize it. Recently, they both shared a sweet selfie on Instagram. Roberts wrote in the caption:
"Well look who's back and ready to hang despite the jet lag. @alroker #datenight"
Roker is back in New York after a week of covering the 2020 Tokyo Olympics in Japan. The sweet photo showed the pair smiling for the camera as they dined at the Restaurant Daniel. 
The admirable pair dressed their best during their reunion. Roberts radiated in a dark blue polka-dot outfit while the 66-year-old weatherman looked dapper in a plaid shirt topped with a black suit. 
Both were seated at the corner part of the restaurant. Their table, adorned with a tiny plant and a lighted candle, had plates and wine glasses on top, as well as a facemask tucked at the edge.
Roberts sported animal-printed eyeglasses and rested her head on her left hand, looking happy that her longtime husband is back in her arms. Roker donned his signature blue eyeglasses.
As fans noticed, Roberts glowed beautifully as she reunited with "The Proud Family" alum. Many followers could not help but swoon over the power couple's romantic date night.
The proud father of three revealed that his friendship with Roberts was in limbo for a long time.
A gushing fan quickly commented, "You two make me smile." Another admired the wonderful pair and lauded Roker for showing up for his beloved wife even if he may still be dealing with jetlag.
Since returning from Tokyo, Roker is back on "Today," alongside Hoda Kotb and Savannah Guthrie. He was in Tokyo with his 22-year-old daughter, Leila.
Roker marked his TV comeback with a new Instagram photo inside the studio. Following his update, fans noted that the renowned weather forecaster appeared well-rested and in good spirits. 
Amid the warm remarks, Roker admitted he had difficulty leaving Tokyo as his daughter stayed in the Japanese capital. Leila, a recent journalism graduate, is reporting for NBC Sports.
Although Roker experienced separation anxiety after Leila stayed in Tokyo, the doting father supports his daughter for embarking on a similar career he and Roberts have taken.
Roker and his wife have been happily married for more than two decades. He first met Roberts in 1990 after the latter joined NBC and worked as a general-assignment reporter.
The proud father of three revealed that his friendship with Roberts was in limbo for a long time. They were in that kind of situation because Roberts focused more on her career.
But they continued to communicate to know each other better. Roberts described him as romantic. One of the sweet things Roker did for her was to look after her apartment while she's out of town.
A day before Roberts arrived home, the veteran TV presenter stocked her pantry and refrigerator with food. He left her beautiful flowers on the table with a sweet welcome note.
The following week, Roker said he scored his first date with Roberts. In 1995, the pair tied the knot in St. Thomas Episcopal Church, with star-studded guests including Rudy Giuliani and Katie Couric.
Roker's marriage with the "Soul of a Nation" star is his second. He was previously married to his ex-wife producer Alice Bell for ten years, and both divorced in 1994. 
Bell and Roker share 34-year-old daughter Courtney, who recently tied the knot with disc jockey and actor Wesley Laga. Besides Leila, the TV veteran and Roberts have a son Nicholas, 19.