Mom Finds Sexism in the Placement of Parents' Room Signs at Establishments
In June, a mother shared a TikTok video and accused a hardware store of sexism. In her clip, she noted that the store grouped the female toilet and the parent room, consequently ignoring the role of fathers.
Both mothers and fathers can play a pivotal role in raising a child. However, a Bunnings hardware store recently came under fire for neglecting to include fathers in their parent room facilities. 
A mother, Madi Richardson, pointed out that the store offered no place for dads to change their baby's diapers and thus automatically assumed mothers would be the ones performing this task.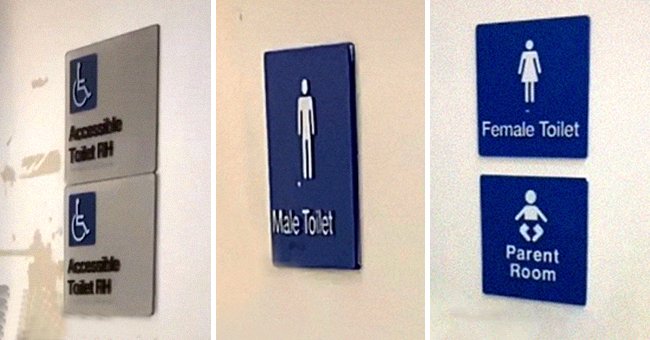 NORMALIZED IN SOCIETY 
The incident initially started as a reaction to a viral question on TikTok, asking: "What are some things you've noticed that are blatantly sexist but are so normalized within society?"
Afterward, the TikToker claimed that in 2021, dads are still not considered capable of certain parental tasks. By joining the parent's room with the female restroom, the store was not providing men a fair chance to tend to their young ones. 
PARENT ROOM MAKES "ZERO SENSE" 
She captioned her clip: "Apparently Bunnings thinks men don't change babies," as the video panned to the bathroom facilities at her local store. 
Commentators were outraged after hearing about this father's experience in the parent room.
While the parent room facilities are not the same at every Bunnings store, Richardson's point still struck a chord with some viewers. One user said it made "zero sense" and questioned what single dads would do in that situation.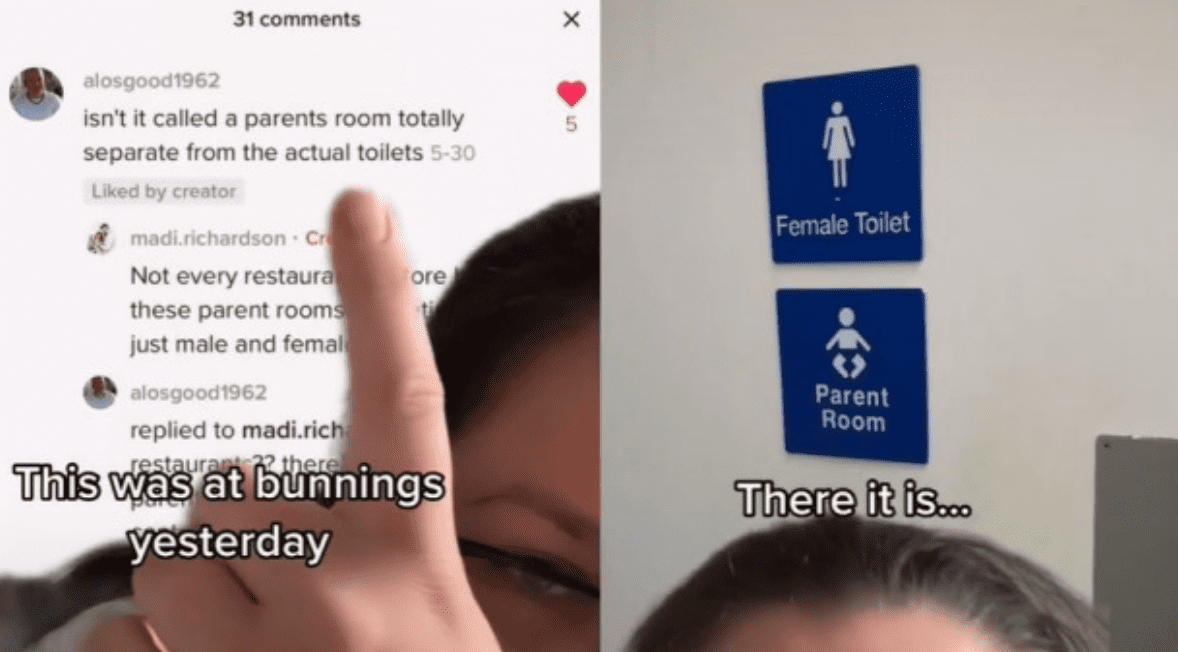 THE ONLINE DEBATE 
Another online member shared their husband's experience. They said: "My husband would just go into the women's toilet, and if anyone would complain, he'd say complain to the place, it's not his fault that's where the baby change was." 
One user commented: "So true!" but others were not as understanding. A netizen quipped: "Get over [yourself], lady!" Richardson is not the first mother to notice this sexism regarding public restrooms.

ANOTHER CASE OF SEXISM 
In 2020, a New Zealand mother, Kori Andersen, detailed her husband, Josh's experience. A woman allegedly ordered him to leave a parents' room at an Auckland shopping center.
He was busy changing his five-month-old daughter's diaper when this happened. In an online Facebook post, she expressed: "PSA- parent rooms in malls are not just for Mums; DADS AND CAREGIVERS ARE WELCOME TOO."  
DADS WELCOME IN THE PARENT ROOM 
Commentators were outraged after hearing about this father's experience in the parent room. One netizen stated this behavior was "Soooo not on!!!" 
Another added: "Don't let it discourage you, you are an awesome daddy and definitely welcome in the PARENT room." Many shared that it was time to move past sexism, and one person encouraged online community members to "embrace inclusiveness."