John Travolta Reveals How He Made Princess Diana's Fantasy Come True during 'Storybook' Dance
Princess Diana stole the hearts of fans in 1985 when she displayed a lovely dance with Hollywood star John Travolta during a royal visit to the United States. Many years later, Travolta still revels in the fairy-tale moment.
John Travolta has had many eureka moments and history-making times in his spotlight career. However, when asked which of these many memories would forever hold a special place in his heart, Travolta mentioned his epic dance with Princess Diana.
In 1985, the "Grease" actor aced one of the most iconic ballroom dances with the People's Princess, whom he referred to as a "strong dancer." Travolta likened dancing with Princesa Diana as straight out of a "storybook."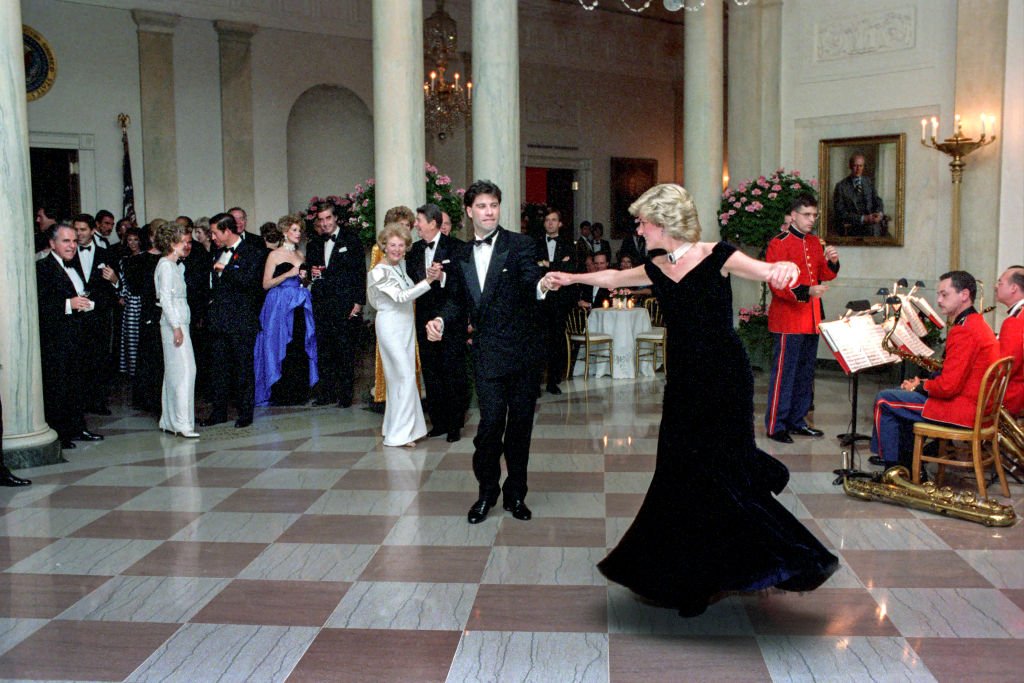 TRAVOLTA ON THE DANCE WITH PRINCESS DIANA
In an exclusive clip of "In Their Own Words, Diana, Princess of Wales," Travolta heartily remembered attending the royal event at the White House during President Ronald Reagan's reign.
The star recalled attending the occasion as an extra, not knowing he would become one of the highlights of the day. Travolta added that he preferred to stay humble because of the dignitaries in attendance.
"It was a storybook moment." https://t.co/FVsvj3gg9m

— HuffPost UK Entertainment (@HuffPostUKEnt) August 9, 2021
However, there was a turn of events at past ten when the first lady, Nancy Reagan, tapped on his shoulder. He noted that she informed him of how Princess Diana wished for a dance with him.
Travolta indicated that dancing with Diana was one of his best moments in the eighties and one of the highlights of his life.
This is the story of how Princess Diana, Nancy Reagan and John Travolta became friends | Archive https://t.co/eO5jh0mdrn pic.twitter.com/5ryVrA3Gkr

— Newsweek (@Newsweek) July 27, 2017
When the hour came, Nancy took him to meet Diana, and he recalled tapping her on the shoulder to get her attention. The 67-year-old actor noted that the ballroom cleared up for them. 
TRAVOLTA SHARES HIS FEELINGS
The "Saturday Night Fever" actor relayed in his May 2021 cover story for Esquire that the dance lasted for 15 minutes. He said he could never shake off the hearty feelings of dancing with the late Princess of Wales.
The "Face/Off" star noted that at first, all he could think of was having the privilege and honor to be Diana's dancing partner. His thoughts quickly changed into trying to make the dance a perfect one.
The star actor explained that he felt the pressure not to falter. He relayed that merely greeting Diana properly and confidently asking her to dance was "a complicated task."
He recalled being nervy and awestruck with Diana. Then she took the lead, and Travolta was jolted that he needed to show her he was a star on the ballroom floor. So Diana spun, and they had the most amazing dance. 
TRAVOLTA STILL CHERISHES THAT DANCE
The award-winning actor does not remember that night for the dignitaries he met at the event. He also did not remember many details of the little conversation he had with Diana.
The 'Travolta dress' worn by the Princess of Wales for a state dinner at the White House in 1985 has been purchased at auction by @HRP_palaces for £264,000. It will join the Royal Ceremonial Dress Collection, more than 10,000 items from the 16th century to the present day. pic.twitter.com/DiLNZoRVbP

— Majesty/Joe Little (@MajestyMagazine) December 11, 2019
However, he recalled how beautiful and stylish she had looked in a dashing black dress made by Victor Edelstein. Travolta was enamored as he noted that Diana's bespoke sat elegantly on her figure.
The dress, dubbed the Travolta" dress, was later auctioned in 2009 in the "Fashion for Passion" listing by Kerry Taylor Auction. It was sold to Charity Historic Royal Palaces for $347,000.
We're lucky to care for a number of showstopping outfits from the wardrobe of Diana, Princess of Wales in our Royal Ceremonial Dress Collection, including the iconic 'Travolta' dress, seen here on display at #KensingtonPalace last summer ☀️ #BehindClosedDoors pic.twitter.com/qM4oW3MTjU

— Historic Royal Palaces (@HRP_palaces) June 24, 2021
In another interview, Travolta indicated that dancing with Diana was one of his best moments in the eighties and one of the highlights of his life. He shared that he knew that the dance with him was one of Diana's best times in the United States. 
He added that he felt like they both made each other's lives better. When he first asked her to dance, Travolta said that he was confident that she was quite the expert because he had seen her dance with her former husband, Prince Charles.
The "Pulp Fiction" star stated that he just wanted to make sure she had the best time. He also knew that the world was watching, and because of this, his dance steps were channeled towards making Diana confident about the dance.