Woman Discovers Boyfriend's Double Life after Randomly Searching His Name on Google
A woman on TikTok went viral after sharing what she found out about her boyfriend of nearly two years while googling his name.
Finding an honest and faithful partner is not easy, but being with someone who lied about their entire life outside of the relationship is quite scary.
Sadly, Pris, who goes by the TikTok handle @priscilluhhbaby, had to endure such trauma after discovering her boyfriend's double life.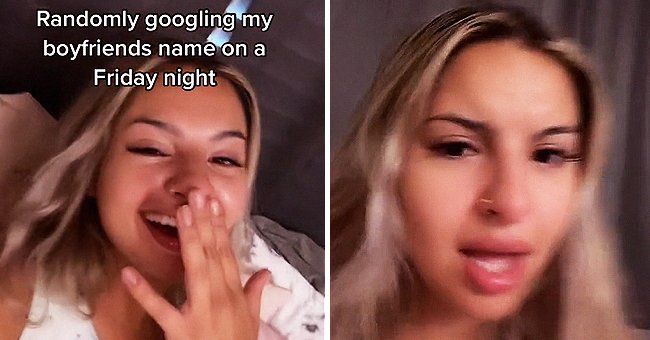 Pris posted a now-viral TikTok video of her reaction to what she found upon randomly googling her boyfriend's name online. Alongside her shocked reactions were her findings:
"Finds his baby registry from January of this year. Finds out said baby is 6 months old."
Pris and her boyfriend had been dating for a year and a half when they went on a holiday together. He lost his phone and wallet during the trip and did not have the means to contact Pris.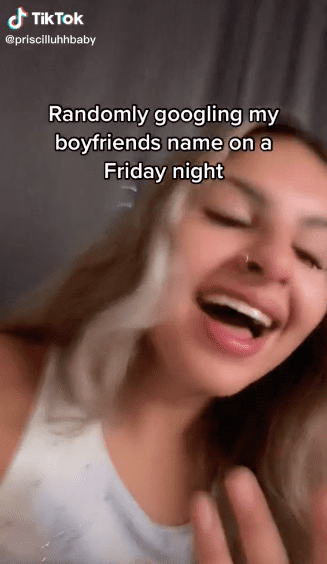 Regardless, he took her to the airport and said he would call as soon as he got hold of a phone. Pris had not spoken to him since when she randomly decided to google his name.
Pris explained that she met up with her ex's baby momma as they both wanted answers to what happened.
At that moment, she discovered his name at a baby gift registry a few towns away. Since his name was unique, Pris didn't think of the odds and immediately phoned her best friend.
Together, they tracked down the boyfriend's baby momma and saw that the baby looked a lot like the father. The pair also found photos of the now-ex-boyfriend happily posing in family photos with the child.
When Pris tried to call him, it went straight to voicemail. However, her cousin's messages were going through, so the cousin sent him all the photos they found. Eventually, he and his baby momma blocked both Pris and her cousin.
The baby momma later called Pris to ask who she was. According to the woman, the ex-boyfriend denied knowing Pris, so she showed the baby momma all her proof.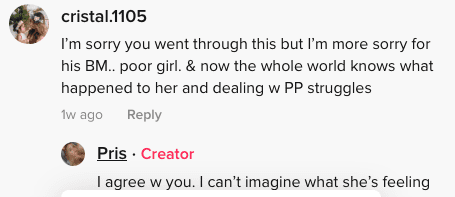 In a subsequent video, Pris explained that she met up with her ex's baby momma as they both wanted answers to what happened.
"We both met him at the exact same time. We both started dating him at the same time, and she ended up getting pregnant a few months later. He continued to pursue things with her and with me, but we had two different relationships with him," she said.
Certainly, both Pris and the baby momma deserve better men in their lives, and TikTok users agreed to that in the comments section.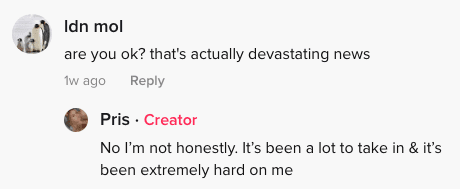 Another recent TikTok video went viral after a woman shared how she discovered her boyfriend's infidelity. The woman shared a photo that her boyfriend sent, and from the reflection, a woman with long acrylic nails and bracelets could be seen.