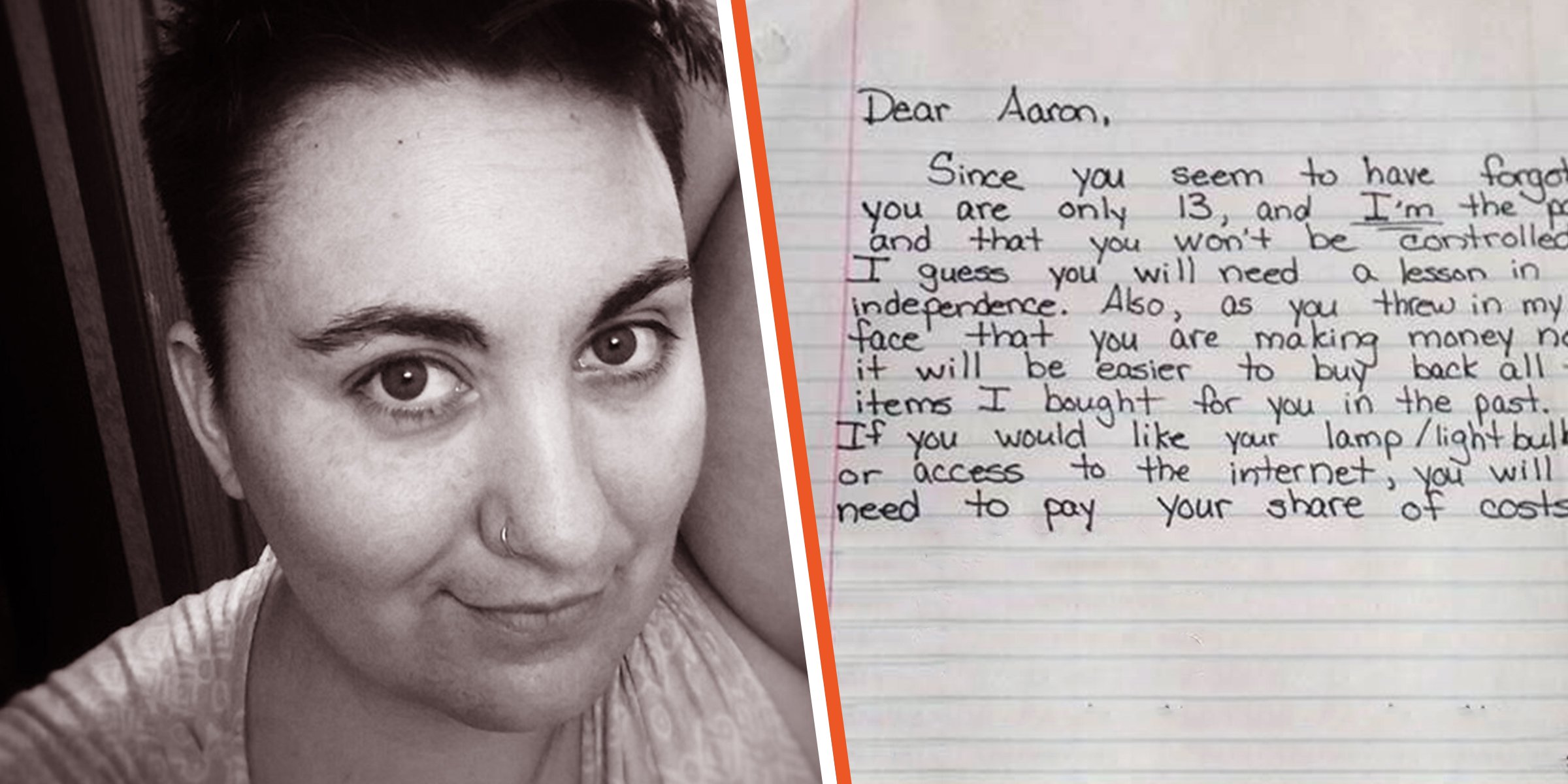 Heidi Johnson | Heidi's letter to his son | Source: Facebook.com/Heidi Johnson
Mom Fed up with Son's Rudeness Hangs Tough Letter on His Door to Give Him a Wake-up Call
When a mom wrote a stern letter to her teenage son, she never expected it to go viral. The post was intended for close family and friends, but when the public read her words, they had a lot to say about it.
Parents have to navigate many complex issues as their kids grow older. Teenagers can be challenging to handle and understand, especially when they declare their independence.
One 13-year-old YouTuber treated his mother disrespectfully, and when speaking to him calmly proved insignificant, she tried another more unique approach.
Read their story and discover how this fed-up mom dealt with her unruly teen and decide if you would do something similar with your brood.
SHE GAVE HER SON A WAKE-UP CALL
Heidi Johnson adored her son, Aaron, but after a heated argument in 2015, she decided that enough was enough. The single mom wrote a letter to her child to give him a wake-up call. Johnson revealed her son would have a "rude awakening" because of his behavior, and she outlined the consequences, noting:
"Not only will he find this [letter] on the door, but his mattress stripped, and the toys and clothes that I bought confiscated."
She also provided three options for how Aaron could live under her roof: buying his own items, renting his clothing from her, or "[renegotiating] his terms of being a child."
HE WANTED TO BE TREATED LIKE HER ROOMMATE
The mom explained that her son wanted to be treated like her roommate and not her child, so she obliged. She made him responsible for the usual things a roommate would contribute to, such as rent and everyday expenses.
She was done being his doormat and knew drastic action was needed if he was to change his ways. However, her son did not appreciate her words. He burst out of their home when he saw the letter and refused to speak with Johnson.
"He came home, saw the note, crumpled it on the floor, and stormed out of the apartment. He was still livid when he got home. He decided to stage a 'sit in' in my room, where he did laugh at me."
HE ACCEPTED HER CONDITIONS AND APOLOGIZED
Johnson added that Aaron questioned her threats, indicating she couldn't take his stuff. But after he had calmed down, he surprisingly accepted her conditions.
"He removed some electronics and items I missed that he felt he should have to earn back for his behavior. He apologized, and asked what could he do to make things better and start earning items back."
His understanding of the situation impressed Johnson, who immediately gave back his comforter and some clothing. She also explained he did have pillows and sheets to sleep on, but they were not the ones he liked best.
THE NOTE MADE A DIFFERENCE
The mother proudly shared that her letter had a positive impact, and she noticed a change in her son's behavior. She said: "It has made a difference, though. When I ask him to do something, he does it."
The mom only wanted to show her close friends and family the handwritten note but accidentally shared the post publicly. Johnson quickly became the target of other concerned parents who condemned her strict actions.
SHE WAS ACCUSED OF CHILD SHAMING
Many moms applauded her actions and thanked her for the creative idea. However, a few commenters accused her of shaming her child for everyone to see.
Users also pointed out that it was unlawful to keep a child's basic needs from them, and another netizen wrote:
"You are obligated to provide for him. Just [because] he was making money as a "YouTuber" doesn't mean you get to charge him for food and rent. You literally can't do that."
SHE WAS THANKFUL FOR THE SUPPORT
Johnson said the judging opinions and nasty commentary made her sad, but she refused to let the negativity affect her. She focused on the positive and was appreciative of the moms who supported and defended her actions.
She believed they were the parents who faced similar experiences with their children or took some time to place themselves in her shoes.
Johnson was adamant about her love for Aaron and assured the public that her actions came from a good place. As a single parent, she tried her best to discipline him in a way that would help him learn from his mistakes.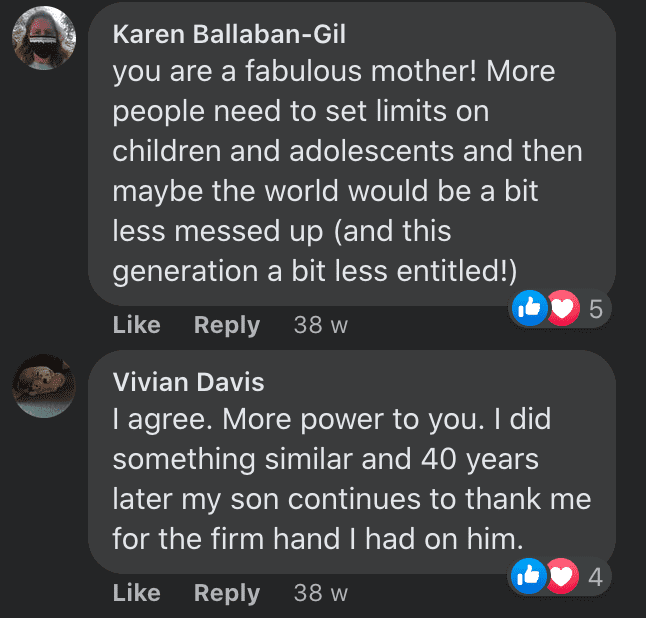 Netizens comment on Heidi Johnson's Facebook post. | Source: Facebook.com/Heidi Johnson
PARENTS ASKED HER FOR ADVICE
Johnson had no regrets about her letter and revealed many parents reached out to her for advice. She was happy to share her creative parenting philosophies with them.
"I had one mom message me about her 7-year-old that was having some behavior issues; so I spent several hours one evening compiling some tools and ideas that she could use."
Johnson does not call herself the perfect parent, and she admits to making many mistakes along the journey, but she is proud of the relationship she strengthened with her son.
What do you think of Johnson's unique parenting techniques? Click here for another story about a mother who called the police and taught her son a valuable lesson when he was rude to a teacher.
Please fill in your e-mail so we can share with you our top stories!