Daily Joke: Leprechaun Secretly Rewards a Kind Man Who Accidentally Hit Him with a Ball
An Irish man was playing golf on a warm summer day. While having a good time on the greens, he sliced his drive, causing the ball to skip over to the side of the golf course.
Just as the ball went out of sight, the man heard a little voice yell, "Ouch," which got his attention. Upon realizing the sound came from the direction the golf ball landed, he became more curious and decided to investigate.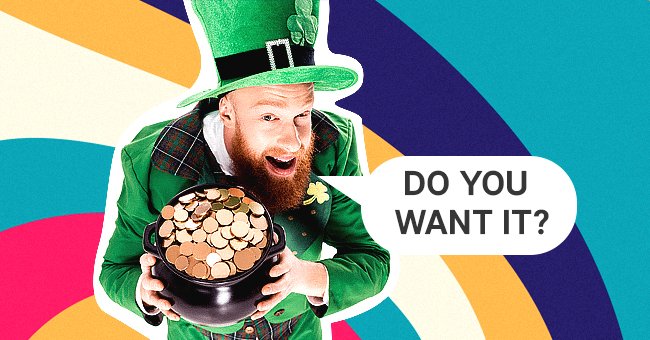 When he looked over to the side, he saw a leprechaun rubbing its forehead, where the ball had seemingly hit him. The man was mortified and said, "Oh, I'm so sorry! I didn't mean to hit you with my ball!"
The golfer helped the leprechaun get back on his feet, also dusting some dust remnants from his body. After regaining balance, the leprechaun said:
"It's quite alright. I should have been watching where I was walking. But you caught me fair and square. For that, I will grant you three wishes."
Upon hearing that, the man, who still felt devastated by the earlier accident, protested, "Oh, I couldn't possibly do that after hitting you on the head. I'm just glad you're okay."
After voicing his stance, the man strolled back to the golf course and got busy with his game. Impressed by the golfer's kindness, the leprechaun thought to himself:
"That was a nice man. I must grant him three good wishes anyway. I shall help out with his health, his fortune, and his love life."
The leprechaun snapped his fingers to seal the three wishes. The next year, the same man returned to the golf course to enjoy a good game.
The leprechaun happened to pass by and spotted the golfer. As his excitement grew, the leprechaun couldn't help but approach him. After exchanging pleasantries, the leprechaun asked, "So tell me. How's your health?"
The man replied, "Oh, it's been wonderful. My asthma is gone, and I'm no longer diabetic." Pleased with the results of his work, the leprechaun proceeded to ask the man how his finances were. "I actually won the lottery and never have to worry about money again," the man proudly revealed. 
The leprechaun nodded knowingly, obviously pleased with himself. Then he threw one more question. "And what about your love life?"
Immediately, the man's delighted look was replaced with a troubled expression as he replied, "I've actually gotten a girlfriend. And we made love for the first time last week."
The leprechaun was taken aback by the unexpected reply and blurted, "Just one girl? And you only made love to her last week?"
The man eyed the leprechaun as he interjected, "Hey! That's pretty good for a country priest!"
If you enjoyed this joke, here's another one about a mom who visited her son who had a female roommate.
Source: Reddit