Da Brat & Girlfriend Jesseca Dupart Are a Gorgeous Couple Matching in Purple Outfits in Photo
Rapper Da Brat and her girlfriend, Jesseca Dupart, recently showed off their undeniable chemistry as they went twinning in matching purple outfits. Take a look at the pair's awesome snap.
Da Brat, also known as Shawntae Harris, has incessantly amazed fans with her musical prowess since she shot to fame in 1992. She is best known for the songs "What'Chu Like" and "Give It 2 You."
The hip-hop star has been in the music industry for more than two decades. Still, she just recently came out as a lesbian by introducing to the world her girlfriend, Jesseca "Judy" Dupart, CEO of Kaleidoscope Hair Products.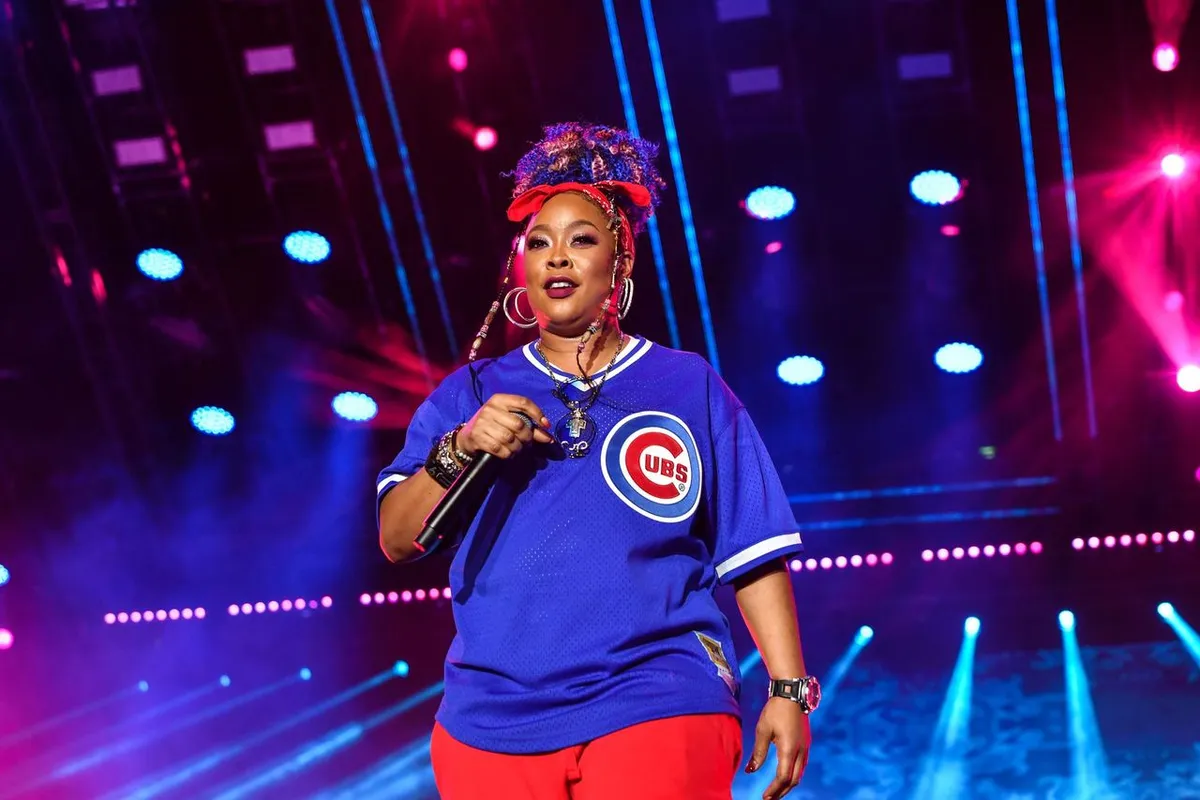 Fans reacted in awe to the couple's seamless love. Aside from their sweet bond, both share a penchant for fashion, and Da Brat recently proved it in a recent photo she shared on Instagram. A fan gushed:
"You looking so cute [sic] 😍😍😍🔥😍."
The stunning photo showed Da Brat and her girlfriend dressed in matching outfits printed with purple flowers and accentuated with animal prints, green leaves, and yellow butterflies.
While the couple matched looks, their distinct individual styles remained apparent. Dupart, who sported her long blonde hair, paired her cropped jacket with a black sports bra and tight pants.
Da Brat topped her black shirt with a full-length jacket that matched her baggy pants. She wrapped her forehead with a thin piece of animal-printed cloth, her hair styled in braided pigtails.
Da Brat leaned against the hood of a blue car and held her girlfriend's hips. Dupart served a serious look for the camera as she posed in front of the Chicago-born rapper.
Both Da Brat and Dupart wore striking makeup and long faux eyelashes. In the caption, the 47-year-old rapper expressed gratitude for the fans who watched their new WeTV show "Da Brat Loves Judy."
Da Brat said the "Suge" rapper's words do not reflect the views of the entire hip-hop community.
Several fans and celebrities, including reality star Cynthia Bailey and singer Trina Braxton, quickly congratulated the duo on their new TV show. "Love the show," wrote one admirer.
Da Brat went public with Dupart in December 2020, after living a private life. It took the rapper some time to accept that her life would be more exposed on social media, considering that her girlfriend runs her business through social media.
Dupart is dubbed as the "Queen of Success." Aside from promoting the Kaleidoscope Hair Products online, Dupart also sells Miracle Drops, the best-selling hair growth product on the internet. 
The entrepreneur presently lives in Atlanta, Georgia, with Da Brat. Before achieving massive success, Dupart experienced tremendous hardship as a survivor of the deadly Hurricane Katrina in 2005.
Da Brat, the first female rapper to have a platinum album in 1994, seems relaxed and confident about being Dupart's lucky partner. According to the rapper, she felt intimidated by Dupart's presence when she first met the entrepreneur.
Every time Dupart would talk to her, the "Funkadafied" hitmaker would hide behind furniture. Her shyness, however, was a charm for Dupart, who described the rapper's behavior as the cutest she had ever seen.
Da Brat, who came out as a lesbian after being in the music industry for 25 years, shared that her girlfriend pushed her to be more open about her identity.
As she revealed her identity to the world, Da Brat previously expressed her thoughts about the countless challenges and issues affecting the LGBTQ+ community. She said the hip-hop community supports the said group.
Her statement comes after rapper DaBaby made controversial remarks during a recent festival in Miami. He commented on gay people living with HIV/AIDS, offending several people, particularly members of the LGBTQ+ community.
Da Brat said the "Suge" rapper's words do not reflect the views of the entire hip-hop community. Meanwhile, DaBaby issued a public apology on Instagram but has since deleted his statement.