Da Brat Gushes over Girlfriend Jesseca Dupart after Going on a Date Night
Hip-hop artist Da Brat is head over heels with Jesseca Dupart, judging by a photo of them taken during a recent date night. The acclaimed rapper gushed about her girlfriend on Instagram. 
Since coming out as bisexual, rapper Da Brat has been going all out to show her love for her girlfriend, Jesseca Dupart. In a photo she recently uploaded on Instagram, the "Dish Nation" star spoke highly of her. 
The photo showed the lovely couple dressed in matching green and blue Versace ensembles printed with images of seashells and starfishes. Dupart seemed to whisper something amusing to Da Brat who smiled gently.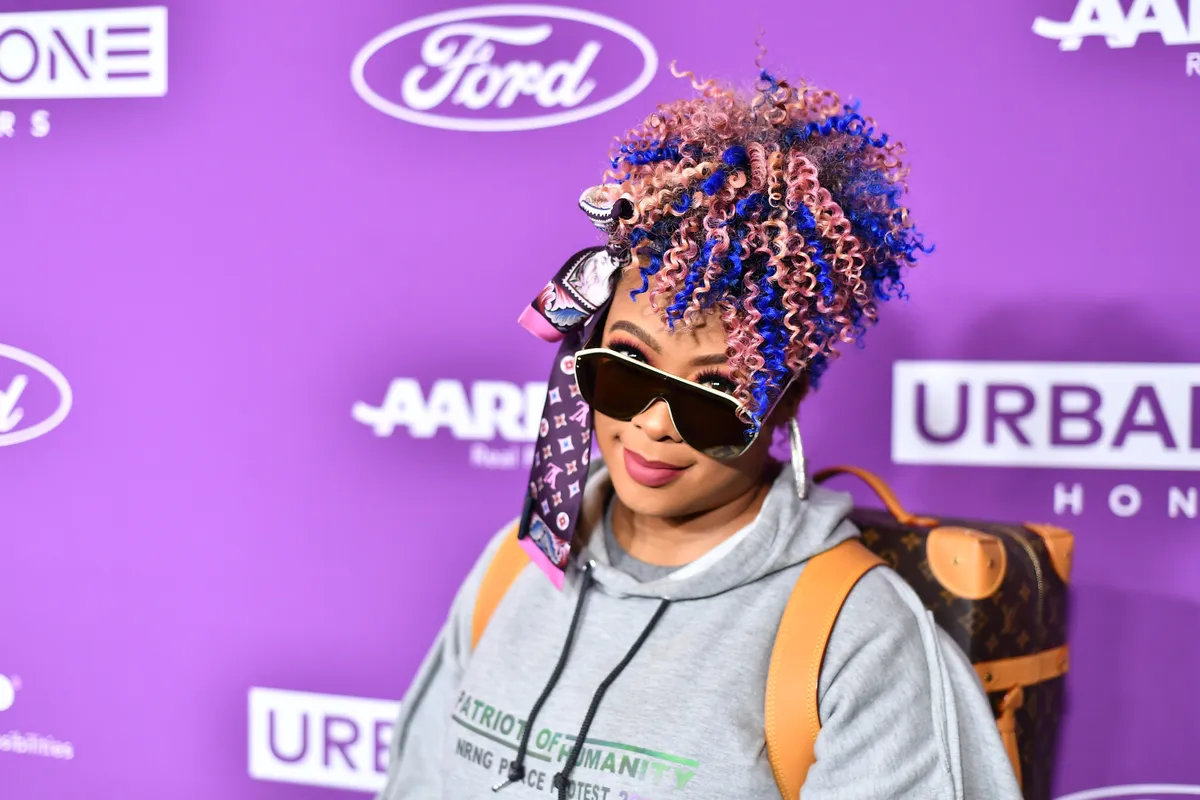 Da Brat, whose real name is Shawntae Harris, shared that she and Dupart went out on a date to see the Xscape band's performance. They showered each other with sweet compliments while enjoying the show.
They sang along while the band performed the power couple's favorite songs. Da Brat said she and Dupart are enjoying and loving life together. Raving about her girlfriend, the Chicago, Illinois-native rapper wrote:
"HAPPY MOTHER'S DAY 2 MY FOREVER. I love u @darealbbjudy. ❤️"
Da Brat's heartfelt note for the 39-year-old entrepreneur left her legion of fans swooning. One admirer commented that the kind of love they have is rare to find these days.
Da Brat went public with their relationship during Dupart's birthday in March 2020. She professed her love for the Kaleidoscope Hair Products CEO in an emotional post. 
The post also marked the "What'Chu Like" hitmaker's coming out. She said she was fine with staying quiet about being bisexual, but since her girlfriend was a social media mogul, she decided to speak up.
Da Brat, who considers herself a private person, said it felt good to come out after twenty years, adding that staying in the closet was a decision she made due to her religious upbringing.
She was also romantically linked to NBA player Allen Iverson.
Aside from growing up in a conservative home, she also didn't want to deal with outside pressures in the entertainment industry because sexual discrimination was prevalent back in the day.
In 1992, then 18-year-old Da Brat debuted in the rap scene with Atlanta-based So So Def Records. In 1994, her debut album, "Funkdafied," made her the first solo female rapper to achieve platinum status.
Her career flourished alongside her love life. Da Brat previously revealed that she dated both men and women. She was also romantically linked to NBA player Allen Iverson.
In September 2020, Da Brat opened up to Kandi Burruss about her relationship with Iverson, saying she used to do household chores and prepare breakfast for him.
Their love for each other eventually faded, partly because many women surrounded him. She also assumed Iverson knew about her bisexuality, but they never talked about it.