Fans Speculate That Kanye West Will Only Present His 10th Studio Album through Listening Parties – He May Host One in His Hometown
Kanye West fans have been expecting his tenth studio album, "DONDA," for weeks. Instead, they have been treated to elaborate listening parties that fans speculate will continue indefinitely with a show in Chicago. 
The rapper has promised fans new music and delayed its release on multiple occasions. Yet, things are different this time around because the rapper and fashion mogul is performing songs from the unreleased project. 
The 'Yeezy' founder has hosted two listening parties for the album so far. Now, a recent tweet from a fan has many speculating he will host a third in Chicago and perhaps keep presenting the album through the performances indefinitely.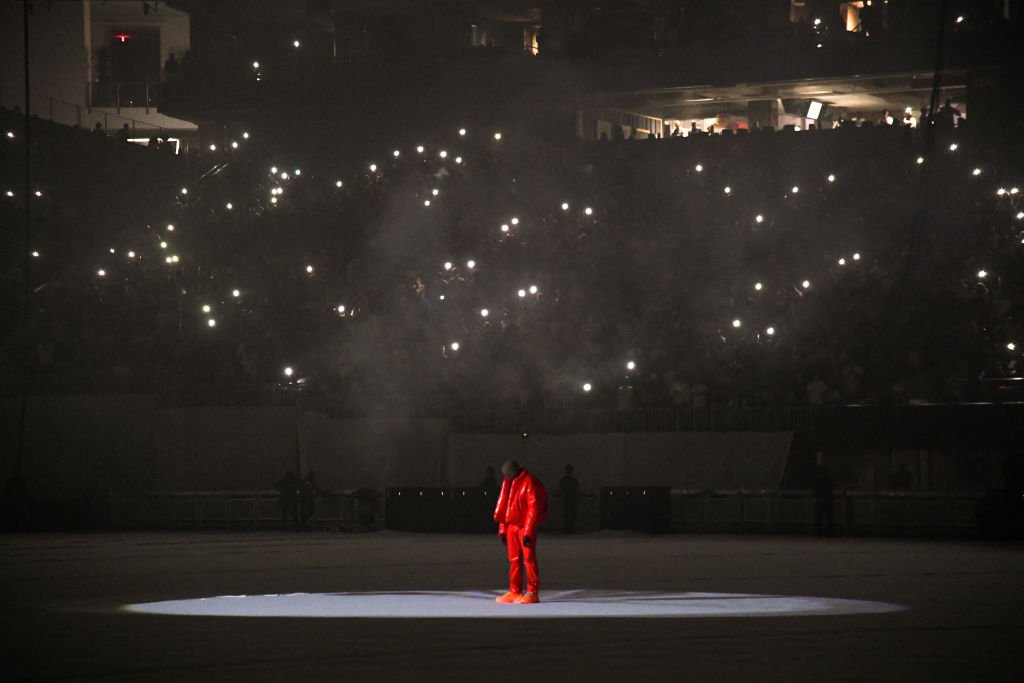 Kanye West fans have been anticipating the release of "DONDA" since he first teased the album last March. However, as history would tell, they would be in for a long wait before finally hearing the project. 
To many people's surprise, sources announced that West would release his album near the end of July. They also announced his first listening party held at Mercedes Benz Stadium on 22 July to accompany the project. 
The listening party was a media attraction with stars like Jay-Z and his ex Kim Kardashian in attendance. Unfortunately, fans realized they would not be streaming the album that night as West played rough cuts that were almost indiscernible.
Fortunately, the second listening party was a hit, with publications calling it brilliant and provocative. However, the music that was promised with the extraordinary performance did not appear on streaming sites again. 
Although Apple Music has announced a release date of 22 August, the reality of West's antics is making fans suspicious. The self-proclaimed musical genius is excellent at executing lucrative performance art demonstrations. 
For example, West reportedly earned $7 million in merch sales from his second listening party. The amount is fairly close to beating Taylor Swift's Reputation Tour per-show record without the costs of touring.
kanye made the 1st unreleased album ever. donda is out but doesn't exist, you know the words but can't play the songs, you know the name but can't see the face. we're never gonna get donda because donda already got us. @kanyewest

— gary squarepants (@caucasianjesus1) August 17, 2021
As a result, fans have been speculating that West may never present his album on streaming sites. Instead, they suspect that the rapper will only present the album through his curated performances. 
A tweet from a fan who claims to work as a security guard at Soldier Field in Chicago only heightened fans' suspicions. The Twitter user set the internet alight after sharing information alluding to a third event. 
I work for security at soldier field and we recently had an event added under "major concert event" and I'm very confident that it's for Kanye's listening party. If it's true, then Kanye will be performing in Chicago at soldier field on the 26th⭐️🤞🏽 #DONDA pic.twitter.com/UgeOFiRIuX

— Y Z Z Y ©️ (@ALLOVEFROMYE) August 17, 2021
If the speculations are true, West would be making a clever business decision. He has already broken an Apple Music Livestream record by gaining 5.4 million views for the listening party, meaning he is earning through streams regardless. 
Although the speculation began as a joke from the multiple release delays, it works well for the billionaire. West is also a pioneer of innovation in culture, fashion and music, so the suspected approach isn't far off for the mogul.