Kindergartner's Dad Becomes Famous after His Recent Speech on Importance of Wearing Mask
Since COVID-19 began spreading, people flung themselves into chaos, with millions screaming about how authorities should handle this worldwide disaster. However, one father's voice made itself known throughout all the mayhem.
A video has been shared on Twitter of a kindergartner's father's recent and passionate speech. Justin Kanew, who some know as a contestant who took part in "The Amazing Race," spoke about the imperativeness of wearing masks. 
This dad to a 5-year-old daughter spoke to the Tennessee-based Williamson County Board of Education. Kanew pointed his enthralling argument at parents who opposed the idea of their children wearing masks at school.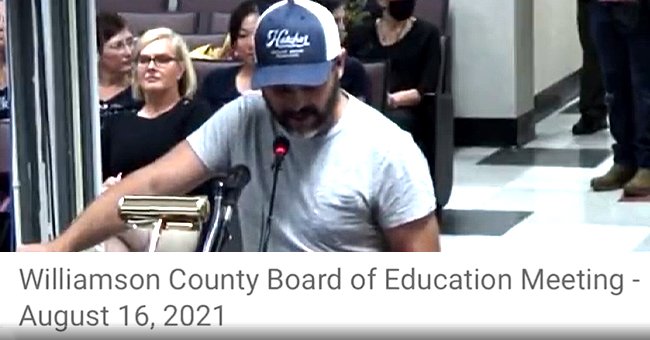 This father wasn't afraid to take on the religious aspect of the debate, replying to those who put forward the opinion that they and their children have the religious right to choose not to wear masks. He fiercely enthused: 
"There's no actual biblical justification for using the Bible to get out of a mask mandate passed by the majority of this elected board."
Kanew emphasized that the right not to wear masks is found nowhere within the Bible. However, he affirmed, looking after those around you is a part of the scriptures.
Have you ever noticed that people who support masks & vaccines are always so calm and measured when speaking to make their point; but the anti-vaxxers & anti-maskers act like loud, screaming banshees? Thank you sir for caring for your daughter & others. ☮

— klizmiz (@klizmiz1) August 17, 2021
The 5-year-old's parent also struck a chord when he referred to how childish he finds it that grown adults refuse to wear masks when his toddler can understand why it is the right thing to do. Kanew stated: 
"She's 5 years old but she understood that concept and it's disappointing that more adults around here can't seem to grasp it." 
He spoke about the Governor of Tennessee Bill Lee's decision to allow individuals to choose not to wear masks if they do not want to. The dad defined this as undemocratic and an overreach of government power. 
Masks are pointless

— Shannon Clark and the Sugar (@shannonperrymus) August 19, 2021
This Williamson County Board of Education meeting where Kanew spoke occurred after the protest in Franklin, Tennessee. This anger was a reaction to an interim condition ratified by the district that children must wear masks at elementary schools. 
She sarcastically suggested to either "cut a hole in it" or glue the mask to Drew's face.
This heated incident occurred after a previous board meeting. Some in the anti-mask crowd were taunting individuals wearing their masks as they left the board meeting. 
Just for a minute....go with me here ... just for a minute ... imagine if someone who wanted people to wear masks behaved like this and told people 'we know who you are', 'we know where you live'. Imagine if a pro-masker did any of this.
They would never get away with it.

— #MaskUpBackUpWashUp...andVaxUp (@UTPHTTU) August 12, 2021
As the pandemic continues, the mask debate has only become more intense. In one extremely dubious case, a woman claimed that a flight attendant told her to "glue" a mask to her toddler's face.
Ali Cleek's two-year-old daughter, Drew, cried during a flight, wanting to relax by sucking her thumb. While trying to get her baby to wear her mask, one flight attendant made a snarky remark. 
According to Cleek, she sarcastically suggested to either "cut a hole in it" or glue the mask to Drew's face, adding that she had glue on the plane. It appears that no one is holding back when it comes to the controversy around covering faces. 
ⓘ We at AmoMama do our best to give you the most updated news regarding the COVID-19 pandemic, but the situation is constantly changing. We encourage readers to refer to the online updates from CDС, WHO, or Local Health Departments to stay updated. Take care!