Teen Thinks Neighbors Hate Him Dribbling Basketball, but They Give Him an Incredible Surprise
A 14-year-old boy from Edmonton, Canada, is overwhelmed with joy after receiving a grand surprise from the neighbors to push his NBA dreams forward.
For about a year, Anthony Muobike spent hours in his front yard dribbling basketball, being careful not to provoke the neighbors with his hobby.
Little did he know the neighbors he was being cautious about had come to admire his skills and commitment. After watching the boy play by himself for months, without a net to shoot the ball, one neighbor, Ian Ray, championed an intervention.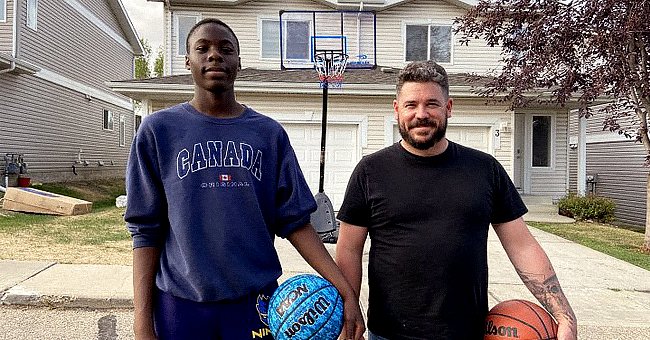 Ray, who had lived in the Edmonton neighborhood for 13 years, grew fond of the young lad's impressive skills but knew something was missing. Hence, he decided to gift Anthony a basketball net. He explained:
"He was just a kid who dribbled a basketball all day. I kind of figured it would be cool if he had a net."
To bring his plans to fruition, Ray reached out to other neighbors, also posting about his intention on Facebook. In no time, several members of the community offered to donate their used nets to the boy.
'That really touches my heart': Edmonton teen gifted basketball, hoophttps://t.co/2fZoP4iMBS

— CTV Edmonton (@ctvedmonton) August 18, 2021
Eventually, the area Canadian Tire took on the challenge, donating a brand new net to the cause. In addition to the net, neighbors threw in some cash donations, making up a sum of $750. This contribution was used to acquire a sport check gift card for the teen.
Ray admitted he never expected so much when he embarked on the journey. Finally, it came time to present Anthony with his new gear. The 14-year-old recounted his overwhelming emotions upon seeing the surprise.
He explained how he stepped out of his home and saw Ray, a neighbor he barely ever saw. Ray directed him to the grand present waiting right outside, taking him by surprise. Anthony divulged:
"It does touch my heart. It actually just makes me feel happy inside. It just makes my mind blow like wow."
An Edmonton family is giving a big thanks to the community after their teen was given a basketball, a hoop and a gift card to Sport Chek.

Love this so much. Awesome work, Edmonton!! ❤

- @HunterAtHome #YEG https://t.co/kF3Q7kpjIp

— SONiC 102.9 (@sonic1029) August 18, 2021
Much like her son, Anthony's mom, Leticia Muobike, who has been putting off the purchase of a new net for ages, could hardly contain her excitement. Leticia admitted she never saw the kind gesture coming and appreciated everyone who contributed to the cause.
She explained how glad she was to be a part of a great community committed to looking out for each other. The grand gesture meant so much more to the mom, who moved into the neighborhood with her family in 2020. She explained:
"I don't have to see him bounce the ball around anymore. At least he has somewhere to practice and see his dream. This is a dream come true and I thank everyone who believes in him."
"I'll be in the NBA. 2026. I'll be there."

Shout out to Anthony Muobike from Edmonton. Great story. Keep pushing 🙏

(via @GlobalEdmonton)pic.twitter.com/FT0K28uLa3

— Dime (@DimeUPROXX) August 19, 2021
Going further, Leticia reassured everyone her son would make them proud. Gladly, Anthony shared his mom's thoughts, reassuring his beautiful community that he would succeed. He shared:
"I will be in the NBA. 2026, I'll be there and then try to give back to those people and I will make them proud. I will be up on your TV."
While Anthony spent months thinking he was pissing off the neighbors with his unrelenting dribbling and basketball practice, Ray thought the opposite of him.
The good neighbor had nice things to say about the young lad, divulging: "He's a good kid. He's never causing any trouble or anything, so it's nice to get him something like that. It's pretty cool how determined he is."
Nothing to see here, just LeBron James dropping some love for local teen Anthony Muobike after some folks on Edmonton's north side gathered to help get the kid a much-needed basketball net. #yeg #yyc #yegcc pic.twitter.com/cNkIkycLx5

— Courtney Theriault (@cspotweet) August 19, 2021
Back in 2018, the story of a dying neighbor, Ken Watson, who left 14 years' worth of Christmas gifts for his neighbor's toddler went viral.
The surprised parents explained how amazing the old man was before his passing, especially when it came to buying gifts for all the kids around.
Watson easily came to be known as the neighborhood Santa Clause. Such stories make people realize how priceless it is to have good neighbors around.