Tiny Harris' Eldest Daughter Shows Killer Body Suntanning in Pearl Beaded Sheer Dresses & Swimsuits
Tiny Harris' eldest daughter is all grown and seems to be taking after her fashionista mom. The pretty young lady stuns in her bejeweled sheer dresses and swimsuits while flaunting her killer body.
Former "Xscape" group singer and reality TV star Tiny Harris is a mom to four kids. She shares her eldest daughter, Zonnique, with a former partner and her three other kids with her rapper husband, TI.
Zonnique is every bit like her mom. She already has a daughter; is an Instagram superstar; a reality tv star, and a singer. Recently, Zonnique decided to treat her Instagram fans to a cool photo of her basking in the summer weather.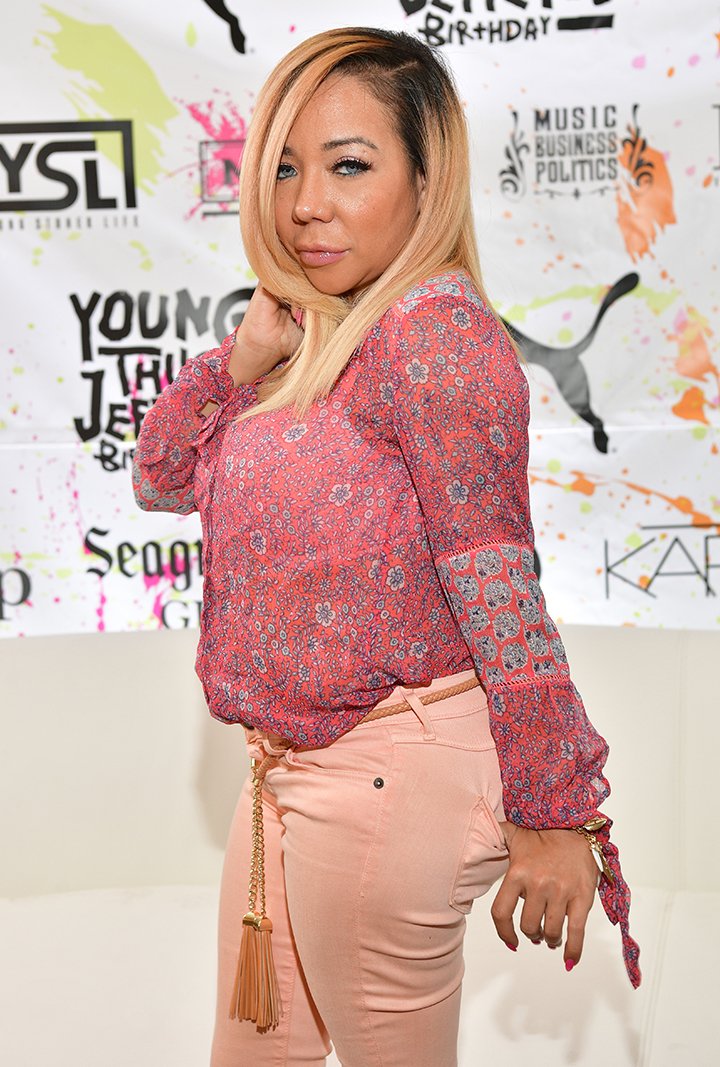 The Instagram maven with thousands of followers flaunted her trimmed killer body while rocking a black pearl-encrusted two-piece swimsuit and sheer dress.
Fans could see the tattoos on her sleeves and thighs as she dished out some vogue-worthy model poses, wearing infectious smiles while enjoying her time on a yacht. 
Tiny's firstborn rocked her curly black hair, making her natural-like makeup glow, nose ring, studs, and dripping necklace more conspicuous. The photo's caption read:
"find your peace...this is mine."
Lovers of the younger singer were excited to drop sweet comments for the post, and the commenters agreed with the caption, signifying that Zonnique was indeed having a swell time.
The post came days after the "Xscape" alum's daughter blessed her online audience with a post that showed her getting tanned and lounging by the poolside.
This time, Zonnique opted for a purple two-piece swimwear but maintained her love for rock embedded threads. Her outfit was designed with tiny shimmery rocks, and she opted for the same necklace as seen in the recent post. She wrote:
"Only came to catch a tan."
Lots of fans praised the Instagram maven and appealed for more hot summer body photos. Zonnique seems to inspire many women, as she has trimmed her physique to look flawless despite having a child.
In December, the young blood made her mother a grandparent after welcoming her daughter, Hunter, with her artist boyfriend, Israel Bandhunter Izzy.
TINY AND ZONNIQUE'S BOND
This mother and daughter duo are one of the best in the industry. They twin in styles, looks, features, and even share interests in similar things.
Tiny has always been in an inseparable relationship with the girl who made her a mother first. She also goes to great lengths to defend her child.
In 2017, the mother of four slammed a troll who criticized her daughter's look. Then, a few months ago, mama bear hounded on critics who talked about her daughter becoming a mother without being married.
TINY AND MOTHERHOOD
Zonnique is not the only one who enjoys her mother's love. The TI and Tiny's pack, including the rapper's kids from former relationships, are decked with plenty of love from the family's matriarch. The number of kids or their birth story has never been a reason not to accept a child into the fold.
Unfortunately, Tiny has also had her share of sad moments. In 2007, the singer suffered a miscarriage of a daughter she named Lelah Amore. 
This was a painful story for the couple, and Tiny admitted that she still remembers her child and visits her grave from time to time.