Man Shares Hilarious Video of a Dog Stealing Food from the Kitchen
A video of a dog finding a way to reach the kitchen countertop and steal food when no one was looking recently went viral on Twitter.
Dogs are undoubtedly smart animals, and sometimes they do the funniest things when no one is watching. However, one dog who probably thought his human was not looking was caught in the act of stealing food.
In less than half a minute, a black dog showed the internet his intelligence and performed an amazing stunt that most would be shocked to see.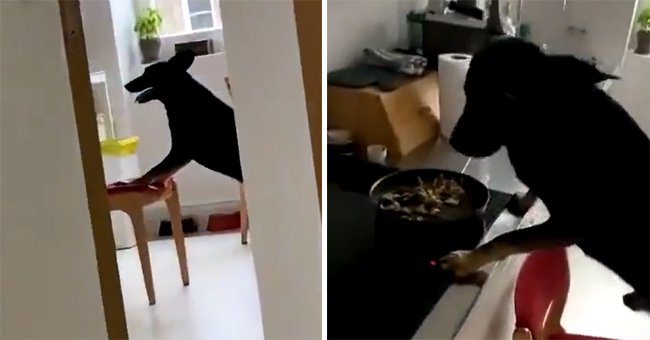 Sander, a fur dad from the Netherlands, shared a short clip of his black canine slowly pushing a chair across their kitchen floor.
When he reached the kitchen counter, the pooch climbed on the chair to get the food on a plate. As seen in the clip, the dog enjoyed his meal while wagging his tail. Sander captioned the post:
"When you leave your dog alone for a minute."
The viral tweet has since gotten over 3.3 million views and several responses from people in awe of Sander's fur baby. One comment read:
"This reminds me of our levitating beagle as she could reach food left on the kitchen counter… Once eating an entire roast chicken bones and all. She spent two nights at the vet."
Meanwhile, another fur mom shared a story about her dachshund stealing pizza on the coffee table. The adorable pup surprised everyone from the back of the couch.
I remember my nanna left a cooked ham on the table and our dog climbed up on the chair and carefully ate the ham and when we came back in the room we just saw a bone on the plate, 🤬 so we ended up having bake beans on toast.

— Kelly 🌻 (@kelly_ashie) August 18, 2021
Dogs certainly have their ways with humans regardless of the breed or origin, such as an adorable dog from India who hilariously begged for food from his human.
Trekkie often takes food when his humans are not looking.
It appeared that the dog was starving and furious, so much so that he began to bark. After a few seconds, he grabbed his food tray by the mouth and threw it on the floor in anger. Still, it turned out to be funny.
0.5 micro seconds after I get hungry pic.twitter.com/K4je9iBI0u

— Praveen Angusamy, IFS 🐾 (@PraveenIFShere) April 5, 2021
It seems dogs are not the only ones who forget their manners when faced with hunger. Recently, a ginger Tom cat named Trekkie went viral for going above and beyond to get food.
In a short clip posted online, Trekkie sat on top of the refrigerator while his humans cooked. In the blink of an eye, the cat began jumping to open carton lids.
According to his owner, Kayla, Trekkie often takes food when his humans are not looking. Once, he tried to take an entire pizza box for himself.
Pets are indeed a gift to humans, but sadly, they are often taken for granted. Some, including a heartless man from Texas, resort to abandoning their pets once they grow old to avoid the responsibility of caring for a senior dog or cat.