Man Abandons His Husky by the Roadside, Dog Desperately Chases Car in Heartbreaking Video
A Texas man was arrested for animal cruelty after leaving his pet husky on the roadside and driving away. A nearby car captured the sad moment on camera.
Dogs are man's best friends, and while they guarantee companionship, they also come with many responsibilities. Sadly, many opt out once they realize the commitment needed to become a dog owner.
Recently, a man was captured on camera abandoning his canine on the side of a road in Horizon City, El Paso. A dog rescuer filmed the heartbreaking clip as she saw an SUV stopping on the side while a man brought a pet husky out and removed his leash and collar.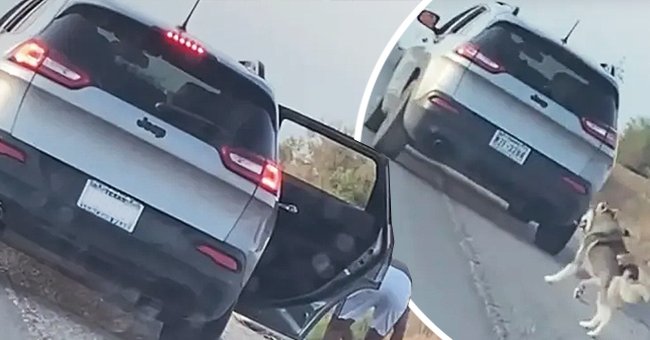 Right after, the man hopped into the front passenger seat, and the car quickly drove away. As soon as the car sped, the husky started chasing it in an attempt to go home with his owner. 
According to the Instagram user who posted the video, leaving dogs on the side of the road is a frequent occurrence in El Paso. The post was met with several comments of heartbroken people, including one who said:
"This is so sad and heartbreaking 💔 Poor dogs! All they know is to show love 😢"
Soon after, the El Paso County Sheriff's Office announced the arrest of 68-year-old Luis Antonio Campos, the dog's owner, for animal cruelty.
A person about to drop off donations found him dehydrated and in critical condition.
"These crimes against our voiceless animal victims are taken seriously, and we actively seek to hold suspects accountable for these cruel acts," the post read.
Fortunately, the poor dog was taken to the Huckleberry Hound Dog Rescue and found his fur-ever home with a foster family, who will soon officially adopt him. 
The happy family named the husky Nanook and greeted him with an extravagant "welcome home" banner. Photos posted by the non-profit animal organization showed Nanook happy with his new family.
The post also shared a link for donations to Nanook and more abandoned dogs like him since not all quickly find a home and are left in a healthy state.
Earlier this year, another dog was abandoned in the parking lot by the Kentucky Humane Society. The canine, Ethan, was left extremely malnourished and dying.
A person about to drop off donations found him dehydrated and in critical condition. Immediately, they thought he had been locked up for weeks before being abandoned.
Upon finding him, the Kentucky Humane Society admitted him to a hospital and kept him under constant care. The organization later gave an update that Ethan has been showing signs of improvement despite being very weak.