Dwyane Wade's Trans Daughter Zaya Bonds with Her Little Sister Kaavia Showing Their Look-Alike Eyes in Paris Trip
Nothing beats a well-deserved family vacation and having fun. Zaya Wade and Kaavia James are both having the time of their lives as they show off their look-alike eyes in Paris. 
American former professional basketball player Dwayne Wade and his wife Gabrielle Union are on a family vacation in Paris, and accompanying them are their lovely daughters, Zaya and Kavia.
Union posted beautiful photos of her daughter Kaavia and step-daughter Zaya on her Instagram account. The first of the batch showed Zaya giving her little sister a piggyback ride.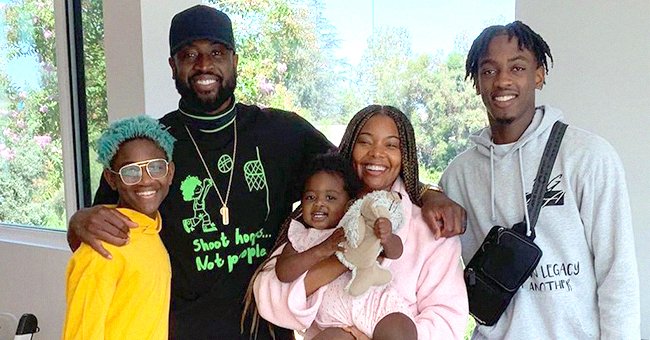 She had on a braided bob, over which she wore an orange bucket hat. She was in a white teeshirt and simple casual black shorts. Her little sister donned a white-flowered tee with pink flowered shorts. 
The second series of photos showed 2-year-old Kaavia with a croissant and a stuffed animal. The photos were posted on Kaavias Instagram page and were captioned:
"Ok, sure, it's a little on the nose but when in Paris ya gotta do it."
Also posted on her Instagram account were photos of the two girls on a carousel. Kaavia had on beautiful matching floral tee and shorts and her hair in an adorable curly afro.
Zaya, who identifies as transgender, is not only her little sisters' hero but also her parents'. According to her father, Wade, the 14-year-old girl, has opened his eyes and made him grow.
The father of 4 says that before his daughter came out, he had no knowledge concerning the LGBTQ+ community, but in allowing her parents to be her support system, Zaya has made him a better person.
Wade also takes care of his sister's son, Dahveon Morris, 19, of whom he has full custody.
Union, who married the former basketball player in 2014, is doing a great job teaching her daughters about accepting their bodies. The mother of one has been on the front line of teaching her stepdaughter the value of being her true self.
And the lessons have been trickling down to her toddler Kaavia. In an adorable TikTok video, Union posted her and her daughter in a swimming pool as she showed Kaavia her moles.
She also pointed out one on little Kaavia's foot and made it clear to her daughter that they were a part of her, to which the little girl responded with a cute dance and proudly declared, "Yes! We got moles!". Union captioned the adorable video:
"Teaching her to love every part of herself."
Wade and Union's family is a beautiful blended one, and the two together raise 5 kids. Three are from Wade's previous marriage to his high school sweetheart Siohvaughn Funches, to who he was married between 2002 and 2010. 
The former couple share Zaya Wade, 14,  and Zaire Blessing Dwyane Wade, 19. Xavier Zechariah Wade, 7, is Wade's son with an ex, Aja Metoyer.
Wade also takes care of his sister's son, Dahveon Morris, of whom he has full custody. The baby of the family is little Kaavia James, born to Wade and Union in 2018 after a series of heartbreaking miscarriages.