LL Cool J's Daughter Samaria Turns up the Heat Showing Her 'Cinnamon Skin' in Skimpy Swimsuits in New Pics
Iconic rapper LL Cool J's middle daughter model Samaria Leah wowed her fans with her stunning physique and shiny skin in a recent Instagram post, and everything seemed breathtaking.
LL Cool J undoubtedly has a career and legacy his fans might find unbeatable, but these days, the rapper's children are almost sweetly stealing the spotlight from their famous dad and becoming stars in their own right.
Among his kids, Cool J's middle daughter, Samaria Leah, is quickly becoming a fan favorite for her habit of sharing spicy pictures of herself. It has almost become a routine for fans to gush over her.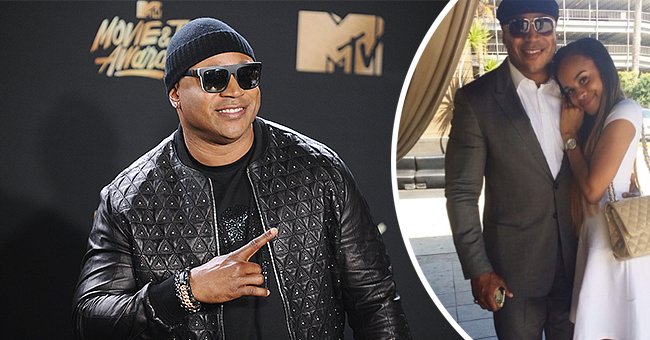 SAMARIA'S GORGEOUS CINNAMON SKIN
Cool J is a hands-on father of four who, despite finding success as a rapper, gave his kids the freedom to be whatever they desired. As for Samaria, she chose to find fame posing for the camera.
The 25-year-old already has a stunning career going on for her and is said to be associated with a series of brands and owning her own fashion brand, but smiling for the camera gives her joy.
Teasing fans with her fit body seems to be a source of delight for the fashion enthusiast. Recently, Samaria has been active on her social media, giving fans a glimpse of her beauty.
In a recent post, she captioned "Cinamon skin," the model looked all the shades of beauty, thrilling her fans with her style. Samaria opted for a summer glam, rocking a yellow two-piece stringy swimsuit with white hem finishings. 
She accentuated the look with several pieces of jewelry, including some necklaces and a body chain. She also sported a pair of silver hoops. In the second slide, Samaria gave fans a closer view of her cleavage.
A few hours after the post was shared, it garnered over 18,000 likes and over a hundred comments from fans. Some fans praised the fashion guru for her fitness, while others admired her strong body image.
This would not be the first time she is leaving her fans stunned in recent days. In another beach-inspired look, the young designer displayed her hourglass figure and perfect abs in a colorful striped three-piece.
Samaria wore a swimsuit and a form-fitting jacket which she completed with a two-steps gold necklace. The post gathered comments from both fans and other celebrities alike.
MEET SAMARIA LEAH
Samaria comes from a family of accomplished stars. Her father, LL Cool J, is undoubtedly one of the biggest names from his generation of rappers, while her mom, Simone Smith, is a famous jewelry owner and entrepreneur. 
Samaria's parents share a history, and their romance is a well-documented story. The couple walked down the aisle a few weeks before Samaria was born and have remained an inspiration to their daughter through a commitment to family.
Coming from a famous home with supportive parents spurred a young Samaria to fall in love with the fashion industry. As a little girl, the stylish model dreamed of owning a global fashion brand.
As she grew older, she took bolder steps towards her dreams. She later enrolled at the Fashion Institute of Technology to major in fashion design and fashion management.
During her graduation in 2017, Samaria was the talk of the town in her family as both her parents and siblings were proud of her big achievement.
The graduation was reportedly a day of multiple celebrations for the family as their patriarch; rapper Cool J was honored with the President's Award for Creative Excellence, giving the family more reasons to enjoy the win.
After she graduated from fashion school, Samaria set up her brand "Samaria Leah," which became a household name in 2019. Notable faces like Saweetie, Kiana Lede, and Cierra Ramirez are among the stars to have rocked her designs.
Fans have praised Samaria for stepping out of her parents' shadows and carve a path for herself. Although she admits she has done much for herself, she acknowledged that none of these would have been possible without her parents.
MEET THE SMITHS
After more than two decades together, Cool J and his wife Simone have become a standout couple in an industry where celebrity marriages are crashing by their numbers.
Although it has not been all rosy for the couple, who share four kids, staying together to make things work has helped them build a lovely family, making their kids see them as the best couple in the world.
Cool J shares a sweet relationship with his children, and from their posts, it is obvious how much they admire their dad. For example, during Father's Day a few years ago, his daughter Samaria shared a touching post as a tribute to him.
She shared a lovely picture of her and her dad, thanking him for his support and guidance. She remarked that she was blessed to have him as her father ending the post with the golden words, "I love you."
Cool J once noted that he had no plans to spoil his kids or make them feel entitled. Instead, he stated that he wanted to teach them the value of work and not just hand them the success they did not work for.
Each of the rapper's children now boasts of excelling in their craft. His eldest child and only son, Najee, enjoys a career as an accomplished photographer who has collaborated with top brands.
His daughter Italia is a certified real estate agent, while Samaria owns a denim brand. Only his youngest child Nina followed in his steps and is pursuing a career as a singer.
Despite the success the family has enjoyed together, they have also stood together during hard times. Simone, Cool J's wife, was diagnosed with bone cancer more than a decade ago, which proved to be a dark time for the family.
The Smiths stuck together, relying on their faith. Fortunately, the jewelry owner has been cancer-free for over a decade, allowing the family to enjoy more years of success together.