Chicago Newlyweds Who Send $240 Bill to Their No-Show Wedding Guests Go Viral
When guests were a no-show at their wedding, a couple of newlyweds decided to send them a message. It was a not-so-nice thank you card in the form of a $240 invoice. 
Weddings are expensive, and many of the fees need to be paid beforehand. That's why RSVPs are so crucial, and even more important is sticking to the commitment. When guests don't show up, it costs the couple a lot of money.
One Chicago couple decided to teach their no-show guests a lesson by sending them an invoice for $240. The post, which has since gone viral, has garnered varying reactions.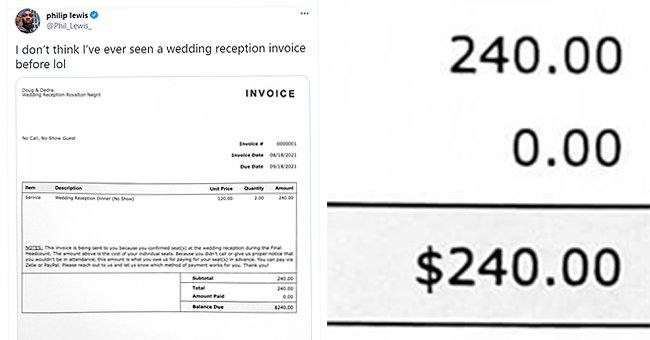 THE COUPLE TOOK A STAND 
The couple, who recently got married in Jamaica, came under fire for these actions, which were seen as an extremely petty move by much of the online community. However, a few netizens also applauded their clever ideas.
The couple detailed that the invoice wasn't about the money since all of the expenses were already pre-paid—it was about something much more personal.
Doug Simmons, 44, and Dedra Simmons, 43, expected more than 100 people to attend their destination wedding. They were stunned when they found out there were no-shows. 
"DON'T BE OFFENDED" 
When people didn't show up, the couple took a stand. Their reasoning for this was backed up by the fact that they had repeatedly asked their guests if they were coming to the wedding.  
A Facebook post shared by Doug Simmons on August 23 said:
"Don't be offended when I send this invoice to you. It's gonna look something like this. I'll be sending it via email and certified mail … just in case you ain't get the email #PettyPost."
Hope they're ready to sever friendships with everyone they sent the invoice to. Sad because most newlyweds don't realize that after a couple of months, they won't even be thinking about their wedding reception anymore.

— YouAin'tReady (@Melanie65811078) August 29, 2021
FEELINGS WERE HURT
Simmons detailed that the invoice was necessary because their guests did not even have the decency to call or text them to explain their absence. He added that he took it very personally.
The couple detailed that the invoice wasn't about the money since all expenses were already pre-paid—it was about something much more personal. They were charging their guests because their feelings were hurt. 
I think they did the right thing. Show respect if you didn't want to come say that. Don't cost me $240.00. Friendship over you couldn't call me and tell me. Pay me or don't talk to me.

— Karen Martin-Hill (@KLovely1218) August 28, 2021
THE ONLINE REACTION 
They also said that they took this course of action because they felt disrespected. Twitter users called out the couple, but some also stated they wished they had done the same.
One user said:
"I see their point. When my brother & his wife had their wedding, several guests did not show after RSVPing. Hundreds of $$ added to the final bill for guests that did not show ... Disrespectful!" 
It's not about being able to afford it, it's about the principle. I had this done to me and I think it's highly disrespect to rsvp "yes"'to a wedding and just not show. So much time/effort/ money goes into a wedding. It's unfair!

— BarbaraBeauté🇭🇹 (@barbarabeaute_) August 24, 2021
THE COUPLE STANDS BY THEIR DECISION 
Someone else condemned the invoice but added that not showing up after indicating that you would is worse. A netizen also said: "Yeah, it's tacky to no-show. However, no one made them choose a $120/plate reception." 
While the internet remains divided on this issue, both of the newlyweds still stand by their decision. Whether or not they have received any of the money from their guests remains unknown.