Gabby Sidibe's Fiancé Calls Her His 'Personal Marilyn Monroe' as She Stuns in White Silk Asymmetric Dress
Gabby Sidibe looked stunning in recent photos as she rocked a white silk dress over a matching pair of kicks. Her angelic appearance attracted amazing comments, including one from her fiancé, Brandon.
"Empire" star Gabby Sidibe seems happier than ever as she posed in an eye-catchy outfit in new Instagram photos. The shot showed the adorable actress donning a white silk asymmetric dress over a pair of white sneakers by Converse. Adding a bit of color to the look, the icon rocked a red sling bag.
One of the pics featured Sidibe, all-smiles as she flung one half of her silk dress upward, with her left hand, which was raised above her head.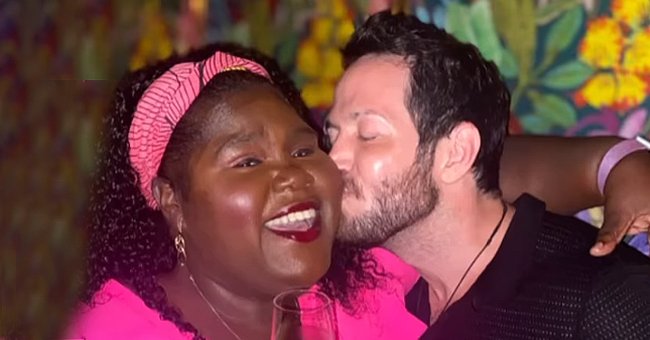 Her second hand clutched the handle of her bag as she posed in front of a high flower bed. The next slide featured a video of the actress looking cheerful as she played with her white dress.
She captioned: "Y'all about to get this look in about 30 different posts over the next few months cuz I'm not going outside anymore. It's not even about COVID. I just get hungover if I don't get in bed by 6 pm."
Sidibe gave her styling credit to Kelly Augustine, who was assisted by @couturemoments_. Following the post, fans flooded the icon's comment section with words of commendation, as they sang praise of her outfit combinations.
Amid the beautiful odes to the 37-year-old beauty, one comment stood out, coming from her fiancé, Brandel Frankel. He wrote: "MY OWN PERSONAL MARILYN MONROE." The talent agent accompanied the comment with a series of heart-eyes emojis.
Brandon's comment has since garnered over 203 likes. Brandon also shared a picture from the photoshoot to his Instagram account. The shot showed him looking love-struck as he held on to his fiancée in a breath-taking pose.
While Sidibe looked stunning as usual in her angelic attire, the businessman rocked a wine-colored sweater over blue pants.  The dramatic effect of a love arrow striking Brandon's heart and darting back to the actress made the snap more picturesque. His caption read: "We got done up to go out."
Many fans commended the photo while voicing how good the lovebirds looked together. Since the onset of their romance, Sidibe and Brandon have become a fan-favorite couple. The pair became engaged in November 2020, taking to social media to announce the big milestone in their relationship.
Brandon popped the question with the help of their cat, and the star was all too glad to say "yes," knowing it meant she could finally get to "hold her BFF forever."
Sidibe has encountered other remarkable fashion moments in the past, with her fashion style making headlines on occasions. For the 2018 Oscars, the icon stunned in a blue dress by Marchesa, walking the red carpet in confidence despite the controversies spurred by the outfit at the time.
In May, she also turned heads when she hit the streets in a pink polka dot dress while on a lunch date with Brandon. While Sidibe has learned to be comfortable in her skin over time, she was not always the confident woman Marchesa designer Georgina Chapman once appraised.
The "American Horror Story" star has been open about her struggle with eating disorders and depression. She admitted that coming down with bulimia at first was about discovering an outlet that helped her deal with incessant crying and feeling of depression.

The disorder caused her to lose weight at the time, even if the weight loss was never her intention. Seeing people react to her weight loss with positive compliments convinced Sidibe to continue throwing up after meals, falling deeper into the webs of the eating disorder.
Gladly, she overcame that challenging phase in her life, emerging stronger, happier, comfortable in her skin, and basking in the affection of her one true love.